We were more than surprised a couple of weeks ago with all the hoopla over Apple's (NASDAQ:
AAPL
) "blowout" quarter. Sales were up in (most) every device, app, download, etc. For Apple, the world is truly its oyster and if one didn't know better, you'd think there was a pearl in their oyster shell.
On top of that, the company said if you eliminated subscription accounting metrics, the numbers looked even better.
On the other side of the street is Research in Motion (RIMM), whose management has been a bit more blunt in the market challenges they face. Then, zooming in from nowhere comes Motorola's (MOT) 'Droid, adding yet another fishing pole to the smart-phone pond.
(Click chart to enlarge)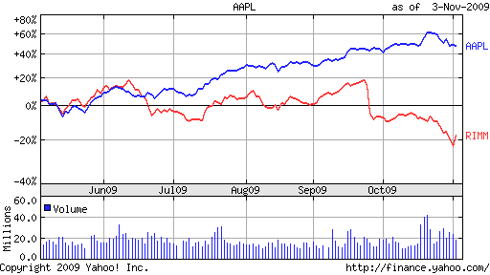 We own Motorola bonds, so naturally we want to see some new life breathed into the venerable maker of handsets. But, MOT still has to execute, and we know from experience that posturing and execution are two entirely different birds.
But, we digress. We have no knocks against Apple except that its stock is seriously overvalued (still). When it comes to marketing, Steve Jobs and company aren't slouches and they've come a long way from the simpler days of Mac.
Anecdotal evidence of the Apple phenomena isn't lost on us, either. I know five year-old kids with iPhones, and adults who get anxious when they can't find their diminutive "pods" amidst the clutter on their desks. At dinner recently, a friend dutifully informed me that if I hadn't visited an Apple store or kiosk lately, then I was out of touch, or seriously L7 (square).
Yet, beneath the herald of Apple's gadget glory lie some disturbing accounting shifts which don't quite support all the fuss. (You can view our analysis of AAPL
here
.)
First Consideration: there is no substitute for GAAP accounting rules. You can "adjust" earnings, sales, costs, margins, etc. all you want, but "pro forma" is simply a way for a company to show what they think the numbers should be. Thus, Apple has supplied investors with a second set of books.
Second Consideration: Deferring anything is not always a good idea. In Apple's case, they made a huge effort to tell investors not to confuse GAAP with adjusted numbers, and they hinted to lower margins going forward.
Third Consideration: The income and cash-flow statements allow companies to tweak their numbers (legally). Period-to-period reconciliation is either a change in how margins are displayed or changes in the style of how cash is created by or used in operations, investments and financing.
The balance sheet though, speaks a bit more clearly as to where all assets and liabilities get parked (until at which time they either get converted to cash or simply remain stashed in an accounting broom closet.)
So, this in mind, let's just forget about subscription accounting for a moment and Apple's seeming devotion to transparency. Again, this is not an accusation of Apple's accounting methods, but our contention that its stock price is over-valued.
Analysts, too, suggest that, absent subscription accounting rules, cash-flow, earnings and margins would be much higher. CNBC's Jim Goldman even waxes gushingly to the staggering profitability of Apples latest results. He's obviously a fan.
But, but...but, we think the rising accrual ratios presented in the GAAP numbers, along with increases in non-operating assets, reveal a continuing decline in the quality-of-earnings being reported by Apple in recent quarters.
How so, you say? Well, we know that sales are hot and by the company's own admission, demand outstripped supply (component availability issues were mentioned). Reported GAAP earnings for September '09 grew 34.8% over the prior quarter on a boost of 18% in earnings for the similar periods.
Receivable's jumped 25.1% quarter-to-quarter, while cost-of sales jumped 17.73%. Other current "assets," though, rose almost 14%. What's interesting about other assets is this generally includes restricted cash, pre-paid expenses, deferred tax assets, but excludes cash, inventory, receivables, short-term investments, etc.
However, when you strip out deferred taxes (approx. 1/3), these non-cash assets have risen dramatically in the last two quarters. Accounts payable too, (including accrued expenses) show an uncomfortable rise, even if one were to include deferred revenues into the picture. Which begs the question: If cash-flow is so copious and you're sitting on mountains of cash, why be such a piker with your vendors?
Ultimately, what we're seeing (in our dual cash-flow research) is a sequential decline in operating cash-flow, combined with a sequential increase in balance sheet cash flow. On top of that, management made a point to say component costs would be rising.
The company is also vague about when they will adopt the newly revised FASB rules, which they and others lobbied hard for. Yet, in the same breath, management admits that adopting these more favorable accounting rules will be complex and likely involve arbitrary latitude in determining values.
So, they are quick to throw two sets of books at investors with the caveat that creating one set of books out of the two will be a formidable task.
This, gets us back to RIMM. Blackberry jam is rather tasty, except when it's smeared all over one's face. Shares have taken a drubbing since Apple's rosy earnings and again in the midst of 'Droid's entrance into the arena.
However, a comparison of dual-cash flow and accrual analysis between the two rivals clearly indicates that RIMM is a far better value than the big AAPL. (You can view our analysis of RIMM here.)
We do note that Apple's capital productivity is more efficient than RIMM's, but the bottom line is the rise in non-cash accounting at AAPL is greater than the difference in the GAAP vs. "adjusted" figures being presented.
Disclosure: MOT bonds