Dunkin' Brands Group (NASDAQ:DNKN) is a franchiser of quick service restaurants serving hot and cold coffee and baked goods, as well as hard serve ice cream in the form of Dunkin' Donuts and Baskin-Robbins, respectively. On July 25, 2013, the company reported second quarter earnings of $0.41 per share, which beat the consensus of analysts' estimates by $0.01. In the past year the company stock is up 41.71% excluding dividends (up 43.6% including dividends), and is beating the S&P 500, which has gained 15.92% in the same time frame. With all this in mind I'd like to take a moment to evaluate the stock on a fundamental, financial, and technical basis to see if it's worth buying more shares of the company right now for the services sector of my dividend growth portfolio.
Fundamentals
The company currently trades at a trailing 12-month P/E ratio of 37.32, which is expensively priced, but I mainly like to purchase a stock based on where the company is going in the future as opposed to what it has done in the past. On that note, the 1-year forward-looking P/E ratio of 23.99 is currently fairly priced for the future in terms of the right here, right now. The 1-year PEG ratio (1.99), which measures the ratio of the price you're currently paying for the trailing 12-month earnings on the stock while dividing it by the earnings growth of the company for a specified amount of time (I like looking at a 1-year horizon), tells me that the company is fairly priced based on a 1-year EPS growth rate of 18.72%.
Financials
On a financial basis, the things I look for are the dividend payouts, return on assets, equity and investment. The company pays a dividend of 1.74% with a payout ratio of 65% of trailing 12-month earnings while sporting return on assets, equity and investment values of 4.1%, 37.7% and 8.2%, respectively, which are all respectable values. The really high return on equity value (37.7%) is an important financial metric for purposes of comparing the profitability which is generated with the money shareholders have invested in the company to that of other companies in the same industry. For comparison, Dunkin' has the third highest ROE out of 12 companies in the mid-cap restaurants industry. It is behind Brinker International (NYSE:EAT) which has a value of 71.4% and Bloomin' Brands (NASDAQ:BLMN) which has a value of 43.5%. Because I believe the market may get a bit choppy here and would like a safety play, I don't believe the 1.74% yield of this company is good enough for me to take shelter in for the time being if I were to initiate a new position.
Technicals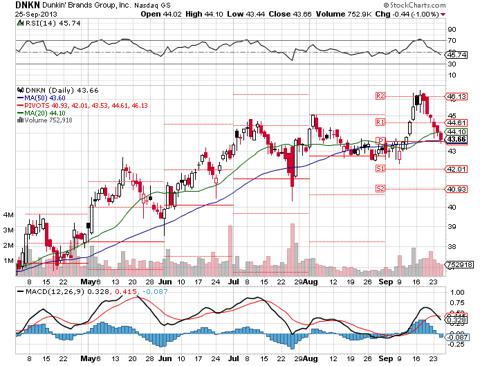 Looking first at the relative strength index chart (RSI) at the top, I see the stock near middle ground territory with a value of 45.74 but with downward trajectory, which is a bearish pattern. To confirm that, I will look at the moving average convergence-divergence (MACD) chart next and see that the black line is below the red line with the divergence bars increasing in height to the downside, indicating the stock has downward momentum. As for the stock price itself ($43.66), I'm looking at the 20-day moving average to act as resistance and $42.01 to act as support for a risk/reward ratio, which plays out to be -3.78% to 1%.
Recent News
The company says it will add 17 locations in the western and central part of Texas as it continues to it's "Manifest Destiny" as I dub it. This will help the company bring in additional revenue.
On top of domestic expansion, the company announced that it plans to re-sow some seeds in the United Kingdom.
Conclusion
Dunkin' is fairly valued based on future earnings. Financially, the dividend payout ratio is middle of the road based on trailing 12-month earnings. I don't doubt management will be able to continue to increase the dividend going forward. Based on future earnings the dividend payout ratio goes down to around 41.8% (if the dividend is kept steady). The technical situation of how the stock is currently trading is telling me we might be seeing some downward pressure in the immediate future strictly based on the stock having downward trajectory on both the RSI and MACD charts. The high future earnings growth estimates, high return on equity, and potential for future dividend growth are what I like about the company. Personally I'm going to layer a small position right here only because I believe I can get it at a cheaper price very soon.
Disclaimer: These are only my personal opinions and you should do your own homework. Only you are responsible for what you trade and happy investing!
Disclosure: I am long DNKN. I wrote this article myself, and it expresses my own opinions. I am not receiving compensation for it (other than from Seeking Alpha). I have no business relationship with any company whose stock is mentioned in this article.