On Thursday, September 19th, Armour Residential REIT (NYSE:ARR) decreased its regular quarterly dividend by $0.02/share, which represents a decline of 28% versus its previous dividend of $0.07/share that was paid out on September 12th. In most cases the announcement of a dividend decrease wouldn't give me much to write on, however, and in the wake of Thursday's announcement, I wanted to highlight a number of cautionary catalysts behind my decision to remain bearish on shares of this agency mortgage-based real estate investment trust.
Recent Performance and Trend Status
On Tuesday shares of ARR, which currently possess a market cap of $1.58 billion, a beta of 0.22, a P/E ratio of 1.99, a forward P/E ratio of 6.45, a book value per share of $5.95 and a current dividend yield of 14.12% ($0.60), settled at a price of $4.25/share.
Based on their closing price of $4.25/share, shares of ARR are trading 3.28% above their 20-day simple moving average, 1.81% above their 50-day simple moving average, and 19.42% below their 200-day simple moving average. These numbers indicate a short-term and mid-term uptrend and a sustainable long-term downtrend for the stock, which generally translates into a moderate selling mode for most traders.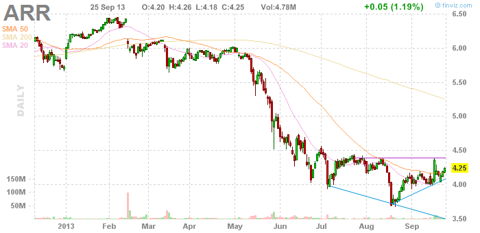 A Significant Discount to Current Book Value
When it comes to establishing a position in the agency mortgage REIT sector, I actually prefer to establish positions in REITs that are trading at a considerable discount to book value. In most cases I look for discounts anywhere between 10% and 30%, and ARR's current discount to book value of roughly 29% comes in at the higher end of that range.
Comparably speaking, ARR's discount to book value of 29% currently trumps the discount to book value of both Dynex Capital (NYSE:DX) (which possesses a discount to book value of just below 3%) and Hatteras Financial (NYSE:HTS) (which possesses a discount to book value of just below 12%). Although this is considered a fairly positive catalyst, any drop below the 40% mark could signal an even bumpier ride over the next 6-12 months and would therefore deter me from buying shares at their current price levels.
12-Month Dividend Behavior
Since September 12, 2012, the company has decreased its monthly distribution four times over the last 12 months. From an income perspective, the company's forward yield of 14.12% ($0.60) coupled with its ability to maintain a reasonable distribution during a historically unstable period for the agency mortgage REIT sector, certainly makes this particular REIT somewhat of a highly considerable option. That being said, the company's dividend yield may also be a wolf in sheep's clothing and the company's ability to maintain its current dividend distribution may come into question over the next 12-18 months.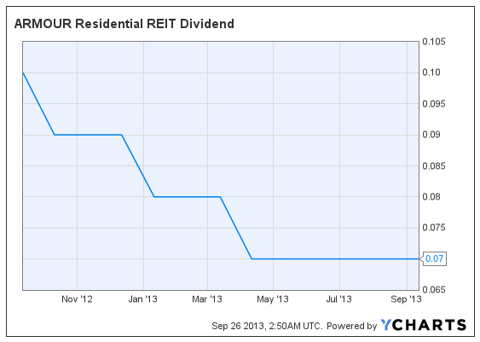 A Cautionary Conclusion
For those of you who enjoy generating income from REITs that are yielding double-digits, there are a few things that must be considered before you take next month's mortgage payment and invest it in a REIT similar in scope to that of Armour Residential.
The new mortgage rate environment has not been kind to the shares of ARR and it should come as no surprise that management needs to seriously reconsider its strategy before any long-term investor bets the farm on this stock.
For example, my fellow SA colleague Tim Plaehn maintains a similar sentiment in one of his most recent articles in which he notes that, "After several months of this new mortgage rate environment, it has become apparent that successfully hedging the mREIT portfolios takes a bit of art and more than a dash of luck. The 33% share price drop for ARMOUR Residential over the last five months indicates the company came up short on both counts."
If shares of the company continue to underperform by a significantly wider margin, as they have over the last year, it may be time for investors to sell off their current positions and wait for a buying opportunity at-or-below the $3.80/share level.
Disclosure: I have no positions in any stocks mentioned, and no plans to initiate any positions within the next 72 hours. I wrote this article myself, and it expresses my own opinions. I am not receiving compensation for it (other than from Seeking Alpha). I have no business relationship with any company whose stock is mentioned in this article.