Global Weather Developments Have an Important Impact on the CRB Index
The big news with the weather and certain commodities since we last talked to you a month ago, has been the weak hurricane season and big sell off in natural gas prices the last week on cooler weather, as well ; the west African cocoa drought, that threatens to reduce 50% of the world's cocoa crop; the better yields coming out of the Midwest corn belt from great June and July weather this year; an Argentina drought and freeze that has helped wheat prices soar this week; and now the potential for major weather issues in India to crops from flooding the next 2 weeks, combined with a slowly maturing U.S. cotton crop and some earlier weather issues in China.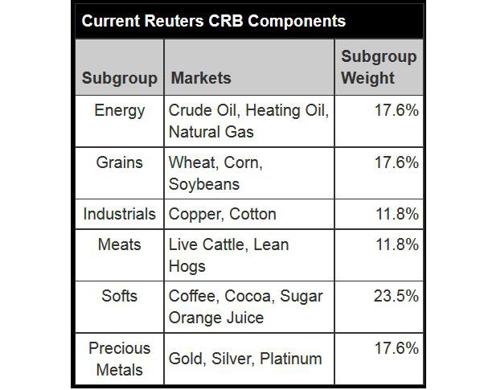 In terms of the CRB Index, grains, soft commodities and the natural gas market have a huge impact on this index, and other than extreme drought conditions returning to the U.S. soybean belt in August and recent weather issues in Argentina for wheat, fundamentals in a variety of commodities really has been bearish for the last year. An increase in global stocks of many grains, coffee, etc. combined with weakening precious metals over the last year or so has had much more of an inverse relationship to the stock market. Many hedge funds, which did so well during the economic crisis of 2007-2009, have lagged the S&P 500 considerably the last 3-4 years.
SOURCE: REUTERS
The CRB Index (above) faces still resistance. It will take a sudden turnaround in the global economy and/or major world weather issues for grains, cotton, sugar, coffee, etc. to get commodities out of the doldrums. I do not see gold prices exploding from here, but there are enough global crop worries for wheat, cotton and cocoa that perhaps this will keep the CRB index in a more sideways trend, for now. Longer term however, I do not see a major move up in this index.
Natural gas and the Lack of Hurricanes
If you go back and read my reports from more than a month ago, I mentioned that it was just a matter of time that cooler fall weather and a lack of hurricanes is realized by the natural gas trade. (NYSEARCA:UNG) has fallen about 10% in the last week alone, as many "other" forecasters calling for an active hurricane season and hot fall weather, have been wrong. We had 2 earlier, bullish September EIA numbers due to record breaking Texas and Midwest heat, but with us being in a shoulder month now, and my continued sentiments that the National Hurricane Center and many private weather forecast firms are "dead" wrong on their hurricane predictions, natural gas prices have little upside potential the next few weeks. There is too much shear and dry air in the Atlantic that has limited the hurricane season. The incredible devastation in Colorado from flooding and the recent wet weather in Florida, also correlate well with a weak hurricane season.
We had the nice move down in natural gas prices that I expected, so I would not get too bold selling down at these levels, as total rig counts continue to fall over the last few years. But I am certainly not bullish.
Grain Markets -- Weather Problems in Argentina; Corn/Soybeans waiting for USDA reports and Farmer's Crop Yields
It has been a very profitable, exciting summer in the grain markets with numerous trading opportunities that I really have not been at liberty to discuss that often. The corn (NYSEARCA:CORN) market originally soared in early August, only to be pulled up "hypothetically and in sympathy" with, a soybean (NYSEARCA:SOYB) crop that was hurt by 4 weeks of hot, dry August weather. But in reality, the perfect July weather has resulted in yields better than traders expected, and hence, corn prices have been on the defensive. The next big piece of news for this and the soybean market will be the USDA grain stocks reports and upcoming crop reports. After that, the trade will focus on October weather, whether there is wet weather to delay the harvest and weather conditions in South America. For now, the main weather market is in wheat, in which frost and droughts in Argentina and cold weather in Ukraine next week to slow wheat seeding, has helped the market. Longer term, given the potential for a good U.S. wheat crop, the longer term fundamentals 6-12 months from now in wheat, are not necessarily bullish.
Soft Commodities -- Other than Coffee, Some Global Weather issues for Sugar, Cotton and Cocoa
About 2 months ago I mentioned that I thought cotton futures and the ETF (BAL) may see a bit of a run up, but the easing of the China drought in late August, combined with poor global demand helped create a precipitous sell off in prices, a month or so ago. Cotton prices are not nearly as weather sensitive as our U.S. spring and summer grain markets. But I continue to see several weather issues that will likely keep prices from falling back below 80-82 cents, perhaps for the rest of the year. These include, A) A slowly maturing U.S. crop in which drier weather is needed in the Delta and Georgia; B) A slight reduction in the Chinese crop due to earlier wet weather in the key production region of Xinjiang and the earlier summer dryness in the southern Yangtze Valley; C) A robust, fantastic India cotton crop, being lowered a bit the next few weeks due to incredible rains that will result in flooding of crop lands. While I am not sure cotton will soar to over 90 cents/lb, the friendly world weather situation will likely at least offset bearish demand and keep prices well supported on breaks.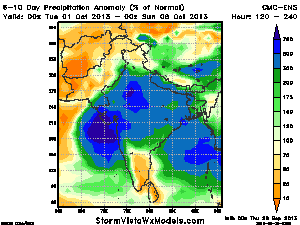 The map above shows rainfall the next 2 weeks some 200-400% of normal over many key Indian cotton and sugar cane areas. While a great early season monsoon has resulted in stellar sugar and cotton crops---too much of a good thing may result in some early harvesting issues for sugar cane and cotton (Roemer)
SOURCE: STORM VISTA
In cocoa, we have been cautiously friendly the ETF (NIB) the last 2 months. The recovering economy in Europe promises to increase grindings and overall demand from the dismal levels seen a year ago. May consumers around the world are demanding higher quality dark chocolate, and while there has been a heavy speculative long position in this market, the wild card is Ghana and Ivory Coast weather and production.
Historically, west African cocoa production slides during El Nino type occurrences. While we have an El Nino neutral (La Nada) type weather pattern, cooler ocean temperatures south of west Africa, combined with the Madden Julian Oscillation (MJO) and the weak hurricane season, has resulted in drought. I do not see the situation changing, so it is possible that longer term cocoa prices could be headed to above $2800.
In other markets, if you go back and read my reports from earlier this summer, I mentioned that the next big move in orange juice futures would likely be lower. Florida has seen record fall rains, no hurricanes and demand for OJ is terrible (too many alternative). The two fundamental factors that would prevent OJ futures from falling below 110-120 later this fall or winter would be whether or not it freezes in Florida and if the Green Disease does not get eradicated.
Sugar prices have broken recent resistance levels. Sugar prices have been on the defensive for two years in the face of growing production from Brazil and a replenishment in India's stocks, following the bull-market, El Nino inspired short crop of 2009. India is slated to have big production this season. However, due to what we call a negative Antarctica Oscillation Index (warm blocks near Antarctica that send cool air north), and the MJO, it has gotten a bit too wet in northern Brazil lately and this may be slowing the crush. Drier weather is needed as farmers are presently having a hard time transporting equipment into the fields to harvest sugar. This combined with weather issues in India will likely keep sugar prices firm on breaks. The ETF (NYSEARCA:CANE) has seen the lows for now, but can't say with great certainty we are looking at a substantial move higher.
Finally in coffee, the Vietnam crop is robust but some harvest delays are possible heading into Mid-October. In contrast, we are entering the most critical time of the year for Brazil's coffee crop, which begins blooming in October. I look for great October rains to potentially give the early 2014 Brazil coffee crop a good boost. While it is tempting to say that coffee prices are "too cheap", that is never a good recipe for taking a position in any market. Most global fundamentals remains neutral at best, and possibly bearish coffee longer term. If Brazil has another big crop this winter, the ETF (NYSEARCA:JO) has another 10% down the next few months.
Disclosure: I have no positions in any stocks mentioned, and no plans to initiate any positions within the next 72 hours. I wrote this article myself, and it expresses my own opinions. I am not receiving compensation for it (other than from Seeking Alpha). I have no business relationship with any company whose stock is mentioned in this article.