Concerns about higher interest rates and inflation have finally arrived, which might cause fund managers to rotate out of dividend-yielding and consumer discretionary sectors into those that generally perform well in similar environments - sectors like technology.
When inflation rears its ugly head along with interest rate increases, the value of dividend paying stocks declines by virtue of the eroding yield. Growth stocks have high price-to-earnings multiples and are able to navigate the economy by holding little capital for a long period of time, thereby eliminating any negative inflationary effects, and have an easier time passing on higher prices to consumers.
And technology tends to become more valuable to companies in times of inflation because of the simplified cost associated with products like software. Once a product is paid for, it will operate as designed until obsolescence - no need to give it cost of living raises.
We examined three technology stocks that could do well in an environment of continued money printing and inflation. These companies have solid growth prospects with a favorable PEG ratio of less than one and high operating margins of 25% or more. This combination should mean that they have exceptional earnings growth, with enough of a margin to endure short-term economic hardships.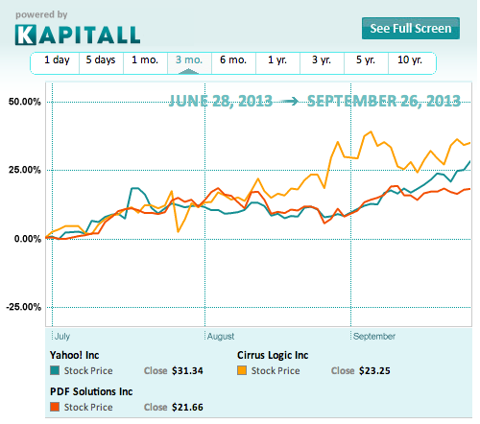 (Click to enlarge. Sourced from Zacks Investment Research.)
First is the $32 billion dollar Internet giant, Yahoo (NASDAQ:YHOO). This company has been a Wall Street darling of late thanks to a surprising turnaround by CEO Marissa Mayer. Under her leadership, Yahoo's number of monthly active users has grown 20% to 800 million since she took over in July 2012, and EPS growth for 2013 increased 300%.
Yahoo has been aggressive in its search for growth, acquiring nine companies including a $1.1 billion dollar buyout of Tumblr. In July, Yahoo was the most visited website, topping longtime rival Google (NASDAQ:GOOG) by 4.3 million users. The company has a price-to-earnings-to-growth ratio of 0.71, giving them plenty of unrealized value, despite the stock's upside climb of around 57% so far this year. Inflation-resistant, Yahoo maintains an operating margin of almost 54%, more than double that of their largest competitor, Google, with a margin of 23%.
Next, Cirrus Logic (NASDAQ:CRUS), a 'small' $1.4 billion dollar semiconductor company that primarily deals with audio electronics for smartphones, tablets, and other hand-held devices. They are a large supplier - comprising 82% of Cirrus's sales - of Apple (NASDAQ:AAPL) and a good alternative for taking advantage of the iPhone maker's growth without directly investing in the mega cap.
As the new iPhone products come online and the Chinese market is opened further, Cirrus stands to profit from the rising tide, as phones have become more of a consumer staple for most, allowing companies to pass on inflation costs more easily to customers.
While the stock price of Cirrus plummeted early in 2013, moving in step with lowered expectations from Apple, the stock has been steadily rising since hitting a low in July. They have a price-to-earnings-to-growth rate of just 0.54, with annual earnings growth over the past five years of 98%. Like Yahoo, Cirrus has a strong margin - 26% - which gives the company flexibility as the economy struggles to grow.
Finally, consider PDF Solutions (NASDAQ:PDFS), a leader in output improvement technologies and services for the integrated circuit manufacturing process. With a market capitalization of $652 million, PDF Solutions is a fast-growing company with EPS growth over the last five years at 70%, and they are currently pursuing new technologies like 3D printing transistors.
Like these other two tech stocks, PDF Solutions has a high operating margin - over 26% . Suited for most economic conditions, PDF offers companies solutions for improving efficiency and yield. PDF's unusually high volume in August could mean institutional activity is picking up in this stock as well, and should be noted by investors. A price-to-earnings-to-growth ratio of 0.84 means the company remains undervalued and a Current Ratio of 8.5 reveals that they carry very little debt, just $13.3 million, as opposed to current assets of $113.8 million.
For value investors that have concerns about inflation, these three stocks could navigate the economic waters more easily than other tech stocks. The next bull market will probably be led by sectors that can generate profits amidst an inflationary climate, and technology has historically proven to outperform. As dividend stocks potentially lose their luster, consider looking at companies that are more growth oriented.
Disclosure: I have no positions in any stocks mentioned, and no plans to initiate any positions within the next 72 hours.
Business relationship disclosure: Kapitall is a team of analysts. This article was written by Daniel Cross, one of our writers. We did not receive compensation for this article (other than from Seeking Alpha), and we have no business relationship with any company whose stock is mentioned in this article.