By David Urani
Earlier this week, we saws some insightful homebuilder earnings from Lennar (NYSE:LEN) and KB Home (NYSE:KBH) that did show some deceleration in new orders but overall could be taken positively as they didn't show complete derailment of housing demand (which many fear).
Now we will review the Census new home sales report for August. It shows a 421k annual rate of sales, a 7.9% month to month increase and a 12.6% increase year over year. That was a touch below the 425k consensus estimate. As a reminder, the July reading had shown a volatile 14.1% month to month drop so it was reasonable to expect some rebound from that unusually large decline. However, we still remain at the 454k June result; January was the high point of the current cycle at 458k.
Regionally, the Northeast, Midwest and South gained while the West surprisingly dropped to the lowest level since March of last year. Meanwhile inventory was up 3.6% for the month to 175k, but due to the higher sales, the months' supply fell from 5.2 to 5.0.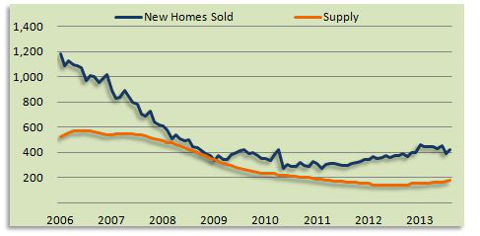 While it wasn't quite the rebound the Street was expecting, it was close enough and housing stocks are seeing a little bit more relief as many were braced for a worse result. That said, there was quite a bit of volatility in the data of the last two months; we'd like to see a couple more months to draw a trend of just exactly how much of a deceleration home demand is in.
Dow Jones US Home Construction Index