"If we have insufficient cash on hand, it would be impossible for the United States of America to meet all of its obligations for the first time in our history" Jack Lew
As I was reading Left Banker's super interesting article "Beware The Mondays Of October," I was reminded of a poem written by Tim Burton, back in 1982 when he was working as an animator at Disney. Set in "Halloween Town" with monsters, ghosts, ghouls, goblins, vampires, werewolves and witches as citizens; the poem starts like this:
Boys and girls of every age
Wouldn't you like to see something strange?
Come with us and you will see
This, our town of Halloween

This is Halloween, this is Halloween
Pumpkins scream in the dead of night

This is Halloween, everybody make a scene
Trick or treat till the neighbors die of fright
It's our town, everybody scream
In this town of Halloween

Source: The Nightmare Before Christmas
Burton managed to make a deal with Disney and made it into a movie under Disney's "Touchstone Pictures" banner, since Disney executives thought the film "too dark, and scary for kids" to go under the Walt Disney brand.
I've watched the movie a dozen times and think it is highly entertaining. My favorite character is Jack the Pumpkin King, who leads the town's citizens in a frightful celebration every Halloween.
Interestingly enough, there is another Halloween story developing in mainstream media and, funnily enough, its lead character's name is also Jack, the Treasury secretary who sent the scary letter to John Boehner, the Republican House speaker, telling him that the special measures that the US Treasury had been taking to pay its bills will be exhausted by mid-October.
Rebalancing Investments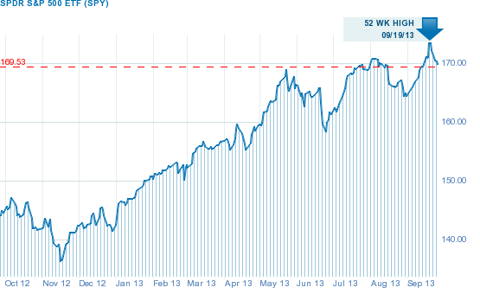 Click to enlarge
SPDR S&P 500 Trust ETF (NYSEARCA:SPY)
Given the uncertainty, the S&P 500 started to retreat from its peak as some fund managers started moving out of stocks and into bonds to rebalance their assets. The SPY, which reached a peak of 173 on September 18th, up 22% year-to-date, is now down to 169, which is still high by our estimates. If you are still vested in some richly priced speculative stocks this is the time to cash out.
Trading Volatility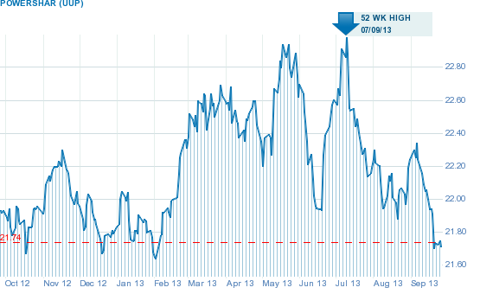 Click to enlarge
PowerShares DB USD Bull ETF (NYSEARCA:UUP)
We have seen this movie once before, when the debt ceiling was reached in August 2011 the United States federal government's credit rating was downgraded. This should come as bad news for the dollar, however, given the fact that it is freaking Halloween, nothing actually seems to behave as it is supposed to any more.
Your best bet is to trade dollar volatility as a way to hedging your portfolio. A simple way to do that is through US Dollar bull and bear ETFs. They allow you to bet on the dollar without having to physically own any foreign currency.
The Deutsche Bank US Dollar Bullish Fund is designed to replicate the performance of being long US Dollar against the following basket of currencies: Euro, Japanese Yen, British Pound, Canadian Dollar, Swedish Krona and Swiss Franc.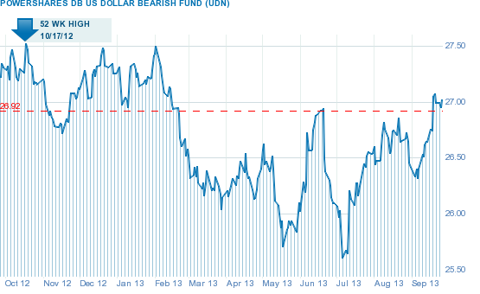 Click to enlarge
PowerShares DB USD Bear ETF (NYSEARCA:UDN)
The Deutsche Bank US Dollar Bearish Fund does the opposite. It is designed to replicate the performance of being short US Dollar against the same basket of currencies.
In a perfect world, where financial markets reflect real world events and behave with a resemblance of secular rationality that is the fund you would wish to be vested in right now. But, as Dorothy has already eloquently put it "Toto, I've a feeling we're not in Kansas anymore. We must be over the rainbow!"
Disclosure: I have no positions in any stocks mentioned, and no plans to initiate any positions within the next 72 hours. I wrote this article myself, and it expresses my own opinions. I am not receiving compensation for it (other than from Seeking Alpha). I have no business relationship with any company whose stock is mentioned in this article.