Moving Down Familiar Debt Road

The stock market continues to focus on the developments, or lack thereof, in Washington. The market's take as of Thursday afternoon seemed to align with Mr. Spencer's comments below from Bloomberg:
"Washington has been dragging their feet as of late but eventually they'll be forced into action," said Patrick Spencer, head of U.S. equity sales for Robert W. Baird & Co. in London. "We've been down this road before. It's quite natural and healthy to have pull-backs in a bull market. We'll shift into a stronger gear with a settlement on the budget and what I think will be a very positive earnings season."
ETF Leaders Have Cyclical Look
Higher beta and cyclical exchange traded funds tend to perform better during periods of increasing economic optimism. Readers who know the ETF landscape will agree the weekly leadership shown in the table below has a bullish/pro-cyclical bias. This collection of ETFs tells us the debt ceiling talks have not yet flipped the markets to "risk-off" mode.

Bond Progress: How Meaningful?
The exception to the pro-cyclical rule in the ETF table above is Treasuries (NYSEARCA:TLT). Gains in bonds are somewhat of a double-edged sword. Increasing demand for defensive assets aligns with increasing fear and moves the big picture closer to a risk-off stance. However, when bonds rise in price, it means interest rates are falling, which can be a positive for the economy and stocks. As shown in the stock vs. bond chart below, TLT's gains this week have not significantly altered the demand profile when viewed from a weekly trend perspective.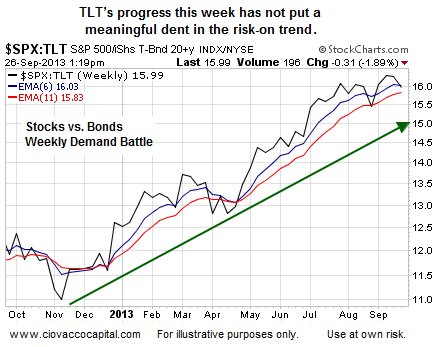 Economic Data Not Alarming
Bear markets typically occur when the economy is in a recession. Recessions are typically associated with rising unemployment. The latest measure of the labor market does not align with an imminent recession. From Reuters:
The Dow and benchmark S&P 500 index snapped a five-day losing streak after the Labor Department said the number of Americans filing new claims for unemployment benefits fell last week to sit near a six-year low. The data helped ease concerns about the U.S. economy that the Federal Reserve raised last week when it left its stimulus program intact to the surprise of many investors. The jobs data could support the Fed's plan to begin winding that program down.
Portfolio Allocation Implications
Our market model continues to call for a significant allocation to U.S. (NYSEARCA:SPY) and foreign stocks (NYSEARCA:EFA) and limited exposure to conservative assets, such as bonds (NYSEARCA:AGG). As we noted in this video segment, waiting for observable evidence to shift improves our odds of success. If the bulls can stave off a debt-ceiling correction, the ETF table above represents an excellent short list in a risk-on climate.
Risk Reduction Contingencies
Taking the glass half empty view, the stock market remains vulnerable and a risk-reducing game plan is in our back pocket. If the S&P 500 drops below the 1683-1690 range, we may begin to implement those plans by taking an incremental step away from risk. Until some resolution comes out of D.C., making significant allocation shifts in either direction may prove to be unwise.
Disclosure: I am long SPY, EFA. I wrote this article myself, and it expresses my own opinions. I am not receiving compensation for it (other than from Seeking Alpha). I have no business relationship with any company whose stock is mentioned in this article.