FAB Universal (NYSEMKT:FU) has been on a tear lately. It has been called the "Chinese Netflix" and has generated quite a bit of interest. Over the last three months the stock (and volume) has exploded. The stock is up over 150% over the last 3 months, and the majority of that move has come after September 12.

The Business
As described by CEO Chris Spencer on the latest conference call, FAB Universal
"For those of you, who are new to FAB, FAB Universal is a global leader in digital media entertainment sales and distribution. We distribute audio and video products, including copyright protected music, video games, digital books and movies, DVDs and Blu-rays, to consumers in China through three channels wholesale, retail, and our network of Intelligent Kiosks. Together, these channels form our distribution platform and the cornerstone of our growth strategy, which is to extend our market leadership and fully leverage our established FAB brand. Within the media and entertainment industry in China, consumers associate the FAB brand with high quality popular copyright protected media and entertainment content."
Source: Conference Call
FAB also operates the largest network of independent and professional podcasts. Mr. Spencer has called FAB "Best Buy meets iTunes meets Redbox."
While FAB Universal certainly has what sounds like an interesting business, albeit one that I would generally avoid, I see many red flags.
Insiders Are Selling, Fast
While the stock price has been rising, insiders have been selling. Insider selling is not exactly what you would like to see in a small-cap company where the main story is one of high growth and rapid expansion.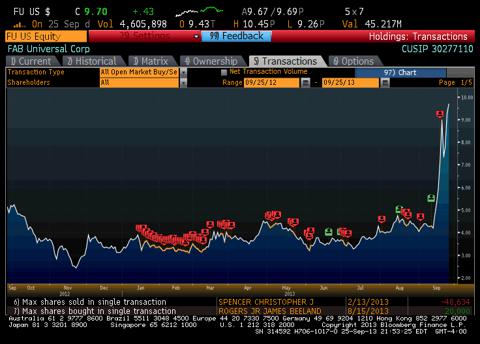 Above you can see all open market buys and sells over the past year. Insiders have only bought shares four times in the open market over the past year, and have had many, many cases where they sold stock in the open market.
Institutions Don't Own It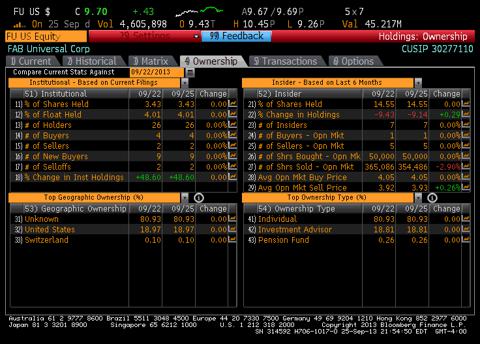 A big red flag is the miniscule amount of institutional ownership. Currently institutions only hold 3.4% of the shares outstanding and almost 81% of the shares are held by individual "retail" investors. The top right table also gives you another idea of the insider sales vs. purchases.
Potential for Dilution
On the most recent conference call an unidentified analyst asked a very interesting series of questions. It relates to the company's acquisition of DEI.
He asked:
My question is when getting back to your stock options, when you bought DEI from what I calculated could be as many as like 28 million shares. So, I just wanted a little more clear guidance on how that's going to impact profitability going forward and whether it will dilute the current shareholder earnings?
To which Mr. Spencer responded:
Well, I'm going to let John expand on that a little bit, but yes there is definitely additional shares to be issued. We feel that at the end of the September our partners in China will earn approximately $20 million that will be issued during the fourth quarter subject to their meetings, performance milestones, and corporate government hurdles. There is no additional voting right associated with the shares, but obviously they would be dilutive.
The CFO, Mr. John Busshaus then added:
And as of course the second part your question those issuance of shares will have no direct impact on expense. Those were accounted for at the time of the acquisition through a fair market value and allocation and resulted in the number that we put on our balance sheet and goodwill ultimately.
In the 10-K it says this about the share count dilution possibility "Based on a total of 10,702,309 fully-diluted outstanding common shares as of the Closing date, 14,689,444 common shares will be issuable upon conversion of the first tranche of Preferred Stock; 5,488,364 common shares upon conversion of the second tranche; and 7,484,132 common shares upon conversion of the third tranche."
Currently there are 20 million shares outstanding. If you read the documents below it appears that there are potentially 20 million shares that could hit the market soon.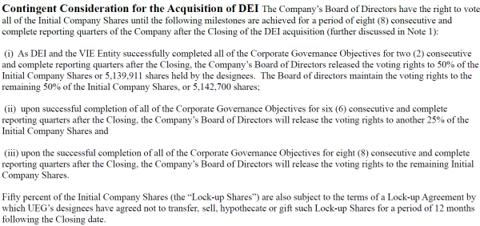 Source: Company 10-Q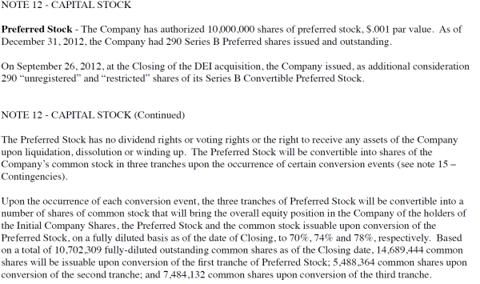 Hat tip John Welsh on Twitter @johnwelshtrades for posting the specific documents.
The merger closed on 9/26/2013 so the twelve-month lockup ends tomorrow. I believe that this could be the catalyst for this red hot stock to drop.
Summary
This stock is very hot, but I believe that the current price has outpaced the fundamentals of the company. There are several red flags including the insider selling, lack of institutional ownership, and the shares that will soon be hitting the market if I am correct.
Disclosure: I am short FU. I wrote this article myself, and it expresses my own opinions. I am not receiving compensation for it (other than from Seeking Alpha). I have no business relationship with any company whose stock is mentioned in this article.