After a razor sharp decline in the stock price of Netflix, Inc (NASDAQ:NFLX) from $298.83 to $57.79 during last year, it was trading at its all-time high of $305.65 during the last week. Netflix, the largest subscription streaming service provider, has witnessed an increase of 230% in its share price since the beginning of this year. Here, the question arises if the share price of Netflix will continue to increase or revert back to its all-time low? Let us analyze Netflix and find the answer to this question.
Historical Performance
The Internet television network of Netflix enables 38 million subscribers across 40 countries to enjoy one billion hours of TV shows and movies every month. Overall, the company's performance has improved in the second quarter of the current fiscal as compared to the same quarter last year.

SOURCE: morningstar.com
Netflix experienced a double-digit growth in its top line. The company's revenues grew at a compound annual growth rate (OTCPK:CAGR) of 29.30% over the last three years as compared to the industry average of 4.10%. This was primarily attributable to the upsurge in the domestic and international subscribed members, which increased revenues by 19.59% to $1069 million in the second quarter compared to the same period last year. However, the increase in cost of revenue as a percentage of sales had partially offset this increase in revenues.
Netflix successfully managed to control its operating expenses, as a percentage of sales, as these expenses decreased to 24.23% from 25.87% in the last quarter. In absolute terms, operating expenses had increased by 12.60%. Operating margins increased significantly from 1.80% to 5.33% during the most recent quarter. Netflix reported higher net profit margins as the company was able to translate its revenue growth in its bottom line. Diluted earnings per share increased from $0.11 to $0.49 because of high operating income during the second quarter.
Although the company's margins have improved significantly, the results were not satisfactory when compared to the industry. On a standalone basis, Netflix has reported good results but the company's performance was not up to the mark when considering the margins reported by the industry (shown in graph below). In the last 12 months, the company's operating margin stood at 3.20%, which is well below the industry average of 5.4%. Similarly, the net margin of Netflix was also lower than the industry average. Though Netflix is operating at the optimal capital structure, its ROE is significantly lower than the industry average.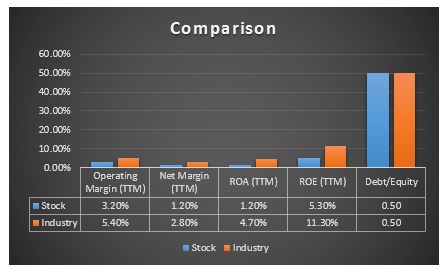 SOURCE: morningstar.com
Growth opportunities and Increasing Competition
Netflix has 29.2 million paid subscribers in the U.S. and 7.1 million subscribers outside U.S. Netflix is combining original programming with the first-run and library films to maintain new subscriber growth. After its recent deal with Weinstein, Netflix will obtain exclusive pay-television rights to Weinstein and Dimension films, which will be released by 2016.
According to a research report by Sandvine, Netflix is leading the video streaming segment of the Music & Video industry. It accounts for 32.25% of downstream traffic during peak periods. Video streaming will continue to grow from 58.60% in the first half of 2013 to 66% by the end of the first half of 2018 in the United States.
Although companies offering video streaming services continue to witness growth in their businesses as viewership increases, the market share of companies such as Netflix, Hulu, and Google's YouTube has not increased. Netflix accounts for 28.88% of the aggregate traffic. Market share of different companies operating in the video streaming services is given below.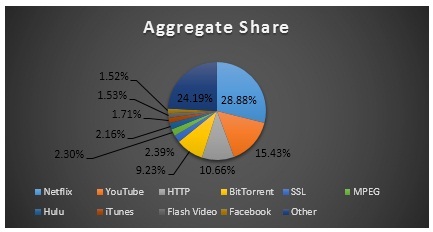 SOURCE: news.cnet.com
Netflix may continue to lead the industry for now but there is a high risk that as the big players like Google, Disney, Microsoft and Amazon decide to expand their business in this segment, the industry will become concentrated and Netflix may lose its market share to these big giants. Therefore, I believe Netflix is likely to face strong competition in the future.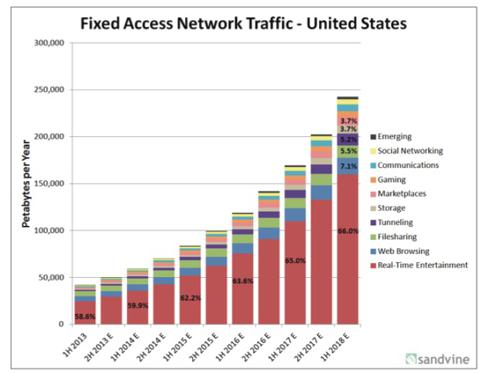 SOURCE:news.cnet.com
Additionally, the high cost of acquiring exclusive content, which Netflix does not have, can put pressure on Netflix's bottom line. Conversely, if Netflix does not buy the content, subscribers may switch from Netflix to other service providers, which will negatively affect its revenues.
Furthermore, growth of the company has slowed down over the last few quarters as Amazon and Hulu join the race to get a slice of the pie. The demand for video streaming is high and continues to grow but the biggest obstacle to posting decent results in the future will be the increasing competition. Additionally, Netflix's streaming service is more costly than its competitors'. Amazon's Prime unlimited streaming service for $79 per year is cheaper than Netflix's streaming subscription of $7.99 per month. A 20% premium is significant enough to cause the subscribers of Netflix to consider switching. Moreover, Amazon Prime members are also entitled to receive a shipping discount.
Piracy is also one of the biggest concerns for Netflix and may hurt its margins. Reed Hasting, CEO of Netflix, recently stated, "Certainly there's some torrenting that goes on, and that's true around the world, but some of that just creates the demand. Netflix is so much easier than torrenting. You don't have to deal with files, you don't have to download them and move them around. You just click and watch."
However, in my opinion, people have numerous other ways to watch movies without paying any subscription fee. There are thousands of movie websites that allow free streaming.
Due to high competition, Netflix is not in a position to further increase its prices. The company lost 800,000 domestic subscribers when it increased its prices by 60% from $9.99 to $15.98 in 2011. Raising prices is very risky in competitive markets where customers have many choices. Thus, Netflix was compelled to decrease its price.
Valuation
Netflix is operating at a P/E multiple of 381.90 times, which is pretty high as compared to the industry average of 18 times. The stock of Netflix is currently trading near its all-time high whereas its earnings are not increasing with the same pace. Therefore, its P/E is a lot higher than the industry average. Moreover, Netflix has a PEG ratio of 7, which is also higher than the industry average of 1.30.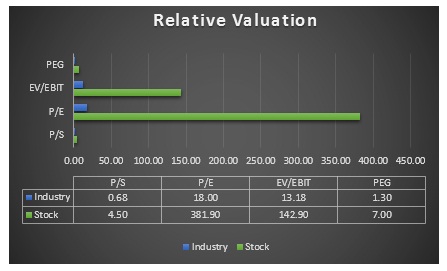 SOURCE: gurufocus.com
The EV/ EBIT multiple of Netflix is 142.90x, which is also higher than the industry average of 13.18x. All these valuation measures indicate that the stock will not be able to sustain its current price level and Netflix is overvalued compared to the industry.
Final Call
On an aggregate basis, Netflix has experienced high growth in its revenues over the last three years. However, the company's revenue growth decreased from 48% in 2011, to 12.60% in 2012. A large decline in the rate of revenue growth was primarily due to the growing competition and availability of content on pirated sites like torrent, and free video streaming websites. Overall, the industry has a bright outlook but I believe Netflix will not be able to benefit from this high growth because of the growing competition.
Additionally, Netflix has posted decent results as compared to its prior-year quarterly performance but it was not at par with the industry average. I think that when the pioneer of video streaming is unable to post margins higher than the industry now, it may not be able to post superior results in the future as well, as the level of competition is turning fierce with every passing day.
The company's multiples are well above the industry average, which is not a healthy sign. Due to the inferior performance of Netflix and increasing competitive environment, I would give a sell recommendation for this stock.
Disclosure: I have no positions in any stocks mentioned, and no plans to initiate any positions within the next 72 hours. I wrote this article myself, and it expresses my own opinions. I am not receiving compensation for it (other than from Seeking Alpha). I have no business relationship with any company whose stock is mentioned in this article.