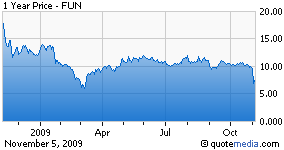 Cedar Fair
(NYSE:
FUN
) is a publicly traded partnership headquartered in Sandusky, Ohio, and one of the largest regional amusement-resort operators in the world.
The Partnership owns and operates 11 amusement parks, six outdoor water parks, one indoor water park and five hotels. Amusement parks in the company's northern region include two in Ohio: Cedar Point, consistently voted "Best Amusement Park in the World" in Amusement Today polls, and Kings Island; as well as Canada's Wonderland, near Toronto; Dorney Park, PA; Valleyfair, MN; and Michigan's Adventure, MI. In the southern region are Kings Dominion, VA; Carowinds, NC; and Worlds of Fun, MO. Western parks in California include: Knott's Berry Farm; Great America; and Gilroy Gardens Family Theme Park, which is managed under contract.
The L.P. Units trade on the NYSE under the symbol FUN and closed Wednesday at $7.37.
They took a big hit right after the (reasonably good) third quarter earnings release simply due to a change in income distribution policy. FUN had been mainly seen as an income vehicle for its holders having paid generous distributions of $1.40 - $1.92 annually in each calendar year from 1999 through 2008.
With the recession hurting operating earnings and the very tight credit markets, management announced a suspension of distributions starting in 2010 in order to pay down debt. This seems like the proper long-term strategy even though the old income-seeking holders dumped the stock on the news.
FUN units briefly went under $7 before rebounding a bit to finish on Nov. 4th at $7.37. The 52-week range has been $5.75 - $19.80. Until late 2008's market meltdown, the low from 1998 had never been less than $17.40 and the yearly highs had ranged from
$20.90 to $36.00.
Ignoring the change in distribution policy, what are these units worth on fundamentals?
The business is seasonal with more than 100% of the profits generated in the spring-summer months. The nine-month results were $1.92 in 2009 versus $1.65 in the prior year's same period. The Zacks estimates for the full years 2009 - 2010 are now running $1.16 and $1.36. That puts the multiples at < 6.4x this year's and about 5.4x the 2010 expectation. Compare those with 10-year median P/E of 16x to see just how cheap FUN is right now.
Here are the per unit numbers for Cedar Fair as reported by Value Line:
Cedar Fair remains quite profitable and management's decision to suspend the distributions to reduce debt seems quite sound. It what almost every bank and S&L in America should have done (but didn't) over the past few years.
A return to even 12 times 2010's projected earnings of $1.36 would lead to a price point of $16.32 /unit or up 121% from yesterday's closing quote. Somewhere in the future it is expected that the distributions will be reinstated as well.
This looks like an opportune time for investors to accumulate FUN for capital gains potential by buying from those downhearted income investors currently exiting these units.
Disclosure:
Author has been a big buyer of FUN units over the past few days.
I am now long FUN and short FUN puts.