Alcoa (NYSE:AA) is a world-leading aluminum producer and has literally been thrown under the bus over the last five years with a hefty capital loss of 57% for shareholders. Competitors Aluminum Corp. of China (NYSE:ACH) and Century Aluminum (NASDAQ:CENX) also did not make shareholders happy with losses of 34% and 60% respectively.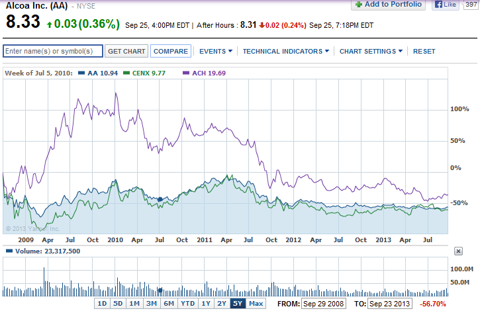 Industry headwinds
Why are the share prices of basic material suppliers not reflecting increased manufacturing and construction activity during the economic recovery which is underway for at least three years? The answer, as it turns out to be, has a three-fold dimension: Producers suffer from bloated cost structures due to energy extensive aluminum mining, a fundamental supply/demand imbalance characterized by high aluminum stock levels and a declining aluminum commodity price (currently in the $1800 range per ton). Aluminum companies represent leveraged plays on the aluminum price and are even more cyclical than Rio Tinto (NYSE:RIO) or BHP Billiton (NYSE:BHP) which run more diversified businesses.
Aluminum is an essential industrial metal with a variety of applications in the transportation-, packaging- and construction industries and will remain a prime commodity that cannot be substituted. Large aluminum inventories, however, keep pressure on the aluminum price. As the Metal Miner reported on September 16, 2013:
Although LME stocks of aluminum have been dropping the past month or so, they are still at record highs, as LME prices remain under the $1,800 per ton threshold.

Inventories of aluminum in LME warehouses are at about 5,350,000 tons worldwide, down from a high of nearly 5,500,000 tons in mid-summer 2013, according to the latest figures compiled by the Copper Journal. Of course, the pressure that aluminum producers such as Alcoa and Novelis and end-users such as MillerCoors have been putting on the LME for transparency may have a bit more to do with dropping stocks than actual demand for the metal.
Excess supply has been a burden on producers for some time now and the question remains when the supply/demand dynamic turns around. Aluminum prices have contracted for a good two years now and left a nasty mark on Alcoa's operating performance.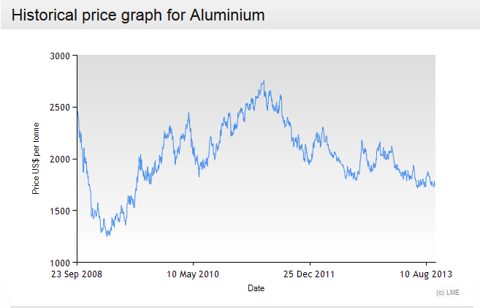 Declining aluminum prices hit Alcoa with full force
Quarterly revenues remained stable at the $5.8 billion level in Q2 2013 compared to Q1 2013 but are down 2% compared to last year indicating that top line growth stagnates. In addition, the realized aluminum price per metric ton declined 4% y-o-y. But Alcoa did not only take a hit from declining aluminum prices: Restructuring costs of $244 million in Q2 2013 ripped a decent-sized whole into Alcoa's P&L. The resulting net loss came in at $119 million or ($0.11) per diluted share. Even without special charges to the P&L diluted EPS was just marginally positive at $0.07. Annualized and normalized H1 2013 earnings would yield $0.36 per share and a 2013 P/E of 23. Consensus estimates show that analysts expect Alcoa to earn $0.49 per share next year bringing the forward P/E to 17. This valuation is still way too high given the extraordinary pressures on Alcoa's cost structure and a deeply uncertain industry outlook that disproportionately depends on the aluminum price.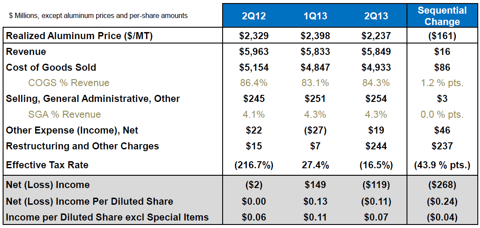 Peer group constituents also overvalued
Certainly, unfavorable and deep-cutting supply/demand imbalances offer opportunity: But they must translate to substantial discounts to intrinsic value not premiums. Aluminum producers are still way overvalued with substantial risks relating to contracting net revenues and cash flow.
The extended peer group below consists of core commodity suppliers United States Steel (NYSE:X), Freeport-McMoran (NYSE:FCX), Peabody Energy (BTU) and ArcelorMittal (NYSE:MT). The P/E ration averages 18 for the total set with a fairly mediocre dividend yield of 1.83%. Alcoa, Peabody Energy and United States Steel Corp. are very highly valued given their respective industry prospects.

Conclusion
While the companies of the extended peer group above operate in different businesses with different commodities they all produce core commodities that are needed for every day goods: Houses, planes, cars, telephones and wires. Demand for these items will not go away which illustrates the fundamentally attractive long-term prospects of the basic materials industry. While Alcoa remains a heavyweight in the fragmented aluminum arena, current excessive inventory levels keep the aluminum price depressed and cut right through to the P&L.
The decline in Alcoa's stock price is gradual and correlates with the underlying aluminum price. The share price, unfortunately, does not reflect excited panic selling as in the case for Potash Corp. (NYSE:POT) and Mosaic (NYSE:MOS). Both of these companies seem to be more attractive investments at the moment as unreflected sell-offs raise the chance of a material undervaluation (thesis here and here). Alcoa, on the other hand, trades at a rich 17 earnings multiple although the industry is facing a highly uncertain outlook due to excess supply and substantial price risks. Better investments can be found elsewhere in the basic materials sector.
Alcoa's current out-of-touch valuation is inconsistent with the underlying fundamentals. The company is highly dependent on the commodity price due to its undiversified product portfolio. Investors who believe in a persistence of excess inventory levels which put a ceiling on the aluminum price might want to consider a short position in Alcoa.
Disclosure: I am long BP, POT, MOS, FCX. I wrote this article myself, and it expresses my own opinions. I am not receiving compensation for it (other than from Seeking Alpha). I have no business relationship with any company whose stock is mentioned in this article.