Intel (NASDAQ:INTC) has been dealt a tough hand with personal computer (PC) markets in a decline. IDC sees this decline leveling off at about 315 million units a year with a continued decline in mature markets somewhat offset by halting growth in emerging markets.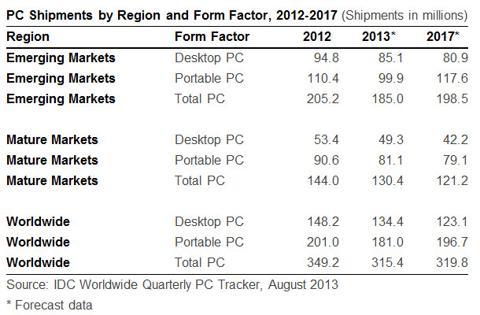 In parallel, IDC sees tablet growth continuing and surpassing PC sales this year.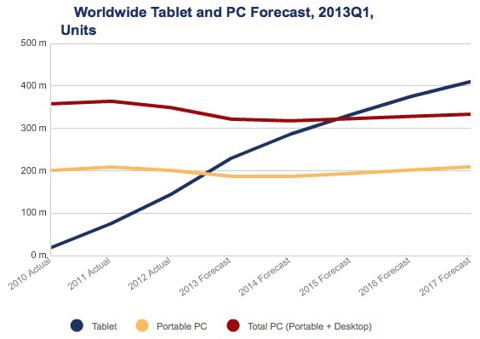 IDC has not been the most reliable source of forecasts for PC's. Their 2011 forecast has been revised downwards almost every quarter since it was published.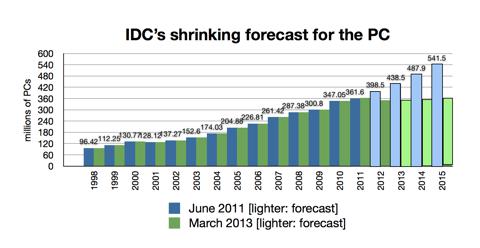 It seems even the experts had trouble forecasting the speed and breadth of the shift to tablet form factors. A lot of observers criticize Intel more missing the trend but at least they had company. Microsoft (NASDAQ:MSFT) missed it. Hewlett Packard (HQ) missed it. Dell (NASDAQ:DELL) missed it. In fact, just about everyone in the industry except for Apple (NASDAQ:AAPL) and Samsung (OTC:SSNGY) missed it.
For Intel, this has been a painful shift in demand since it receives revenue of something like $105 for each PC sold and until recently had no exposure to tablets.
That is changing and changing fast. Intel's shift to mobile has been aggressive and determined. There new Haswell and Silvermont processors are targeted squarely at smart devices and are powerful with low power consumption allowing long battery lives. There are now well over 100 hundred tablet models with "Intel Inside", many using Microsoft's Windows operating system (OS) and more recently using the Android OS. None of this is news.
But the street is divided about whether Intel is on a secular downward trend or likely to grow with forecasts, that generally result in a heated debate between fans of devices using Qualcomm (NASDAQ:QCOM) and ARM Holdings (NASDAQ:ARMH) processors and those users who use x86 machines.
The IDC forecast for PC's omits tablets which it reports and forecasts separately. There is the possibility but not the certainty that the new Intel processors might spur an upgrade cycle for PC's and that IDC's forecast is too pessimistic. For the time being I will use the IDC forecast, and return to the chance of an upgrade cycle later in the article.
The vast majority of tablets using the Windows OS also use Intel processors. While there are Windows RT devices using ARM processors, the number are quite small. So it is useful to start with the forecast for Windows tablets as an indicator of demand for Intel components.
In March of this year, IDC forecast that Windows tablets (excluding RT) would hold 7.4% of the tablet market by 2017.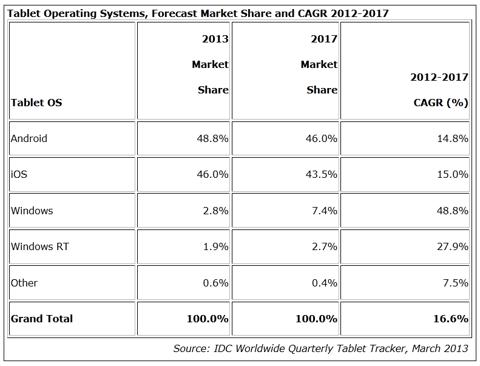 IDC's forecast for 2017 includes 407 million tablets and 320 million PC's.

Using these data as indicative, Intel processors should find their way into about 300 million of the 320 million PC's shipped in 2017 and 30 million tablets running the Windows OS. These two segments should provide Intel with $31.5 billion revenues for the PC portion (at $105 per device) and $1.2 billion for the tablet segment (at an estimated $40 per device) for a combined total of $32.7 billion revenue. SA author Ashraf Eassa has estimated that PC's with "Intel Inside" use more like $120 per unit of Intel components, and if he is right that would add another $4.5 billion of revenue which is material to the forecast. I will come back to this later.
Intel is also likely to be inside a growing number of tablets based on the Android OS. By 2017 I am making the assumption (and it is no more than an assumption) that Intel will power 20% of the roughly 190 million Android tablets IDC forecasts will be shipped that year or about 38 million units. These tablets should provide $1.6 billion additional revenue to Intel.
Intel is also targeting smart phones but to date has had very little success. Where it has enjoyed some demand is in the fast growing "phablet" segment of smart phones where Lenovo has "Intel Inside" its 5.5 inch K900 and Asus in its 7 inch FonePad device. The phone market has been hard to crack with Apple using its own processors and most of the Android phones using Qualcomm or Nvidia (NASDAQ:NVDA) components. Intel will nonetheless have some success in my opinion based on the power and functionality of its new processors and its aggressive path from its 28nm process in 2012 through 22nm this year, 14nm next year and further to 7nm over the next few years.
While it is hard to quantify how successful Intel will be, a reasonable approach is to dimension what the benefits will be if it is able to capture 10% of the market and readers can scale that up or down using their own judgment. With a 10% market share in 2017 Intel would sell 170 million processors into the smart phone market if IDC's forecast pans out. At an assumed $25 per smart phone processor, this would add 2017 revenue of $4.3 billion. I should point out that Intel's tray price for Silvermont smart phone processors is $37 but I have assumed $25 to allow for volume discounts. If Intel was able to average $37 per unit, it would add $2.1 billion to revenue. Again, I will come back to the difference.
Adding these elements, Intel has a reasonable chance of revenues from smart devices in 2017 of $38.6 billion. This compares to PC client group revenue of $34.3 billion in 2012 and perhaps another $1 billion of the $4.4 billion Intel recorded in "Other Intel Architecture" in that period, or about 9% ahead of the 2012 level.
Nine percent growth in 5 years is nothing to write home about, but it is not the decline many have predicted.
Intel's Data Centre segment turned in 2012 revenues of $10.6 billion and continues to grow at 4% to 6% annually which I see as likely to continue, yielding 2017 revenues in the $14 billion range.
Intel's introduction of very small processors for the "internet of things" is a new advance. These devices, which Intel has named "Quarks", will find their way into appliances, devices, medical applications, automobiles, and many other end uses over time. I have no idea how big a market they will ultimately create but see very little risk in assuming revenues of $1 billion by 2017 are in the range of possibility.
In addition to these segments, Intel enjoys revenue of about $4 billion from other sources including software and services. With Intel in a position to selectively enter the merchant fabrication business as it has done on a very limited basis, this could grow to $5 billion by 2017 quite readily. In total, a reasonable forecast is for Intel to have revenues of $59 billion in the year ended December 31, 2017.
With its process advances, Intel margins rise. I think margin rates in the 63% range are quite likely for total margins of $37 billion. Subtract $10 billion for Research and Development and $9 billion for operating expenses; apply taxes of 26% and Intel net income of $13.3 billion is left, or about $2.61 per share.
If the foregoing scenario unfolds more or less along the lines assumed, Intel is pretty fully valued at $24 a share today.
Coming back to the points deferred earlier, if Ashraf Eassa is right that each PC contains about $120 Intel content and if each smart phone contains $37 in Intel components, the revenue would swell to $66 billion, margin to $42 billion and net income to $17 billion or about $3.40 a share. That should be enough to support a stock price in the range of $40.
Forecasting volumes and prices for technology products four years out is a mugs game, and I have no greater insight than anyone else. The analysis is one of "rough" dimensions and possibilities. Real money will be made by those who get it right.
SA author Russ Fischer has also pointed out that Intel's McAfee security software could be embedded on PC chips potentially adding as much as $45 billion in high margin revenue. I have no idea whether that would ever come to pass or, if it did, be as big a contributor to Intel revenue as Russ Fischer estimates as possible, but I do believe the security area will grow in importance and that Intel is in a strong position to put the code right on the chip.
Likewise, I have no idea how big the Quarks business could be, whether processor and software advances will spur a PC upgrade cycle, or whether Intel's other ventures (like TV) will ever come to pass.
The point is this. Intel's base business of processors for PC's and servers and a modest penetration of the mobile device market should be sufficient to support the current share price. Creative applications for Quark, a possible PC upgrade cycle and a potential expansion of security software hold out the potential for substantial growth.
Accordingly, I think Intel is a low risk way to invest in the technology space with a potentially high reward. I am long Intel through LEAPS.
Disclosure: I am long INTC. I wrote this article myself, and it expresses my own opinions. I am not receiving compensation for it (other than from Seeking Alpha). I have no business relationship with any company whose stock is mentioned in this article.
Additional disclosure: I hold calls on INTC expiring as far out as January 2015