"We see Intel as the primary competition and we're very concerned. For us, the game plan is to stay ahead of Intel. Today, we are leading by a generation." - Yakov Shulman, CFO, Mellanox Technologies
The semiconductor industry is rife with boom and bust cycles. There are anomalies like Intel (NASDAQ:INTC) in the mid 80's to late 90's, or Qualcomm (NASDAQ:QCOM) in the iPhone (NASDAQ:AAPL) era, but for the most part, it's feast or famine. Exhibit A is a two year chart for Mellanox Technologies (NASDAQ:MLNX), a fabless semiconductor company that designs, manufactures and sells high-performance interconnect products that help to facilitate data transmission between servers, storage and systems.
(Chart Source: Yahoo Finance)
There's an old Wall Street chestnut that says an investor shouldn't catch a falling knife, but after a drop from $120 to $34.50, I purchased some shares a shade under $35. If we rewind to 2102, the company earned $3.57/share when it shot up to $120. For 2013, that figure declined to an estimated consensus of $1.17, which accounts for the sell off. However, if we fast forward to 2014, average earnings/share estimate is for $2.22. At $35, that gives us a forward P/E of 16. I find that metric reasonable and will continue to dollar cost average, even if the price keeps falling.
This really isn't just an article about Mellanox Technologies, but the brewing battle between Mellanox and Intel for supremacy in the data center. I'm betting on Mellanox. To buttress my investment thesis, the entirety of this article is helped by the most recent Mellanox Technologies 10-K, its last conference call, and the presentation at the Barclays Global Technology, Media and Telecommunications Conference.
A Brief Company Background
It's all about Big Data. Mellanox Technologies allows seamless integration between servers and the end users with their insatiable appetites for all sorts of information. It's the only game in town for 56 gigabit per second InfiniBand products. InfiniBand is an industry-standard architecture that provides specifications for high-performance interconnects. According to the annual report, these high-performance interconnect solutions remove bottlenecks in communications between computer and storage resources through fast transfer of data, latency reduction, and improved central processing utilization.
Although the majority of the company's revenues come from InfiniBand (which they've been shipping since 2001), it's also an early supplier of 40 Gigabit Ethernet to the market. This provides Mellanox with the opportunity to gain additional share in the Ethernet arena as users upgrade from one or 10 Gigabit to 40 Gigabit. Both technologies are crucial in the Cloud, and Mellanox is a one stop shopping place for the digerati looking to make their data centers run at mind boggling speeds.
As far as customers go, Oracle (NASDAQ:ORCL) (which owns 10% of the company) put Mellanox on the map by exclusively using the organization's InfiniBand offerings. Other heavy hitters followed suit. The enclosed diagram gives you a detailed presentation of Mellanox clientele: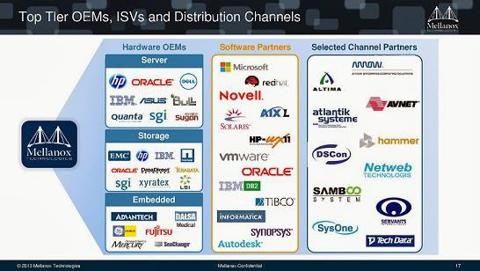 (Diagram Provided By Mellanox Technologies)
In regards to marketing, the company primarily sells to large server OEMs such as IBM (NYSE:IBM) and Hewlett-Packard (NYSE:HPQ). Both entities represented 35% of revenues in Q1, 2013. In aggregate, OEMs constitute approximately 90% if its sales, with the remaining 10% coming from distribution. Enough said.
The Ensuing Battle With Intel
Where semiconductors for wireless handsets are concerned, it's common knowledge in investing circles that Intel is behind the eight ball. They're also a generation behind in InfiniBand and Ethernet solutions for Big Data transfers. Nevertheless, they're a formidable opponent with deep pockets for R&D and acquisitions. Intel recently circled the wagons by purchasing four companies to compete head to head with Mellanox. CFO Yakov Shulman at the Barclays Global Technology, Media and Telecommunications Conference:
"Our closest competition is Intel. Intel acquired 4 companies to compete with us. Intel acquired NetEffect for Ethernet, they acquired Fulcrum for Ethernet switching, they acquired QLogic InfiniBand assets, as well as Cray Interconnect."
"To date, Intel offers 40 gig solution on InfiniBand side. We hear that they decided to skip 56 gigabit per second generation and will try to intercept us at 100 gig."
"We expect to introduce our full end-to-end 100 gigabit solution sometime in 2014, 2015 time frame. We think that Intel is behind us. We estimate that they will launch their solution in 2015 time frame."
"For us, it's a matter of execution. I think we have better technology and if we execute well, we could take significant market share."
The Mellanox Counterpunch
As part of its plan to deliver the next generation of interconnect, with speeds of 100Gb/s in 2014, 2015 timeframe, Mellanox acquired Kotura and IPtronics. These acquisitions bring to Mellanox important technology capabilities for interconnect solutions at 100Gb/s and beyond. By owning the core competency and controlling all the building blocks of the interconnect solution, Mellanox is positioned to continue to lead the fast interconnect market and to serve the High Performance Computing, Web 2.0, cloud, storage, database and financial applications.
Here's the Cliff Notes sales pitch as paraphrased by CEO Eyal Waldman in the latest conference call:
But even when Intel comes with a 100 gig solution, Mellanox has so many sticky design wins, it will take some time for Intel to really become a viable competitor in those markets. If you look at multiple design wins Mellanox has with Oracle, Teradata (NYSE:TDC), IBM, and EMC, when Intel comes with their solution, these customers will have to rewrite some of the code they created around Mellanox products, and Mellanox would have to qualify the code.
Valuations
Comparing Mellanox Technologies to Intel is no apples to apples comparison. Besides the technology, the only thing the two companies have in common is that they both greatly underperformed a roaring stock market in 2013. Year to date, Intel has moved from $21 to $23.70. If you screened for a Dog Of The Dow, you'd probably unearth Intel. Mellanox is a pure play on the semiconductor market for Data Centers. Intel is a behemoth, with tentacles that reach into many markets.
If you're an investor looking for fixed income, Intel may be a good bet for you. The dividend yield is 3.8%, but the P/E Ratio is 13, with projected earnings growing at a paltry 7.5% for the next 3 years. I've been through three market crashes: 1987, 2000 and the "Great Recession" of 2008-2009. Because of the instability at times in the market, I prefer my fixed income in CDs. However, your comfort zone may be different. That said, I think Intel's days as a growth company are over.
With Mellanox, earnings are projected to grow 100% in 2014. Wall Street is a forward looking mechanism, and October is when the smart money starts crunching numbers for the next calendar year. Although there are headwinds in the market like a possible government shutdown, I'm wagering that Mellanox technologies has stopped falling. The short float is 13.5%, and with the next conference call scheduled for mid October, I'm betting on a short squeeze. This is a good investment for the next year.
Disclosure: I am long MLNX. I wrote this article myself, and it expresses my own opinions. I am not receiving compensation for it. I have no business relationship with any company whose stock is mentioned in this article.