Oriflame Cosmetics (OTCPK:ORFLY) is a small-cap Swedish company, which offers a wide portfolio of beauty products. The company's primary listing is in Sweden, but its corporate headquarters are located in Switzerland. Oriflame has a market capitalization of $1.8 billion, and is traded in the U.S. in the over-the-counter market. It currently offers a dividend yield of 7.3%, which is quite attractive for income investors.
Company Overview
Oriflame is a leading beauty company, was founded in 1967, and has around 7,500 employees and production facilities in five countries, namely in Sweden, Poland, China, Russia, and India. The company offers a product range of approximately 1,000 products though its direct distribution model. Its products are marketed through a sales force of about 3.4 million independent Oriflame consultants. Its main competitor is Avon Products (NYSE:AVP). Direct selling is a way to market products directly to the customer, outside the traditional retail environment. Products are often offered at in-home demonstrations, parties, in the workplace or simply shared amongst friends and family. By choosing direct selling as its distribution channel, Oriflame cut out all middlemen such as wholesalers, advertisers and retailers, replacing them with independent consultants.
Oriflame offers the opportunity for people who want to work on their own start making money since day one through its business concept. The key drivers of its business concept are being your own boss, setting your own goals, or the low barriers of entry and exit. This concept is in line with a growing population of entrepreneurs that is less dependent on secure employments, throughout developed markets as well in emerging markets. The company provides credit and no stock is required, making it a low-risk business for consultants. Oriflame provides new catalogues every 3-4 weeks with new products. Additionally, the company also sells online which has been growing rapidly.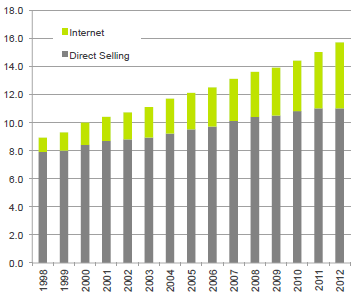 By product category, the company's sales are very well diversified with Colour Cosmetics accounting for 24% of its sales, Skin Care has a 22% weight, Personal & Hair Care and Fragrances both account for 20%, and Accessories and Wellness are responsible for the remainder.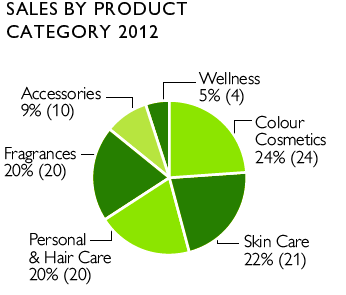 Oriflame is currently an international company present in more than 60 countries, with a broad geographical diversification. As the company continues to target consumers in emerging markets, Asia and Latin America should increase its sales' weight within the group over the next few years. The former Soviet Republics and Baltics account for more than half of Oriflame's sales, followed by Europe, Middle-East and Africa with a 28% weight. It has also a strong presence in China, a country with a rising middle-class which should continue to enjoy good sales growth rates in the future.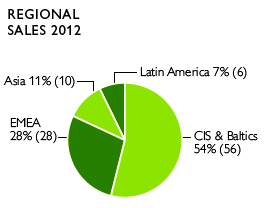 Regarding its financial results, Oriflame has a very good growth track record over the past 10 years. From 2002 to 2012, its sales CAGR was 11% and EBIT CAGR was 6%. However, over the past five years this growth has considerably slowed down, and Oriflame has posted a relatively stable sales and operating earnings performance. In 2012, Oriflame's sales declined 0.3% to $2 billion but its EBITDA increased to $275 million, from $245 million in 2011. Its EBITDA margin improved from 12.2% to 13.7%, its highest level since 2008. As a consumer company, Oriflame was hurt by weak macroeconomic conditions in Europe which saw its sales go down slightly. In Latin America, the company achieved very strong sales growth, with 15% higher sales than in 2011. Oriflame's net profit increased to 21% to $161 million, due to lower interest expenses. Its earnings per share increased 14.5% to $2.88, from $2.51 in the previous year.
Oriflame's long-term financial targets are to achieve local currency sales growth of approximately 10% per year, and an operating margin of 15%. To achieve these goals the company relies on the growing demand of cosmetics and toiletries products worldwide, but especially on emerging markets where rising middle-classes have now more income to spend on beauty products. Oriflame opens up 1-3 new markets per year, with its expansion focused in Asia, Latin America, and Africa.
Dividends
Oriflame's dividend history is quite good, given that it offered a gradually rising dividend over the past few years without any cuts at least since 2007. In 2012, the company paid a €1.75 ($2.36) dividend per share, unchanged from the previous year. In the previous two years the dividend had been increased by 20% and 16.7%, from €1.25 ($1.69) to €1.50 ($2.03) in 2010 and to €1.75 ($2.36) in 2011. Its dividend payment frequency is currently annual, but as of 2014 it intends to make the dividend payments in four installments to optimize the balance sheet and cash flows. Oriflame's dividends are subject to Luxembourg withholding tax, which currently is 15%.
Oriflame's dividend payout ratio has increased over the past few years, from 53% in 2008 to 82% in 2012. This leaves little room for dividend increases unless Oriflame is able to return to its growth path. The company's dividend policy over the long-term is to pay at least 50% of its annual profit after tax to shareholders. Therefore, although the dividend should not grow considerably in the short-term, it is also unlikely that Oriflame will cut it.
The company's dividends are strongly supported by its good cash flow generation. In 2012, operating cash flow amounted to $248 million which was way above its capital expenditures [capex] of $95 million. Thus, Oriflame's free cash flow was above $150 million, fully financing dividend cash outflows and reducing slightly the company's indebtedness. During the last quarters, its operating cash flow has declined slightly but it is still way above its capex as shown in the next graph.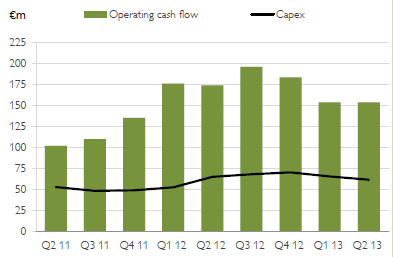 The company's dividend policy is also supported by its strong balance sheet. At the end of the second quarter of 2013, Oriflame's net debt was about $424 million. Its net-debt-to-EBITDA ratio was only 1.7x, which is manageable for a company with double digit operating margins and a good cash flow generation capacity.
Conclusion
Oriflame offers a very attractive dividend yield of 7.3% which seems sustainable over the long-term, due to its good cash flow generation, strong balance sheet, and growth prospects in emerging markets. The company is currently being affected by economic headwinds in Europe, but the recent economic green shoots should give a boost to its earnings over the next few quarters further supporting its high-dividend yield.
Disclosure: I have no positions in any stocks mentioned, but may initiate a long position in OTCPK:ORFLY over the next 72 hours. I wrote this article myself, and it expresses my own opinions. I am not receiving compensation for it (other than from Seeking Alpha). I have no business relationship with any company whose stock is mentioned in this article.