So I was going through my basement for some old fashion paper books and found this 1995 gem about the extremely intriguing grey area at the nexus of biotechnology and high finance.
Written by journalist Barry Werth, "The Billion Dollar Molecule", chronicles the early years of Vertex, a start-up pharmaceutical company, and witness firsthand the intense drama being played out in the pioneering and hugely profitable field of drug research.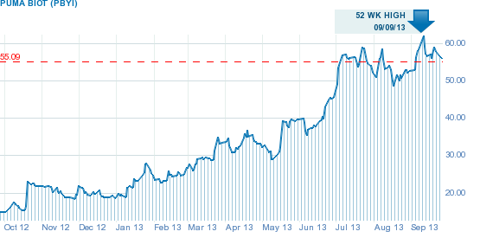 I decided to search for my own Vertex, to write about, and found Puma Biotechnology (NYSE:PBYI) interesting enough to make the grade. To start off, I would personally up the price if they invest in a more creative logo and a jazzier website.
But who am I to judge, the company has tripled its share price since the beginning of the year and, Alan Auerbach, founder, president, CEO and Chairman of the board, sold his previous creation, Cougar Biotechnology, to Johnson & Johnson (NYSE:JNJ) in July 2009 for one billion dollars in cash, and it had a similar logo and a simpler website.
Raison d'etre
Puma, a development stage biopharmaceutical company, is progressing Neratinib (PB272), licensed from Pfizer (NYSE:PFE), through Phase 3 clinical for the treatment of patients with advanced breast cancer. Puma has also licensing rights to (PB273), a backup molecule available for development.
Neratinib
Neratinib is a potent irreversible tyrosine kinase inhibitor that blocks signal transduction through the epidermal growth factor receptors, or EGFRs, HER1, HER2 and HER4.
Based on pre-clinical and clinical studies to date, it seems that neratinib may offer an advantage over existing drugs that are used in the treatment of HER2-positive breast cancer patients who have failed previous therapy.
Human epidermal growth factor receptor 2 (HER2), which promotes the growth of cancer cells, is found in about 1 of every 5 breast cancer patients where the cancer cells make an excess of HER2 due to a gene mutation.
HER2-positive breast cancers tend to be more aggressive and less responsive to hormone treatment. Women with breast cancer that over-expresses HER2 are at greater risk of disease progression and death than women whose tumors do not over-express HER2.
Special Protocol Assessment
In June 2013, Puma initiated a Phase 3 randomized clinical trial of neratinib plus Roche's (OTCQX:RHHBY) Xeloda versus GSK's (NYSE:GSK) Tykerb plus Xeloda in patients with HER2-positive metastatic breast cancer who have failed two or more prior treatments; third-line disease.
The study is expected to enroll approximately 600 patients and will be conducted at approximately 150 sites in North America, Europe and Asia-Pacific. The co-primary endpoints of the trial are progression free survival and overall survival.
Puma plans to use the progression free survival data from the trial, which is being conducted under a Special Protocol Assessment (SPA) agreement with the FDA, as the basis for submission of a New Drug Application (NDA) for accelerated approval in the US and to support a Market Authorization Application (MAA) to the European Medicines Agency for conditional approval in this indication.
Available Cash For Operations
Puma ended the first half of 2013, June 30th, with cash and cash equivalents of $61 million and marketable securities of $47 million. The company reported a net loss for the first half of 2013 of $24.4 million compared to $26.6 million for the first half of 2012. Net cash used in operating activities for the first half of 2013 was $29.5 million, at such rate of cash burn the company does not need additional financing for at least 18 months.
Further more, Puma's license agreement with Pfizer established a limit on its expenses related to certain clinical trials, this limit has been reached during the fourth quarter of 2012 and Pfizer, the licensor, is responsible for the excess expenses until these trials are completed.
Puma has already reported receivables of approximately $14.8 million associated with outstanding invoices to Pfizer, in relation to those trials. Puma expects payment before the end of the year.
Analysts Estimates
Most recent average analysts' recommendation was a buy which was the result of four "buy" votes. The average target price was $66.5, 20% higher than the most recent quoted price.
Perspective
Breast cancer is the leading cause of cancer death among women worldwide, with approximately 1 million new cases reported each year and more than 400,000 deaths per year. Approximately 20% of breast cancer tumors show over-expression of the HER2 protein.
Currently, the first-line therapy approved by the FDA, for treatment of HER2-positive metastatic breast cancer is the combination of Roche's Perjeta plus Herceptin and taxane chemotherapy.
Tykerb, given in combination with the chemotherapy drug capecitabine, is also FDA approved for the treatment of HER2-positive metastatic breast cancer that has failed prior treatment.
In a Phase 3 clinical trial, patients with HER2-positive metastatic breast cancer who received the combination of Tykerb plus capecitabine demonstrated a median progression free survival of 27.1 weeks and a response rate of 23.7%.
Results from a Phase 2 clinical study, where patients with HER2-positive metastatic breast cancer who had failed prior treatments were administered the combination of neratinib and capecitabine, demonstrated a median progression free survival of 40.3 weeks and an overall response rate of 64%.
Commencing Phase 3 trial of neratinib in HER2-positive metastatic breast cancer, in June 2013, represents an important milestone in the global development of the molecule.
Add to that the fact that "The Billion Dollar Molecule" was written back in 1995 before all those trillions that Bernanke printed and we have an interesting company that deserves a closer look.
Disclosure: I have no positions in any stocks mentioned, and no plans to initiate any positions within the next 72 hours. I wrote this article myself, and it expresses my own opinions. I am not receiving compensation for it (other than from Seeking Alpha). I have no business relationship with any company whose stock is mentioned in this article.