Calumet Specialty Products Partners (NASDAQ:CLMT) is involved in the infrastructure and logistical side of crude oil, with mostly downstream assets. Calumet's stock recently suffered a sharp correction due to an earnings miss and lower projected distribution growth. Calumet currently offers a $0.685 per unit quarterly distribution and yields about 9.70%.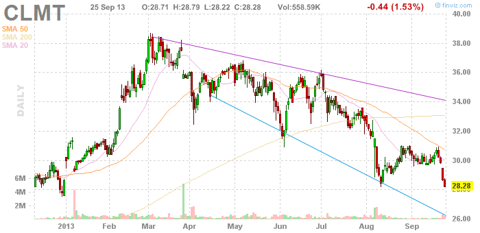 Calumet's recent Q2 2013 results came in much weaker than expected. For the quarter, Calumet's net income collapsed 88% to $7.8M, or $0.05 per unit. Adjusted EBITDA, which is a more widely used metric for MLPs, was also down sharply, coming in at $70.0M, down 43% from last year. Major factors in Calumet's weak results were its 45 day turnaround at its Superior, Wisconsin, refinery and the overall decline in crude oil differentials.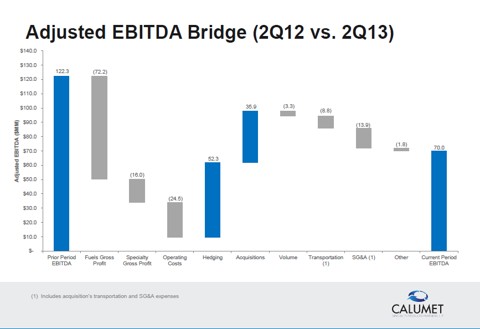 RIN expenses to cost Calumet $20-25 million quarterly
Besides reduced throughput and lower spreads, another factor in Calumet's poor quarter were much higher Renewable Identification Numbers, or RINs, expenses. RIN prices have exploded higher, from about $0.02 in Q2 2012 to over $0.83 in Q2 2013, an astronomically 4150% year over year increase. During the quarter, Calumet spent around $15M in RIN expenses. For the remainder of the year, Calumet estimates these expenses to increase to around $20M to $25M.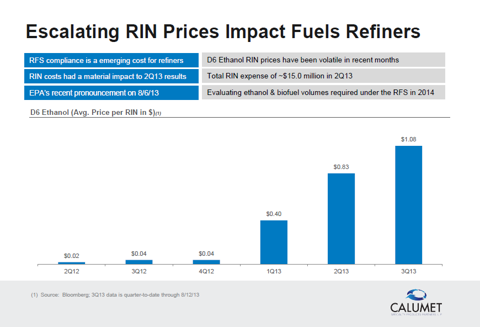 Calumet's DCF turns negative in Q2 2013
Distributable cash flow, or DCF, is one of the most important metrics for MLPs such as Calumet. It is therefore unfortunate that Calumet has seen this vital metric significantly deteriorate during the prior quarter. In fact, Calumet's DCF was actually NEGATIVE $2.5M, compared to $94.9M last year. This should be considered a major warning sign as it indicates that Calumet was forced to use debt to pay for its distribution last quarter. I estimate that Calumet distributions have exceed its DCF by nearly $65M so far this year.
As shown below, Calumet's DCF coverage trends leaves much to be desired. YTD, Calumet's coverage ratio has been an abysmal 0.30X, down from an impressive 1.90X coverage ratio during 2012.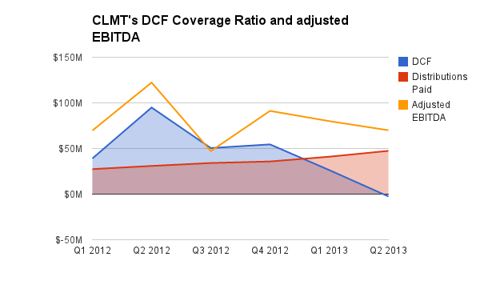 Growth projects and price increases are on the way
It's not all bad news for Calumet. The company has around $400M in growth projects coming online in two years. The largest of these is a $300M greenfield North Dakota refinery construction, a 50/50 JV with MDU Resources Group (NYSE:MDU). Also note the company mentioned several product price increases during its Q2 2013 conference call. Calumet has raised the price for its authentic base oil and solvents by 15 cents and 20 cents, respectively, and for its asphalt by an undisclosed amount.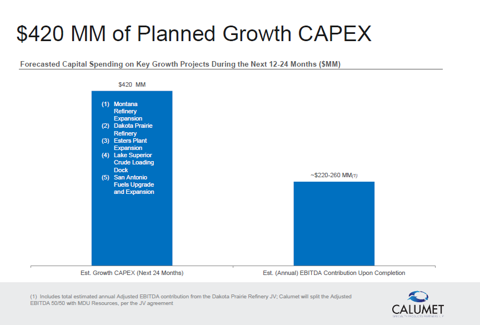 Conclusion
The massive increase in RIN prices is very concerning. These increased costs take a large bite out of Calumet DCF, as the company only estimated these costs to range from $8M to $10M.
Calumet is clearly facing worsening profitability due to various factors, most notably lower crack spreads. This may put in jeopardy Calumet's 12 consecutive quarters of distribution growth. Calumet cannot really afford another quarter similar to Q2 2013.
Disclaimer: The opinions in this article are for informational purposes only and should not be construed as a recommendation to buy or sell the stocks mentioned. Please do your own due diligence before making any investment decision.
Disclosure: I have no positions in any stocks mentioned, and no plans to initiate any positions within the next 72 hours. I wrote this article myself, and it expresses my own opinions. I am not receiving compensation for it (other than from Seeking Alpha). I have no business relationship with any company whose stock is mentioned in this article.