In my recent article about Vale (NYSE:VALE) I pointed out that the overall basic materials industry lags in performance due to short-term headwinds from a Chinese construction cool-down and lower commodity prices. Alcoa (NYSE:AA) also is battling excess inventories and falling aluminum prices. The recurring theme for a variety of exploration companies, nearly all of which fancy rich equity valuations, is the dependence on Chinese commodity demand and a heavy reliance on restructuring programs to deliver value.
What made me look at the coal sector and Peabody Energy (BTU) in particular is the mind-blowing shareholder value destruction that took place over the last five years. Economic headwinds and uncertainty in the cyclical commodity industry have literally destroyed the sector with unprecedented declines in share values. Peabody Energy lost 51% of its market capitalization while Arch Coal (ACI) lost a stunning 83% since 2009. Peabody Energy's Chinese counterpart Yanzhou Coal Mining (NYSE:YZC) is the star performer with a five year capital gain of 0.10% (that's right: 0.10%) while Consol Energy (NYSE:CNX) managed to deliver a negative return of 8.6%. Coal mining firms trade close to panic prices from early 2009.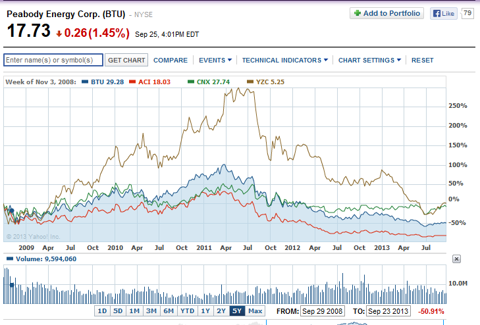 Click to enlarge
Peabody Energy's challenges and countermeasures
Faced with weak demand from core market China three underlying, deeply unfavorable trends work against Peabody and its coal peers:
Contracting coal demand in China
Substantial oversupply
Margin squeeze and reliance on cost structure adjustments to create value for shareholders.
Contracting coal demand and oversupply
The Wall Street journal just ran piece on September 22, 2013 summarizing the current state of thermal coal which is quite to the point:
With the world's second-largest economy, China in recent years has been driving demand for all sorts of commodities, especially thermal coal, which is used to fuel power plants. But now economic growth in China is slowing, and rising public anger over air pollution is increasing pressure on utilities running the country's coal-burning power plants to shift to nuclear power and natural gas.

Weakening demand from China-the largest consumer of coal in the world-comes at a bad time for international producers, who are already suffering from a crippling oversupply in the market. Producers of thermal coal are scaling back plans, particularly in Australia, which is second only to Indonesia in thermal coal exports. A proposal to double capacity at Newcastle port, the world's largest coal export facility, has been shelved. Analysts predict that many new mines may become unviable, and that the most expensive existing mines will be forced to cut back or close.
Shelving new developments in order to prevent excess supply to grow even larger is likely to only have a substantial impact on coal output prices a few years down the road. Not really encouraging are Chinese thermal coal import projections that point to a continued decline and lower capacity utilization for coal miners such as Peabody.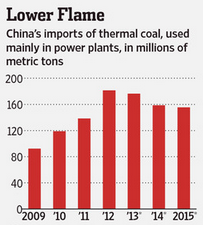 (Source: Wall Street Journal)
A shift in the Chinese energy mix towards nuclear energy poses an even bigger threat as incremental coal imports will be determined by China's energy- and environmental policies. Regulatory frameworks that aim to reduce carbon emissions (China is the country with the world's highest CO2 emissions) could further reduce coal demand and depress prices. The international energy agency IEA, on the other hand, projects rising coal consumption in the short- to medium-term driven by the power industry but forecasts stabilizing growth rates in coal utilization after 2020. The agency's report on China's coal future makes an interesting read for investors who want to dig deeper into the subject).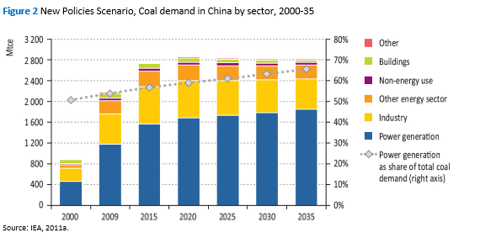 Click to enlarge
The Wall Street Journal also commented on the shift in the Chinese energy mix and pointed to the determination to tackle severe pollution affects originating from coal consumption:
China has long tried to tackle pollution from coal, which now accounts for around 70% of the energy mix, but has struggled to curtail coal consumption because of limited domestic alternative-energy resources. On Thursday the government said it aimed cut coal's portion of the fuel mix to less than 65% by 2017. The statement reaffirmed plans to renovate existing coal-fired power plants to burn coal more cleanly.

Since pollution levels surged last winter, such efforts have accelerated and the government has made repeated pledges to curtail urban air pollution.

China's government is attempting to buck its reliance on polluting coal by raising consumption of cleaner natural gas. It has ambitions to tap potentially vast domestic shale-gas resources in Sichuan province and elsewhere. Meanwhile, it is working to raise piped natural-gas supplies from Central Asia as well as shipped liquefied natural gas from Australia, Canada and elsewhere.
Restructuring
Peabody's cost containment program focuses on managing costs and improving productivity. US costs per coal ton are down 2% while overall productivity gained 8% in H1 2013 compared to H1 2012. Australian costs were down 8% and productivity was up 10% compared to last year and forecasts a mid-$70s per ton cost range which is close to the real Australian coal price adjusted for inflation (see further below). Although Peabody Energy has made progress to improve margins via cost management, it remains questionable whether the incorporated assumptions about a substantial increase in coal demand and prices materialize. In any way, Peabody feels compelled to halt capital expenditures and "defer growth projects".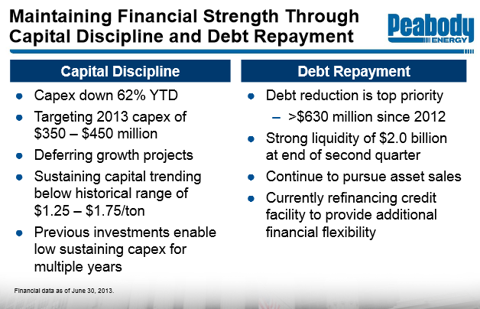 Click to enlarge
I believe that Peabody utilizes too optimistic assumptions with regard to the strength of a coal demand rebound. After all, the world bank forecasted Australian coal prices to increase slightly in nominal terms and decrease in real terms (Peabody uses Australia as a platform market to serve Asia). After adjusting for inflation the Australian real coal price is projected to decrease to $72.4 per metric ton in 2020 which make Peabody Energy's projections doubtful. Interestingly, the world bank does not see the coal price return to 2011 peak prices.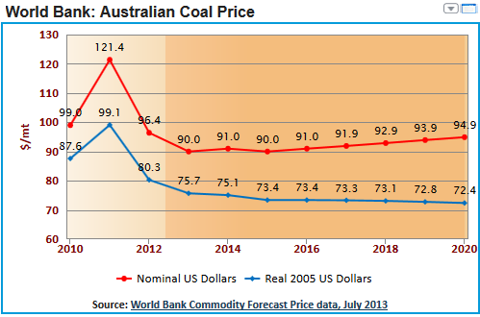 Click to enlarge
Peer group
The chart in the introductory paragraph already signals huge amounts of value destruction. The five year performance of the companies in the peer group is truly disheartening. Even more irritating are the high P/E ratios the companies still trade for: The average peer group average is 25 with Peabody Energy demanding a further premium: It trades at 28 times forward earnings despite a challenging industry outlook.

Click to enlarge
Conclusion
The risk of regulatory intervention to reduce pollution levels in the important Chinese coal market, a shift towards nuclear energy, stagnating long-term growth prospects, low coal price projections and a record of shareholder value destruction over the last five years speak a clear language. Peabody Energy is neither a value nor a growth investment and will probably earn rather mediocre returns in the coming years. Investors looking for either capital appreciation or dividend income will find more intriguing investment candidates outside the beleaguered coal sector.
Disclosure: I am long VALE. I wrote this article myself, and it expresses my own opinions. I am not receiving compensation for it (other than from Seeking Alpha). I have no business relationship with any company whose stock is mentioned in this article.