With the release of Apple (NASDAQ:AAPL) iOS 7, while many are singing the new operating system's praises, others are sufficiently annoyed with one key problem that Google (NASDAQ:GOOG) Android is suddenly looking like an option to consider: battery life. There is no doubt that iOS 7 makes an impact with its new look and feel, but many of these new features add up to a massive drain on the battery that renders your phone useless in a much shorter period. There are ways to work around this, but in many cases, maximizing battery life means sacrificing some of the functionality that gives iOS 7 its "awe" factor. Ultimately, this is something that Google may be able to capitalize on and represents a potential catalyst for Google shares if it is not addressed quickly.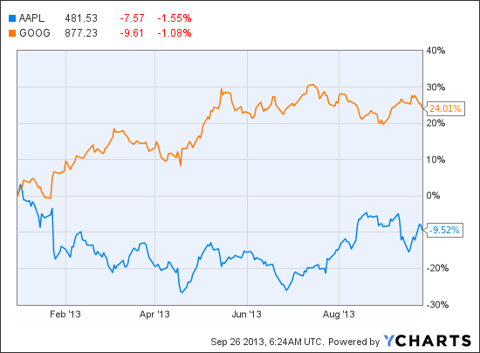 Battery Life
When smartphone users have been polled over the years, the three most important features to most consumers are screen size, network speed, and battery life. Unlike Samsung (OTC:SSNLF) that has offered products ranging from the Galaxy S4 mini to the Galaxy Note family of phablets, Apple has bucked the trend, preferring the "your thumb only stretches so far" argument for keeping screens smaller. Now as both reviews and anecdotal evidence mount that suggest iOS 7 is a huge battery killer, Apple has a big problem to face, leaving the door open for Google to surge ahead even more - the company already commands 79.3% of global market share according to the most recent data from IDC.
In order maximize battery life, iPhone users that have downloaded iOS 7 can disable the parallax feature that gives the home screen its 3D feel, disable automatic updates to apps, disable AirDrop (on iPhone 5 and newer), and disable various location services; each of these features help define the new OS, but also take a serious toll on the battery. Perhaps I am alone in thinking that once you have disabled most of these features, you are left with the cartoon-like icons on iOS 7 without all of the might, but I thought the days of corded phones were past (plugged in all the time, is a smartphone anything more?). With the battery suck that iOS 7 puts on my iPhone 4S, unless it's plugged in most of the day, the device is of little use.
By contrast, in a recent article from PocketNow, Joe Levi extols the advances Google is making with Android 4.3 in extending battery life:
On Android 4.2 I can typically expect 4-6 hours of use before I need to recharge. As a reminder, I use my phones quite a bit more than the average user, so my battery life is expectedly lower than what most should expect to get. On Android 4.3, without changing my usage habits, I was surprised to see the phone last all day, all evening, and still had charge enough to get me to work the next morning. I was able to eek (sic) out 25+ hours and still had 1% battery life remaining. That's impressive!
Levi admits that he was testing a leaked version of the new Google OS, but the point remains the same: Google is aggressively looking to improve the performance of its OS at exactly the same time as Apple seems to be faltering in this department.
Apple Success
Despite the problems, iOS 7 has been very successful thus far. According to data from Chitika, iOS 7 has achieved a faster adoption rate than iOS 6 did. According to the data, iOS 7 reached an adoption rate of 18% in the first 24-hour period after its release. This coupled with strong sales for Apple's new iPhone 5S and iPhone 5C demonstrate that the company still has fans that are not ready to jump ship just yet.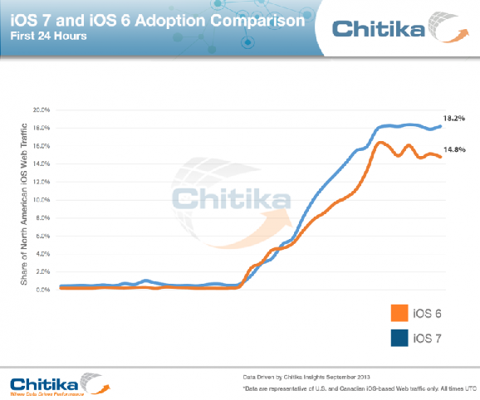 While the Apple faithful are certainly tired of hearing about the Jobs era, you must wonder if the flaws of iOS 7 would have been present under his guidance. Beyond the battery issue, the new mobile version of Safari is the stuff Microsoft (NASDAQ:MSFT) Windows 8 was made of - totally anti-intuitive and not the level of quality you expect. It will be interesting to see if Apple follows Mr. Softy's lead and quickly corrects some of these issues. Particularly as Microsoft dives deeper into the smartphone market with its recent acquisition of Nokia's (NYSE:NOK) handset division, whether lessons are learned industry-wide should be watched.
The Google Advantage
The latest version of Android, Jelly Bean 4.3, has been rolled out for Google hardware, but the real test will be when it becomes available for the Samsung Galaxy line. These devices have become the de facto gold standard in the Android world, so the performance that 4.3 can achieve on the Galaxy S4 will be telling as to how much success Google can achieve with its latest iteration. In the meantime, other devices from Google, Motorola, and HTC are showing strong results and Google has the chance to capitalize.
As an investor, a positive sign would be a new ad push on the battery life and performance issue that highlights Android. It is safe to expect that Samsung, once it has the update, will bring its usual creativity to attacking its biggest rival in the smartphone arena. In the interim, Google should be highlighting Android as a driving force in the disparity instead of letting the device manufacturers do the heavy lifting and take all of the credit. Google shares have stood up, and despite having traded off their high, they have not experienced the precipitous drop that Apple shares did. This is a big opportunity for Google to up the image of Android, particularly to the U.S. market, and if they take it, I believe it will be well reflected in the stock.
Apple may have opened the door, but Google still needs to walk through it. Battery life is a critical element of a mobile operating system and Google needs to capitalize on this glitch in iOS 7 by emphasizing how Android shines. One of Google's biggest problems with Android is the fragmentation that exists between users on different versions, largely because of the custom user interfaces that get built above Android. If ever there was an opening for Google to play some catch up on the hardware side, it would be to convince consumers that Android can deliver all the good of iOS 7 without the bad. To some degree, any bad news for Apple is a win for Google. Whether these hiccups will serve as a full blown catalyst for Google stock remains to be seen, but as Google belongs in every tech portfolio, any weakness in shares is a buying opportunity in my book.
Disclosure: I have no positions in any stocks mentioned, and no plans to initiate any positions within the next 72 hours. I wrote this article myself, and it expresses my own opinions. I am not receiving compensation for it (other than from Seeking Alpha). I have no business relationship with any company whose stock is mentioned in this article.