Just like last week's article, we've found another blue chip dividend stock, which, even though it doesn't have a high yield, still has something extra to offer. In this case, it's a future spinoff which should not only create increased future dividend payouts, but should also lead to attractive price gains.
National Oilwell Varco, (NYSE:NOV), announced on 9/24/13 that it plans to spin off its distribution business in early 2014. The new company would generate approximately $4.3 billion in revenue and $230 million in operating profits annually. Some analysts have speculated that NOV's distribution segment's strong profitability, around 8%, may be used to provide NOV with additional capital, via a special dividend, with which to fund acquisitions, without further leveraging up its balance sheet.
Profile: NOV is a leader in providing major mechanical components for land and offshore drilling rigs, complete land drilling and well servicing rigs, tubular inspection and internal tubular coatings, drill string equipment, extensive lifting and handling equipment, and a broad offering of downhole drilling motors, bits and tools. National Oilwell Varco also provides supply chain services through its network of distribution service centers located near major drilling and production activity worldwide. (Source: NOV website)
Opportunity: Energy-related spinoffs have been rewarding shareholders well over the past 2 years. Take a look at these 3 charts, in which the green lines represent the spun-off stock. Both the original stocks' shares and the spun-off shares have appreciated considerably:
Conoco Phillips, (NYSE:COP), April 2012 spinoff of Phillips 66, (NYSE:PSX). Post-spinoff, PSX was up 72%, and COP was up 24% as of 9/26/13: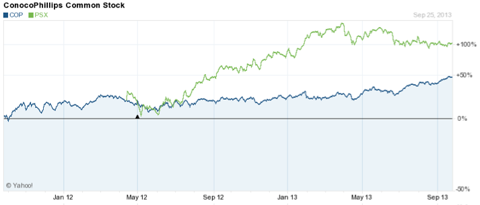 Click to enlarge
Valero Energy's, (NYSE:VLO), April 2013 spinoff of CST Brands, (NYSE:CST). VLO is up 32% since announcing this spinoff in July 2012, and CST is up 7% since the spinoff: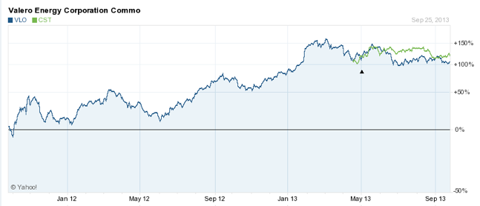 Click to enlarge
Murphy Oil's, (NYSE:MUR), September 2013 spinoff of Murphy USA, (NYSE:MUSA). MUSA is up 10.3% since it began trading less than 1 month ago, on 9/3/13, and MUR ran up 15.2% since its 10/16/12 announcement up until the spinoff: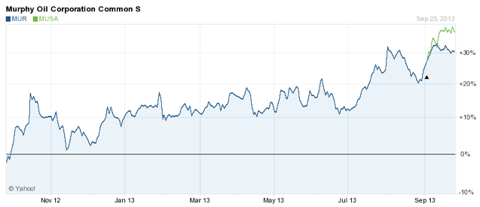 Click to enlarge
Earnings: NOV has been riding a wave of increased demand for deepwater rigs, as its backlog has grown 19.7% over the last 4 quarters, setting company records. It's estimated that deliveries of deepwater rigs should average over 25/year, vs. historic averages of 3-4/year. NOV currently looks undervalued on a 2014 PEG basis:

Click to enlarge
Although its P/E is closer to the top end of its 5-year range, it's still cheaper than its peers. NOV also is cheaper than industry averages for Price/Sales and Price/Book:

Rapidly Increasing Dividends: In a sign of financial strength, NOV doubled its dividend from $.13 to $.26/quarter in June 2013. Given its prospects for improved EPS in 2014, one could reasonably expect further increases in the future. Even with doubling its dividend, NOV's projected forward dividend payout ratio would only be 19.44%, based on average 2013 EPS estimates of $5.35 :

Options:If you're skeptical about the potential payoff of NOV's planned 2014 spinoff, you can hedge your bet, and earn some income now, via selling covered calls. This February 2014 trade, has an $80 strike price, which pays $4.15. It's listed, along with over 30 other trades, in our free Covered Calls Table.

Click to enlarge
The rub here is that you may be losing out on bigger profits if NOV shoots higher than $84.41, ($79.12 share price + $5.29 total potential income), which also doesn't include any potential price gains from its future spinoff shares.

Click to enlarge
Puts: This February put trade, from our free Cash Secured Puts Table, has a $77.50 strike which pays $4.05, and offers a break-even of $73.45, which is 7.2% below NOV's $79.12 price/share.

Click to enlarge
Financials: Withstanding its ROE, NOV is roughly in line with its peer averages, and also carries much less debt.

Click to enlarge
Disclaimer: This article was written for informational purposes only.
Disclosure: I am long NOV. I wrote this article myself, and it expresses my own opinions. I am not receiving compensation for it (other than from Seeking Alpha). I have no business relationship with any company whose stock is mentioned in this article.