By RJ Towner
During the past two years, we've never wavered on our bullish take on the domestic automotive sector -- pent-up demand, inexpensive credit, and a rapidly ageing fleet have all combined to propel a robust automotive comeback. August was no different, with the SAAR topping 16.1 million units during the month.
Let's take a look at how some of the automakers performed.
Ford
Best Ideas Newsletter portfolio holding Ford (NYSE:F) posted fabulous August sales results as unit sales surged 12.2% year-over-year to 221,270 units. Retail sales were up 20% year-over-year, and Ford could hardly produce enough vehicles to meet demand, adding 1,400 workers at its Flat Rock Assembly.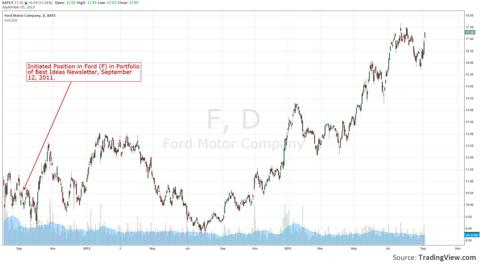 F-Series sales continued to lead the way, with unit sales soaring 22% year-over-year to 71,115 vehicles. The strength in the F-Series underscores the robust housing recovery as contractors and other construction firms replace older vehicles as financial conditions improve.
In another positive note, heavy truck sales jumped 73% year-over-year to 866 units, also underscoring healing construction markets that are once again confident in purchasing new heavy trucking equipment.
On top of strong pickup sales, Ford's car business was strong, with total sales up 18% on a year-over-year basis, to just shy of 69,000 units. Strength was fairly broad-based, driven largely by the Fiesta (up 61% year-over-year), the Fusion (up 14% year-over-year), and even the Taurus, which saw its unit sales jump 26% year-over-year after posting a fairly weak start to 2013.
C-Max sales exceeded 3,000 units, bringing the year-to-date total to 26,072. Although it sounds like a weak number in light of Ford's other models which can sell more than 20,000 units in a single month, the year-to-date total exceeds the annual production goal of Tesla's (NASDAQ:TSLA) Model S (the current annual rate of the Model S is 20,000 in North America). The C-Max isn't entirely electric, but the hybrid model demonstrates that Ford is making serious strides towards viable electric cars.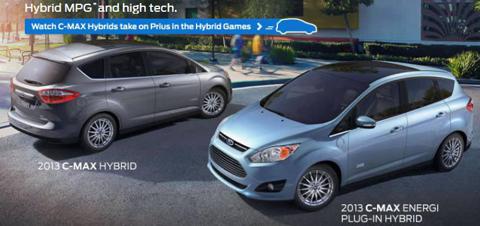 Image Source: Ford
Lincoln sales were mediocre, growing only 0.6% year-over-year to 8,192 units. MKZ and MKS sales both grew at a solid pace, and Navigator sales bucked a previously negative trend, growing 13.4% year-over-year. Lincoln's future importance lies much more in China than it does in the US.
Overall, we were very pleased with Ford's August sales, and we continue to hold the firm in the portfolio of our Best Ideas Newsletter.
GM
GM (NYSE:GM) posted August sales that jumped 15% year-over-year to 275,847 units. Luxury performance was superb, as Buick sales were 37% higher than the year-ago period at 24,650 units. Cadillac sales followed suit, jumping 38% year-over-year to 20,255 units. Both the SRX and XTS are selling extremely well, with sales jumping 39% and 64% year-over-year, respectively.
Chevrolet's results were solid, with unit sales up 10.4% year-over-year to 187,740 total units. The company experienced strong performance from the SUV category with the Suburban, Tahoe, Equinox, and Traverse all posting unit sales gains in excess of 20%. This development should be very positive for profitability. On the contrary, Silverado sales gains fell well short of the F-Series, increasing units sold just 14% year-over-year.
The SUV-heavy GMC also posted strong sales gains, with units jumping 14.2% year-over-year to 43,202. Sierra (pickup) unit sales were solid, up 24% year-over-year, while unit sales of the Yukon and Yukon XL rose 6.1% and 74%, respectively.
Overall, we were pleased by the mix shift toward SUVs, which carry higher levels of profitability. However, GM has run higher-than-average industry incentives, which could eat into profitability gains. Shares of the firm trade close to our estimate of their fair value.
Toyota
Toyota (NYSE:TM) posted its best month in more than 5 years driven by 23% sales growth year-over-year to 231,537 units. Toyota's preferred metric, the daily sales rate (DSR) jumped 18% year-over-year.
The firm is best known for its cars, and August demonstrated just how popular Toyota's cars can be. Camry sales surged 22% year-over-year to 44,713 total units. Corolla and Prius sales also grew at a double-digit rate during August, with both sales totaling in the high-20,000 unit range. Avalon sales were 254% higher than a year ago at 6,241 units as the full-size sedan makes a solid comeback.
SUV sales, like at GM, were also robust, with unit sales of the RAV4 up 50% year-over-year to 23,502 units, while the Sienna and Sequoia also experienced sales gains in excess of 20%. Pickup sales at Toyota were solid, jumping 21% year-over-year to 85,770 units.
Lexus sales accelerated once again, with total unit sales up 21% year-over-year to 16,978 cars. Lexus IS sales were 87% higher, making it Lexus's second best-selling model. Truck sales surged higher on a 32% increase in RX sales to 11,423 units. We think consumers are flocking to Lexus to capitalize on favorable lease terms, as leases now account for 26% of all cars sold in the US.
Although we identified the firm's shares as undervalued, we did not pull the trigger on shares in the portfolio of our Best Ideas Newsletter as we reaped the gains of Ford instead. With Toyota's shares now trading close to our fair value estimate, we won't look to add the firm to the portfolio at this time either.

Source: Valuentum's 16-page Report on Toyota, page 16
Honda
Honda (NYSE:HMC) posted record results for August, with sales surging 27% year-over-year to 166,432 units. Similar to Toyota, the firm's strong August wasn't driven by a new product, but rather fantastic performance from its core products. Sales of the Accord were 11% higher than a year ago at 38,559 units, while Civic sales jumped 59% year-over-year to 39,458 vehicles. Periphery vehicles like the Insight and Cr-Z also grew at a solid pace.
Ridgeline (pickup) sales surged 89% year-over-year to 1,738, but while the growth rate was phenomenal, sales are much lower in comparison to larger peers. Nevertheless, another tried-and-true vehicle, the CR-V, saw its sales jump 45% year-over-year to 34,654 total units.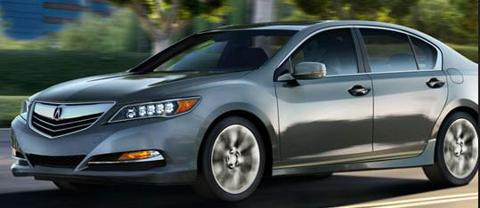 Image Source: Acura
Acura sales remain a bit of a disappointment, in our view, growing just 9% year-over-year as sales of the TL, TSX, and ILX all declined. The RLX (shown above) helped to moderate these declines as sales jumped more than ten-fold during the month.
Honda is a very good automaker, but its shares simply aren't as attractive as its peers, so we aren't interested in the company at this time.
Best of the Rest

Source: Valuentum
Valuentum's Take
There's no question that the US auto recovery remains in full force. Our favorite idea in the space, Ford, continues to be one of the best-performing auto OEMs (even as Japanese manufacturers capitalize on a pricing advantage due to the weak Yen). August results were strong across the board, and we'll stick with Ford in the portfolio of our Best Ideas Newsletter.
Disclosure: I am long F. I wrote this article myself, and it expresses my own opinions. I am not receiving compensation for it (other than from Seeking Alpha). I have no business relationship with any company whose stock is mentioned in this article.
Additional disclosure: RJ Towner is Director of Research Development at Valuentum. F is included in the portfolio of our Best Ideas Newsletter.