One of the most popular picks in a fantasy football draft is a sleeper. These are players who are relatively unknown but have good attributes or are placed in a situation that may make them a breakout player. When it comes to investing, sleepers are the speculative stocks, and they have the potential to be the purest plays for true value investors.
While the criteria for these hidden gems vary somewhat, there are a few commonalities. They often have a stock price between $2 and $10, a market cap of less than $1 billion, and a price-to-earnings-to-growth ratio no greater than 1. Many will have little to no analyst coverage, which allows investors to benefit if they do their own homework.
Satellite-focused Iridium Communications (NASDAQ:IRDM) is a classic speculative stock. It's around $7 a share, has a market cap of $528 million, and a PEG ratio of just 0.61. It's awash with cash - $197 million - giving it a cash-per-share ratio of $1.89 and the company is preparing for a new satellite set to launch in 2015. Iridium is also the only mobile voice and data satellite communications network that spans the entire globe, allowing it to play host for other networks to the tune of an estimated $200 million in revenue, beginning in 2015.
The stock took a hit earlier this year after an earnings miss, but the company is still on track according to analyst estimates to report $1.30 EPS in 2015. A low P/E valuation of just 9.25 is well below the S&P 500 average of 17.5. Considering that the stock is trading around $7 a share, a fair value estimation using 2015 expected earnings places the stock price above $12. Iridium trades at a big discount to its book value of around 11.75 as well - more evidence that Wall Street may be greatly undervaluing this company.
One of Iridium's closest competitors, ORBCOMM Inc. (NASDAQ:ORBC) has a P/E above 33 with a major cut in expected earnings for next year of only $0.04 EPS, while Iridium continues to improve its margins and expand its revenue base. Iridium also has 100% global coverage through 66 orbiting satellites, operating in an industry with a high barrier to entry. The company is expanding operations with a planned launch in 2015 of their next-generation constellation, Iridium NEXT.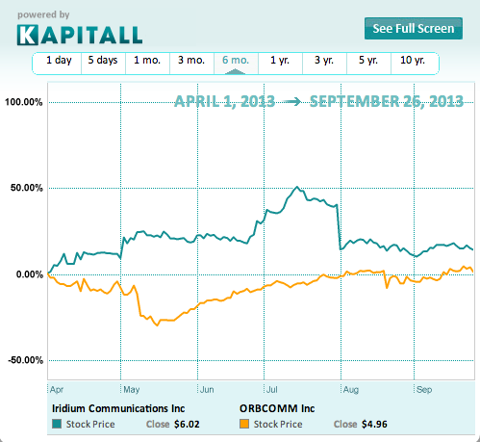 (Click to enlarge. Sourced from Zacks Investment Research.)
Iridium CEO Matthew Desch bought 15,000 shares on August 6th for an investment of $106,800, while Director Thomas Canfield added 10,000 shares to his position for a total of $71,000. Insider buying like this is often seen as a strong signal for value investors, as it can show faith in the company by management.
The coming 24 months are when this story will play out, with the planned NEXT launch in 2015, so investing now could mean watching a prolonged period of price stagnation. But if the NEXT satellite network operates as expected and Iridium's earnings come in on the high end of analysts' expectations, then the stock price could really take off by 2015.
Risks to consider with Iridium include a relatively high short position of 18% that could add volatility to the stock's price movement, as well as the unique risks to a company associated with satellites, such as launch complications and orbital patterns.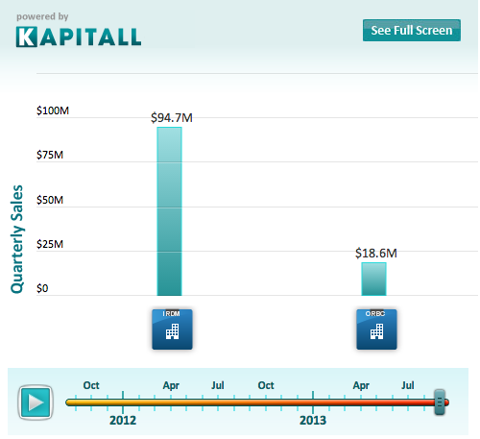 (Click to enlarge. Sourced from Zacks Investment Research.)
Disclosure: I have no positions in any stocks mentioned, and no plans to initiate any positions within the next 72 hours.
Business relationship disclosure: Kapitall is a team of analysts. This article was written by Daniel Cross, one of our writers. We did not receive compensation for this article (other than from Seeking Alpha), and we have no business relationship with any company whose stock is mentioned in this article.