(Editors' Note: This article discusses micro-cap stocks. Please be aware of the risks associated with these stocks.)
It's been about a month since I formalized my coverage of the cannabis sector after having spent six months researching it, sharing my initial review of all of the stocks with market caps in excess of $10mm in late August. (Note: here is a link to all previous articles referenced.) While I continue to harbor reservations about many of the publicly-traded companies that are leveraged to the legalization and expansion of medical and recreational marijuana, the "Green Rush" appears to be one of the most powerful longer-term investment themes today. I am so excited about the opportunities ahead that I have launched a service dedicated to helping my subscribers navigate the rapidly changing landscape, 420 Investor. In this article, I want to update the market information that I shared last month as well as to discuss some sharp divergences in performance among the sector's members.
The following table includes the 16 stocks that have market capitalization in excess of $10mm. Note that my calculation assumes that all convertible preferred stock is converted to common shares. This isn't generally an issue for listed stocks, but many penny stocks employ convertible preferred stock in the capital structure, a topic I wrote about in July because some companies abuse it.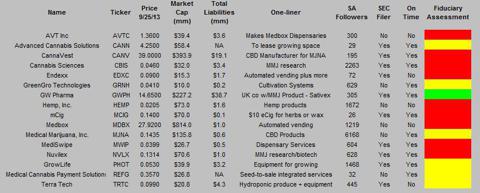 These are my estimates based on the most recent filings or disclosures - please feel free to message me if you see something that doesn't jibe with your own calculations. A few observations before I dive in.
First, note that of the four companies with market caps in excess of $100mm, two are non-reporting to the SEC. How much longer will investors pay such high valuations while accepting such limited disclosure? Second, I have included the number of Seeking Alpha "Followers" as an indication of investor interest. These numbers grew over the past month. The most popular ticker by far is Medical Marijuana, Inc. (OTCPK:MJNA), which increased by almost 400, despite the price dropping slightly. I fear that most investors aren't doing a thorough investigation but rather choosing by name. I expect MJNA, which I initiated as a "Hold" last month and a fair value of $0.10-.15, will be a source of funds for investors who want to diversify and to make a more direct THC-related investment.
Winners & Losers
As you will see, the sector doesn't move in lock-step. I think that we should expect more divergences. Many of the early investors bet on concepts or perhaps just names. There wasn't much research, and there certainly hasn't been much from the publicly-traded universe in terms of revenues or especially cash flow generation.
I believe that we are moving from the "rising tide" mentality, which crushed traders and investors who didn't exit during the post-election bubble that popped in February, to a more thoughtful approach. As I think about the space, there have been some big changes of late, including Sanjay Gupta's reversal on medical cannabis, the DOJ's hands-off approach to the implementation of recreational marijuana in CO and WA and the recent testimony in a Senate hearing earlier this month. As I think about the real near-term driver, it's the green light for CO and WA, which not only secures the likelihood of implementation in those two states but also paves the way for others to follow. Some companies are positioned to benefit, like GrowLife (OTCPK:PHOT), while many others don't enjoy any sort of benefit. I think that investors are starting to pick up on this theme.
As I mentioned earlier, not all companies have the same level of transparency, and this is another factor that I believe is impacting relative performance. This is an area in which I intend to continue to play a leading role, encouraging companies to have better disclosure. With that said, let's take a look at some of the big movers over the past month (alphabetically):
AVT, Inc. (AVTC.PK), which changed auditors and is way behind on filing, shared a Q1 OTC Disclosure on September 19th, and it indicated very weak financials. I have written several times about this company and expect the price, which declined 30% over the past month, to go below $1.
CannaVest (CANV.OB), the spin-out essentially from MJNA, was the huge winner, rising from $17 to $39. The stock, which is 99% held by insiders, trades by appointment. My market cap is based on currently outstanding shares, but it is very likely that the float will rise. First, it still owes MJNA two payments. Second, it awarded some options (still not priced) to its CEO. Keep in mind as well that the CEO, through Roen Ventures, has loaned the company money that can be converted into stock (price still not determined). CANV was set up by a transfer of assets from MJNA and an initial equity purchase of a shell for $350K. The financial results have been bad, but, to be fair, this is a start-up. The company is launching several CBD products that will be marketed by MJNA. In case it's not clear, don't even think of buying this stock at $39.
GW Pharma (NASDAQ:GWPH), which also trades under the symbol GWPRF, with both stocks tied to the company's UK listing (I recently wrote about this), jumped 38% over the past month. I included this in my "Focus Four" (which is now a "Focus Five") and think that it is very interesting. I will be speaking with the CEO shortly and plan to update. Last month, I described it as the only listed stock in the sector and pointed to the quality of the management team. It's amazing to me that so few people follow what is truly a medical marijuana company compared to Cannabis Sciences (OTCPK:CBIS).
I have written extensively on Hemp Inc. (OTCPK:HEMP), and, while it is down a lot still, it enjoyed a huge rally over the past month of 52%. I think that some believe it will benefit from recreational marijuana advancement. I see the company as a total joke (called it a sell), with no real products and no real business model and expect it to end up sub-penny.
PHOT was a big winner, rising 70%. I think that the catalyst was the letter that its CEO, Sterling Scott, wrote following the DOJ change of stance. I ended up interviewing him and came away viewing the company as a lot more trustworthy than most of the rest of the peers. The business model is simple - "picks and shovels". While I haven't formalized my a long-term call, I did recommend to my subscribers a trading buy earlier this week after a nice pullback ($0.046). One thing I would like to see is positive cash flow generation, and hopefully the update that Scott promised to deliver in November will suggest just that. The bottom-line, though, is that I see this company as likely to capture more mind-share from investors because they seem well positioned to benefit from the recreational expansion as well as the medical side.
New Company Updates
One of the bigger trends we will see is new entrants into the public space. In the near-term, we are seeing reverse mergers, and I am adding a third one to the two I described last month and expect more. While many investors may believe that the space is represented by the 25 or so publicly-traded companies, the industry is highly fragmented. Private companies are raising money, and I would expect longer-term that we will see those companies enter the public market more traditionally. One company that I am tracking is Diego Pellicer. In fact, I am pleased to announce that I will be hosting its founder, Jamen Shively, in a live webinar (free with registration) to discuss his views of the cannabis industry and his bold plans to establish a chain of retail stores focused on premium marijuana. Some have called it the "Starbucks of pot", but I think what he will be describing on the webinar goes well beyond that.
As far as the two previous new entrants (via reverse merger), I want to update recent news. The one that I find more interesting is Advanced Cannabis Solutions (OTCQB:CANN), formerly Promap. Note that Seeking Alpha is still using the symbol (PMAP.OB). The company, which is in the process of purchasing Colorado properties so that it can lease grow facilities to cannabis producers, is an SEC filer and has a management team that stands out, at least on the surface. They recently hired a CFO, Christopher Taylor, who is a CPA who provided accounting services to 50 dispensaries in CO and WA. The CEO, Robert Frichtel, has commercial real estate experience and has consulted for clients in the medical marijuana industry. VP Roberto Lopesino has been an industry consultant as well as the operator of a non-brokered commodities market for the commercial production of medical grade marijuana. He also operated a multi-side dispensary in Colorado. This is one that I plan to get to know better.
Medical Cannabis Payment Solutions (OTCPK:REFG) hasn't posted any OTC disclosures over the past month, but it did announce a mobile application platform for the medical marijuana industry called Ghost. I don't have a real sense yet of this company's potential.
I recently discovered a new name, mCig (LTCH.OB). The symbol will be changing to MCIG on 9/27. This is a very interesting story (please refer to previous article link, as I addressed it in detail), and I have communicated extensively with its CEO, Paul Rosenberg. The company is about to launch its first product, a $10 herbal electronic cigarette that is built for herbs and wax heating. This is a radically lower price than other similar products and could really help get the company off to a great start. As I wrote previously, the price was too high. While $0.14 is a bit lower, I still think the right price is near $0.10.
Conclusion
The landscape is rapidly changing with respect to the legal and regulatory environments for recreational and medical marijuana as well as hemp. While it's very early in the game for the publicly-traded universe of companies with an oar in the water, it's clear that investor appetite for cannabis-related stocks remains quite high. There is no denying the "Green Rush", which promises to be a win-win-win over time for consumers, businesses and the government. The data and opinions that I have shared will hopefully help investors as they assess the risks and opportunities in the sector. I encourage readers to let me know if there are topics of interest to explore in future articles. Similarly, if any reader has any specific insight that they would like to share with my audience, I invite him or her to consider being interviewed or to participate in a live event like the one we are having next week.
Disclosure: I have no positions in any stocks mentioned, and no plans to initiate any positions within the next 72 hours. I wrote this article myself, and it expresses my own opinions. I am not receiving compensation for it (other than from Seeking Alpha). I have no business relationship with any company whose stock is mentioned in this article.