As far as gold mining investments are concerned we consider Agnico Eagle (NYSE:AEM) as one of the safer and more reliable bets. The company has a declared strategy of investing in comparatively safe jurisdictions and of looking after the balance sheet in its investment decisions.
Sean Boyd is the CEO of the company and we listened with interest to his presentation at this year's Denver Gold Forum. The following summary of the company contains various pearls of wisdom gleaned from his highly informative talk. Here is how the CEO sees the company at present:
Over the last six quarters since the beginning of 2012 we have essentially ticked all the boxes in terms of our quarterly production and our cash cost and we are in a strong position to continue to do that.

We have created a business that we can manage. It's well matched to our skills. We don't have to deconstruct our business to move forward.
The Growth Plan
The company is targeting 22% growth in production by 2015 as shown in the diagram below. This growth will be achieved in an organic manner from the portfolio of five operating mines and two development projects that are on the cusp of production.
The main growth drivers are the new La India mine and the restart of the Goldex mine; and also mining from the higher grade lower part at La Ronde. This growth comes with comparatively little risk - or as Sean Boyd put it at the Denver Gold Forum:
It's funded, it's there and we are not taking on a lot of technical complexity to achieve it. That's why we are comfortable in our ability to achieve our targets.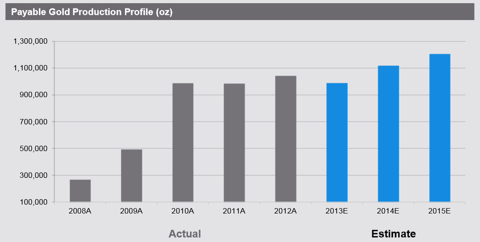 The status of the two development projects can be summarized as follows:
Commissioning is under way at the La India mine in Mexico and ore is already being placed on the leach pads. Commercial production is still on schedule for the first quarter 2014. The mine was permitted, surface rights were acquired and the mine was built within two years. There is significant additional potential on the property. Tarachi is a structure that has been traced over several kilometers with a possible separate mine to be built 10 kilometers from the current La India mine in due time.
Mining and milling finally resumed at the Canadian Goldex mine after a two-year hiatus following structural problems in the GEZ zone. Mining is now under way on the M & E zones. If the current $40/tonne mining cost is confirmed over the next quarters then further investments into this asset could be made with a target to quadruple the current mine life of four years, double production and lower unit costs.
The operating mines are well on track to deliver on guidance this year (mines are located in Canada except where mentioned).
Kittila in Finland is running strong again after a shut down in H1/2013. It has a 25-year estimated mine life and an expansion project is included in the budget for next year, which will take throughput from 3000 tpd to 3750 tpd by mid-2015. A shaft might be needed in the mid-term but the investment decision has a two-year time window and will be made in due time.
Meadowbank is going strong and will continue to do so well into next year due to increasing access to higher grade mining blocks.
Continued grade improvements at La Ronde will also cause increased production.
Pinos Altos in Mexico continues to deliver cash flow.
Exploration opportunities exist at Lapa that might extend the mine life beyond the current estimate of 2016.
Meliadine
Meliadine is another project in Northern Canada, and it has the potential to be a significant gold producing asset. According to Sean Boyd, this project has the potential to become a mainstay of the company one day, but needs to be managed properly. The challenge is the capital to get there. A feasibility update will be prepared for the second half of 2014, which will be the basis for further decision.
Meadowbanks has taught the company some valuable (and expensive) lessons, which will undoubtedly be applied to Meliadine. However, Meliadine has advantages in comparison with Meadowbanks in terms of logistics since it is located on the shore of Hudson Bay. Meliadine also has size advantages and grade advantages.
According to Sean Boyd the company is less concerned about timing, but more concerned about the quality of the investment.
M & A
The company has a successful strategy of taking toehold investments in junior exploration companies, getting to know the risks and then deciding whether or not to take the investment all the way to production. Kittila is an example for this strategy at work as well as Pinos Altos.
The company typically looks for deposits that fit the skill set and have exploration potential. The diagram below illustrates this strategy showing the resources of deposits at acquisition and today, plus the exploration costs which are second to none in the industry.
Also illustrated by the diagram is Meadowbank as an example where the strategy did not quite work out and additional ounces have not been found to justify an underground mine as originally anticipated.
This investment portfolio is managed and parts of it are sold at times. For Agnico Eagle this is a tried and proven way to get close to projects that have the potential to drive the business one day. This year $80M has been invested in junior exploration companies by way of equity placements. Half of this shopping spree was financed by the sale of Queenston Mining (OTC:QNMNF) shares to Osisko Mining (OSKFF.PK). Details on the new investments can be found here, here, here and here.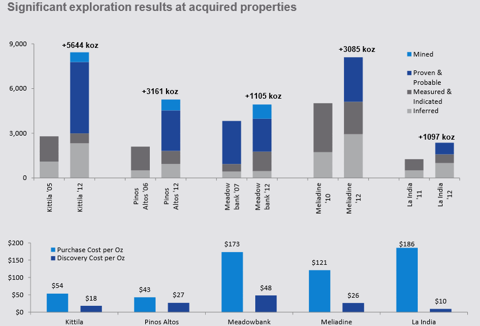 Cost Saving
In response to the downturn in gold price Agnico Eagle has implemented a plan to reduce capital expenditure and cost by $50M in 2013, and $200M in 2014. These savings will come from exploration on the one hand, and structural changes on the other.
Exploration focus is on the big projects and grassroots exploration is being cut back. Savings of $30 to $40 per ounce are targeted by restructuring administration. Reductions in head counts will be accompanied by tying compensation of all senior executives and most salaried staff directly to the stock price starting next year.
Balance Sheet
The company has $850M in long term debt, and $136M in cash. The debt repayment schedule is shown below, Sean Boyd calls it "manageable." This debt is substantial and it has been argued it is one of the negatives with regards to Agnico Eagle. We don't view the debt as a material problem, but agree that it is on the high side for our liking.
Nevertheless, the company also has credit facilities of $1.15B at its disposal and could potentially take advantage of investment opportunities should they present themselves.

Conclusion
The presentation at the Denver Gold Forum has reinforced our existing favorable view of Agnico Eagle. We will continue to hold shares of the company and view this investment as comparatively low risk in comparison with other opportunities in the gold sector.
The company has a realistic growth plan and is executing this plan with precision. The gold price notwithstanding, this growth plan should create value over the coming two years. The company has been performing very much in line with the greater sector represented by the Market Vectors Gold Miners ETF (NYSEARCA:GDX). We believe that Agnico Eagle will outperform the sector as growth gains traction.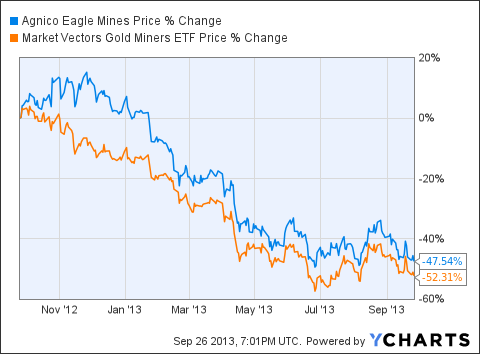 AEM data by YCharts
Disclosure: I am long AEM. I wrote this article myself, and it expresses my own opinions. I am not receiving compensation for it (other than from Seeking Alpha). I have no business relationship with any company whose stock is mentioned in this article.