Not having to visit a doctor for annual flu shots is an exciting convenience for many consumers. They want to ensure that the flu passes them by, so they turn to their local drugstores for help, getting their shots from Walgreen (WAG), Rite Aid (NYSE:RAD) or CVS Caremark (NYSE:CVS). The result is increased revenue for the three, with some benefiting more than others. Knowledge that cold and flu season has arrived, and the positive effect this might have on the bottom line of the major drugstores, could prompt investors to buy more of their stock, but smart investors remain wary.
More attention has been paid to Walgreen lately, not because of flu season, but because of the big deal the company has in the works and the recent overall revenue performance of the company, which even managed to make Goldman's coveted conviction buy list. Some investors welcome the changes, but many realize that there's no such thing as a "sure thing," and there are analysts who suggest WAG might be better as a sell.
In addition to a Walgreen buyout of Kerr Drug, there has been talk by analysts about the possibility of Walgreen taking over Rite Aid. Although Rite Aid was having problems making a profit, the company has managed to turn things around. Now analysts are adding Rite Aid to their list of stocks to watch. Some suggest that a takeover would be a great strategy for the company.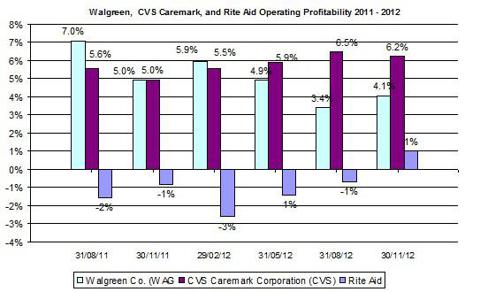 Historical data reveals Rite Aid's poor performance in comparison to Walgreen and CVS, but now things have turned around for the drugstore company that was once considered as lagging. Although some analysts maintain their position that Rite Aid should be bought out by Wal-Mart, Walgreen or CVS, the positive changes in the company's financial performance has some saying that a buyout of Rite Aid might not be necessary.
While it is easy to assume that flu season will be a peak sales season during which all three companies would up their game in the war for market share, the real cause of their fierce fighting is due to the effect of Obamacare on the medical industry. Walgreen dominates the U.S. drugstore market, being the nation's largest, but CVS and Rite Aid are both positioning themselves to gain a bigger cut of the pie.
It is not clear whether the Kerr Drug takeover by Walgreen will prove to be a smart move. Meanwhile, CVS seems to be benefiting from general industry trends and expired patents. Rite Aid, thanks to moves by management to optimize operations, might just pull through and prove to be a formidable foe to its competitors, despite being ordered to pay $12.3 million in a toxic waste suit.
The outlook on Rite Aid seems bright, and those who invest in RAD could reap the benefits. The company has shown that is able to turn around, even after a downturn lasting many years. Meanwhile, Walgreen is positioning itself for more power and market share by swallowing up smaller pharmacies. Its plan could backfire, but the results remain unclear. CVS would do well to think more strategically, especially since Rite Aid seems to be moving up. Investors will want to see CVS introducing new plans, much like Walgreen and Rite Aid, but that does not seem to be happening.
Disclosure: I am long RAD, WAG. I wrote this article myself, and it expresses my own opinions. I am not receiving compensation for it (other than from Seeking Alpha). I have no business relationship with any company whose stock is mentioned in this article.