Introduction
My primary goal as a dividend growth investor is to build a sustainable and rising stream of dividend income that will eventually enable me to be financially independent. I plan to achieve this goal by regularly investing new capital in attractively valued dividend growth stocks and reinvesting the dividends received from those stocks. To read about my dividend growth investing progress thus far, please see my latest quarterly review.
Besides the stocks in my portfolio, I monitor several dividend growth stocks that I do not already own. My watch list includes a variety of data on each stock, including an estimate of fair value that I use to help determine a target price for initiating a position. When a stock's price reaches my target price, it becomes a candidate for investment. If I decide that the investment opportunity is better than others on my watch list, then I will go ahead and start a small position, provided I have sufficient cash available. Such was the case earlier this week, when Exxon Mobil (NYSE:XOM) became the 30th stock to join my dividend growth portfolio.
Exxon Mobil: An Energy Giant
Exxon Mobil is the largest publicly traded oil and gas company in the world. Its global operations include exploration, production and transportation of oil and natural gas resources, as well as manufacturing of various petrochemical products. The company's extensive resources and expertise have enabled it to become an energy giant that can help meet the world's growing demand for energy, which is illustrated in the figure below: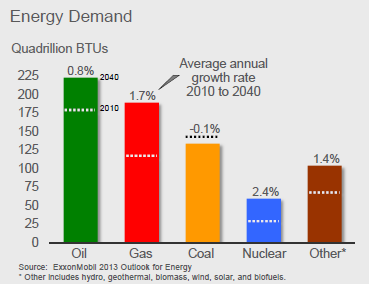 Source: Exxon Mobil 2013 Annual Meeting Presentation
The company takes a long-term view and continues to develop new projects around the world in an effort to meet this energy demand: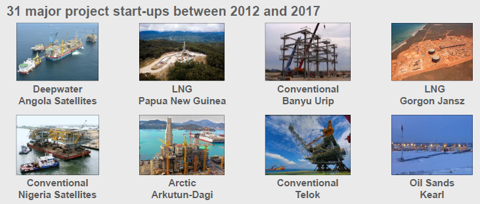 Source: Exxon Mobil 2013 Annual Meeting Presentation
New projects are not always successful, but Exxon Mobil's management has a long history of making strong capital investments that yield good returns, especially relative to its peers: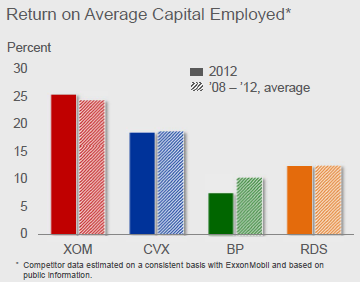 Source: Exxon Mobil 2013 Annual Meeting Presentation
The following sections provide additional information and commentary regarding the company's operating results over the past several years.
Revenue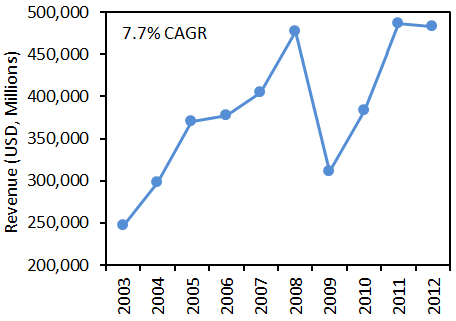 Data by fiscal year. Source: Morningstar
Being in the energy sector, Exxon Mobil is sensitive to economic conditions. When the recession hit in 2008-2009 it had a negative effect on the company's revenues, as shown in the figure above. However, it took just two years for revenue (and earnings; see below) to rebound to previous levels, which I interpret as a sign of a strong and well-managed company. Over the past nine years, XOM grew its total revenue at a compounded annual growth rate (CAGR) of 7.7%.
Earnings, Dividends and Share Count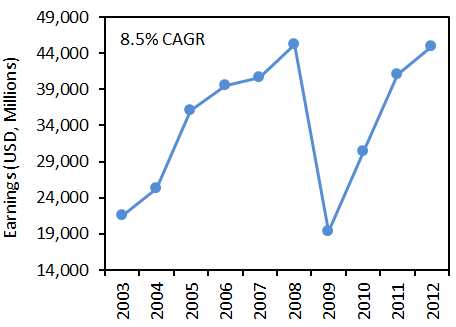 Data by fiscal year. Source: Morningstar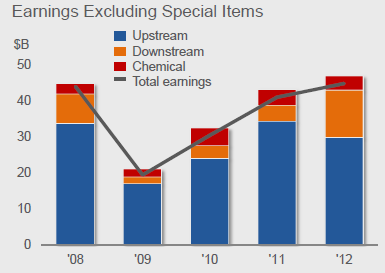 Source: Exxon Mobil 2013 Annual Meeting Presentation
The first earnings figure shows that total earnings grew at a CAGR of 8.5% over the past nine years, with the growth pattern interrupted by the recession. The second earnings figure partitions the earnings from the past few years by operating segment, where it can be seen that the majority of earnings come from upstream operations. The next figure shows the growth of earnings per share (EPS) and dividends: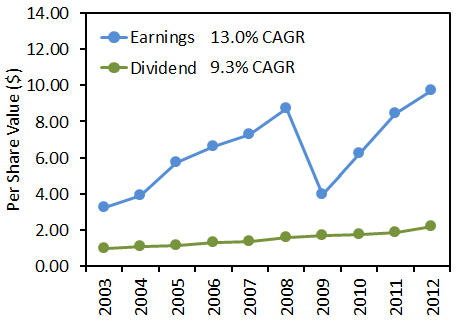 Data by fiscal year. Source: Morningstar
Notice that the CAGR for EPS is 13.0%, which is higher than the CAGR for total earnings. This resulted from XOM executing an effective share repurchase program for several years: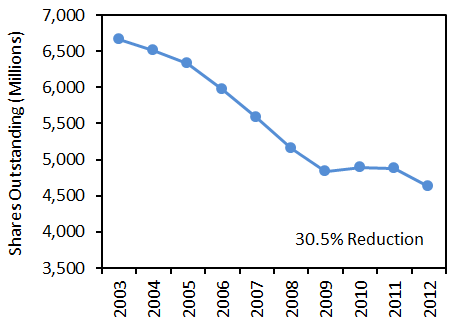 Data by fiscal year. Source: Morningstar
Over a span of nine years, XOM decreased its total share count by an impressive 30.5%. With total earnings divided among fewer shares, EPS was able to grow at a higher rate than total earnings. As shown in an earlier figure, dividends grew at a CAGR of 9.3%, which is lower than the CAGR for earnings. This partly reflects XOM maintaining a relatively low payout ratio: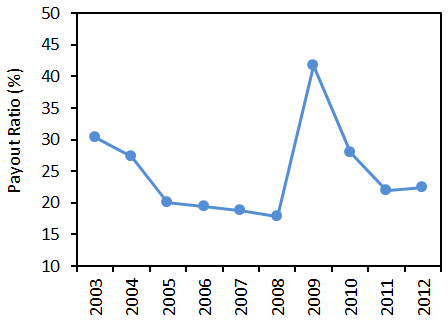 Data by fiscal year. Source: Author calculation
A benefit of having a low payout ratio is that a company does not have to cut its dividend when earnings are hurting. In fact, it can even continue increasing its dividend. During the recession period, the payout ratio for XOM spiked to over 40%, but then settled back below 30% once earnings eventually recovered.
XOM is classified as a Dividend Champion, having increased its dividend for 31 consecutive years. The current dividend yield is about 2.9% and the most recent dividend increase was 10.5%, announced on April 24, 2013.
The preceding figures and metrics provide an overall picture of the company's recent growth pattern. Revenue and earnings grew at decent rates despite the sharp drop-offs seen during the recession. The dividend grew at a steady rate over the past nine years, even during the recession, partly due to a low payout ratio that could support the dividend in a time of weaker earnings. However, dividend growth was also supported by earnings growth - in terms of total earnings and on a per-share basis - over the entire time period, with EPS growth helped by a strong share repurchase program.
Going forward, I think XOM will continue to be able to grow its dividend through a combination of revenue growth and earnings growth, with the latter helped by share repurchases and both helped by contributions from new projects. I think a future dividend growth rate in the range of 8%-10% is a reasonable expectation, consistent with Value Line's estimate of an 8.5% dividend growth rate over the next few years.
Balance Sheet
XOM has a very strong balance sheet, with a debt/capitalization ratio of 4%, debt/equity ratio of 11%, interest coverage over 25x, and current ratio of 0.9. I'm not concerned about the company's ability to pay its debts or the interest on them. Value Line gives XOM a safety rating of 1 and rates its financial strength as A++.
Valuation
One way to gauge the valuation of a company is to compare its current P/E ratio with its historical average annual P/E ratios: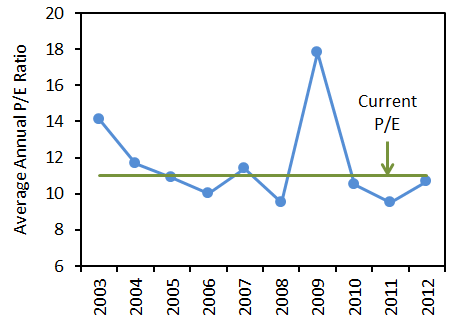 Data by fiscal year. Source: Value Line
Ignoring the spike in P/E in fiscal 2009 due to lower earnings during the recession, the market has consistently priced XOM at a P/E of around 10-12. The current P/E of about 11 is a bit lower than the 5-year historical average P/E of 11.4 (historical averages from Morningstar). Other comparisons include a current price/sales ratio of 1.0 versus a 5-year historical average of 0.9 and a current price/book ratio of 2.3 versus a 5-year historical average of 2.8. The aforementioned dividend yield of 2.9% is near the upper end of its historical range. Based on these comparisons, I think it is reasonable to conclude that XOM is either fairly valued or slightly undervalued.
XOM has a fair value of $97.00 according to Morningstar, which gives the stock a 4-star rating. XOM has a fair value of $91.50 according to S&P Capital IQ, which also gives the stock a 4-star rating. Using a Dividend Discount Model with a projected dividend growth rate equal to 8.5% (Value Line's estimate) and a discount rate equal to the current yield plus the projected dividend growth rate, I calculate a fair value of $94.83. The average of those three estimates is a fair value of $95.91, which implies a margin of safety of about 9% near the current trading price. Once again, I think it is reasonable to conclude that XOM is either fairly valued or slightly undervalued.
Action
Given its attractive valuation, I started a position in XOM at $87.40 per share on September 24, 2013, by combining some new capital with accumulated dividends in my taxable brokerage account. This purchase gives my portfolio some diversification in the energy sector and has the potential to be a solid long-term investment. If the stock price of XOM continues to decline in the near future and other investment opportunities are scarce, then I would consider increasing my position.
Disclosure: I am long CVX, XOM. I wrote this article myself, and it expresses my own opinions. I am not receiving compensation for it (other than from Seeking Alpha). I have no business relationship with any company whose stock is mentioned in this article.