Uranium spot prices are at a seven year low. Long-term demand for uranium is increasing as new reactors come online and Japanese reactors prepare to resume operations in mid 2014. A significant uranium supply channel is going offline as the Megatons to Megawatts Program wraps up in November. While timing is uncertain, I expect an upsurge in uranium prices from today's levels. Cameco (NYSE:CCJ), the world's largest uranium producer, is positioned to benefit.
Industry Trends
According to the World Nuclear Association, there are 432 operable nuclear reactors in the world. They required about 143 million pounds of uranium to operate in 2013. Global uranium production was about 129 million pounds in 2012.
In its Global Nuclear Fuel Market: Supply and Demand 2013-2030 report earlier this month, WNA estimates world Uranium demand to increase to 214 million pounds by 2030. This demand will be generated by the 68 reactors currently under construction and 489 which are planned or proposed to come online before 2030. Approximately 50% of reactors under construction, planned or proposed are based in China.
Approximately 13% of global nuclear fuel has been provided by blending down weapons-grade uranium in the "Megatons to Megawatts" program, which comes to an this year with the final shipment scheduled for November 2013.
While uranium prices and nuclear industry shares have been depressed since the Fukishima disaster in March 2011, this significant supply shift, coupled with Japan's plans to restart 6-16 reactors by mid 2014, may be the catalysts necessary to correct for the excessive pessimism in the wake of the Fukishima disaster.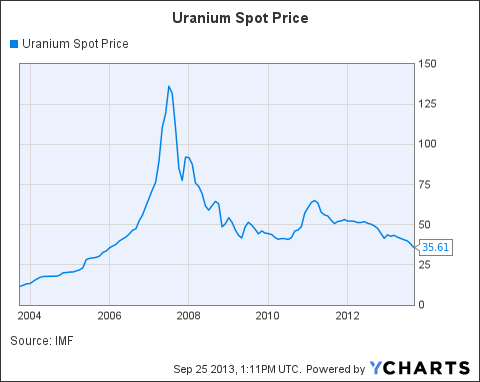 Uranium Spot Price data by YCharts
About Cameco
Cameco is the largest miner of uranium in the world, accounting for approximately 14% of global production. It has 465 million pounds of proven and probable uranium reserves, in a diverse portfolio of uranium deposits centered in Canada, Kazakhstan, the US and Austrailia.
Cameco owns the world's largest high-grade uranium mine at McArthur River and has completed 97% of the development of a mine and processing facility at the world's second largest high-grade uranium deposit at Cigar Lake. Both operations are based in politically-stable Saskatchewan Canada and partly owned by other companies.
Cameco's business has four basic segments:
Uranium Production, which involves mining and selling uranium oxide and accounted for 85% of profits and 38% of revenues in the past six months;
Fuel Services, which involves processing uranium oxide into fuel-ready UF6 and UO2 and accounted for 10% of profit and 9% of revenues in the past six months;
Intermediary Services, which involves connecting buyers and sellers of primary and secondary nuclear fuel material and accounted for 4% of profits and 13% of revenues in the past six months.
Energy Production, chiefly through an investment in Ontario's Bruce Power site which accounted for 0% of profits and 41% of revenues in the past six months.
The company is protected from temporarily low spot prices because most of its sales are through long-term contracts. According to its presentation at the September 13th Bank of America/Merrill Lynch Mining Conference, the company has fully committed its production until 2016 in long-term contracts.
The average realized price has been $47/lb over the past six months.
Drawing significantly on its new Cigar Lack mine, which, despite some delays, is slated to begin production in early 2014 with a per pound cash cost of $18.60, Cameco plans to increase annual production to 36 million pounds by 2018.
Source: Cameco Annual and Quarterly reports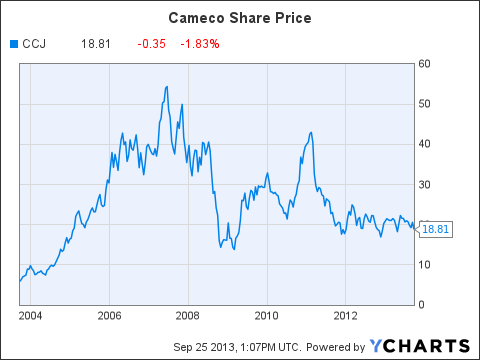 Investment Thesis:
Cameco has a strong position in an expanding industry with high barriers to entry and decreasing secondary nuclear fuel alternatives. Its portfolio of undeveloped properties allows it to take advantage of upward trends in uranium prices. Its relatively low cost of production and strong cash flows allow it to hold strong during periods of low prices.
There are several catalysts which could cause a mood shift in the industry, including the Japanese restart and the end of Megatons to Megawatts Program.
There are also several big picture upside catalysts which make me happy to take a long-term position in nuclear:
Nuclear, which still remains in many environmentalists' bad-books, may yet be embraced as an essential component of a clean energy solution to climate change.
There are several interesting "Nuclear Renaissance" projects being explored by Silicon Valley entrepreneurs and other new economy enthusiasts which could create considerable new demand for nuclear material such as thorium reactors and micro reactors.
Cameco's downside is limited by long-term contracts above current spot rates and its competitive all-in costs of production at its flagship high-grade mines.
Supply and demand are well balanced in the industry for the time being. Cameo claims its production is committed out to 2016 at prices well-above the current spot rate. Japan's shutdown has caused inventories to build, putting downward pressure on the thinly-traded short term uranium prices. Most of the significant buyers and sellers are engaged in long-term contracts. The next wave of long-term contracting, which will certainly happen before 2016, may drive prices upward as it did in late 2010 and early 2011.
Bottom Line
Cameco is a strong company in a growing nuclear industry that has been two years out of favor. Several catalysts are lined up to improve prospects in the industry. I consider CCJ a long-term buy.
Disclosure: I am long CCJ. I wrote this article myself, and it expresses my own opinions. I am not receiving compensation for it (other than from Seeking Alpha). I have no business relationship with any company whose stock is mentioned in this article.