November 5, 2009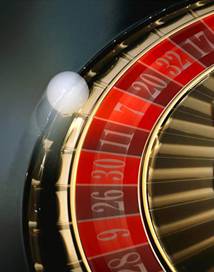 WALL STREET ROULETTE

Wow! You can't make up this much two-way action except with a roulette wheel. For the tourists, Da Boyz got the DJIA back to 10,000 but volume was again relatively light which is mystifying. Once again shorts are squeezed and this two-way action is difficult for most investors to either trade or comprehend. The action today was based on "better than expected" lousy numbers from CSCO and lower Jobless Claims (which, by the way, are still high).

This post will be shorter than most as my time is constrained but the employment number tomorrow is more important and should further encourage bulls or bears. The interesting story in this post is what's going on with UUP which is highlighted below within Uncle Buck's section.

Volume was below recent levels while breadth was excellent.

click to enlarge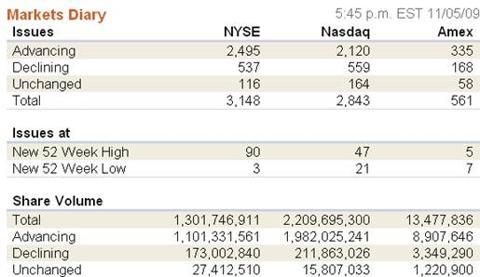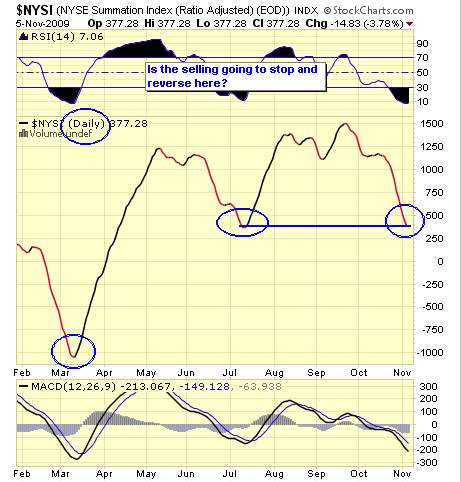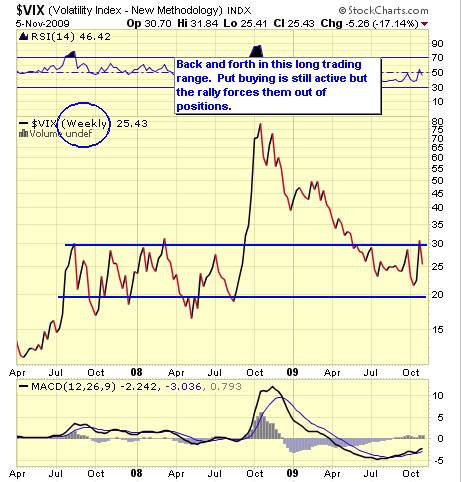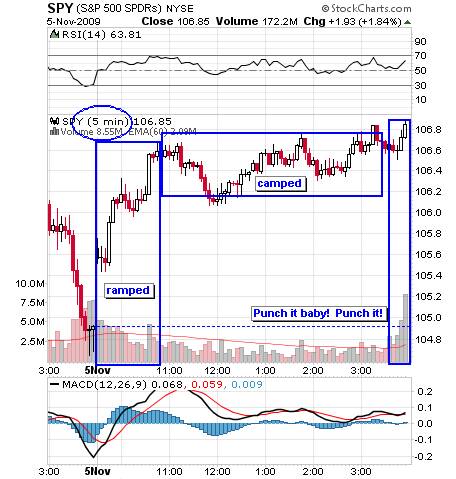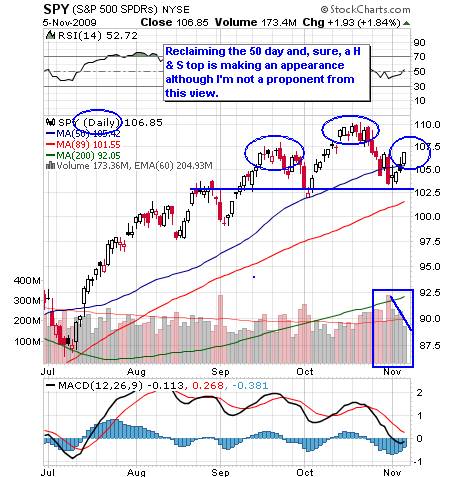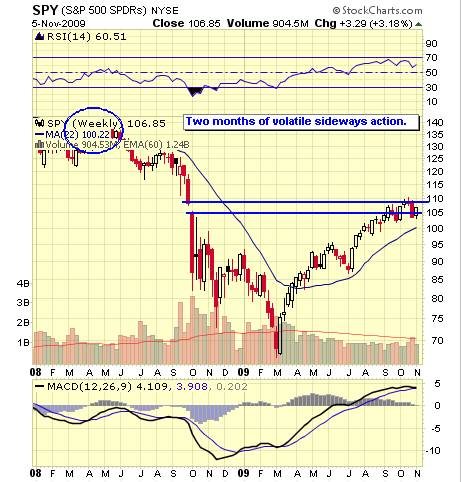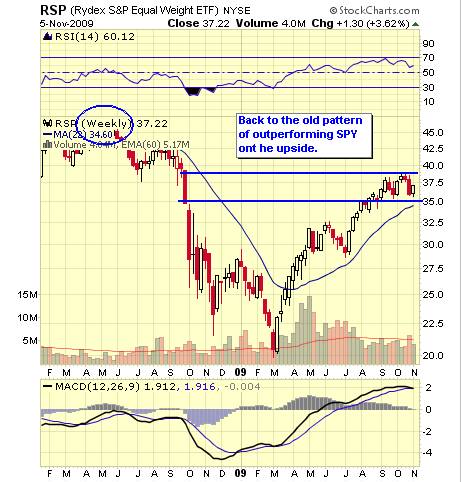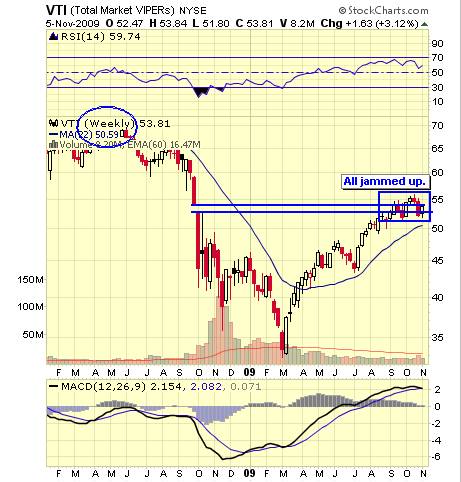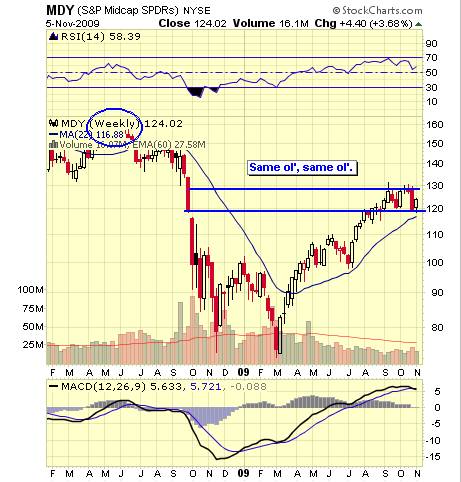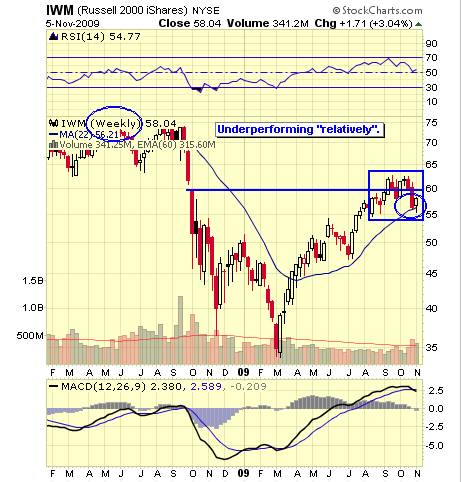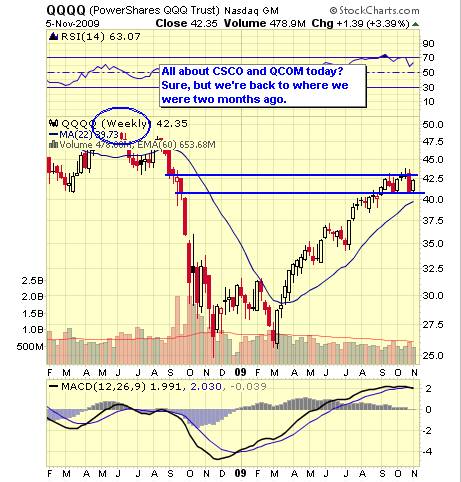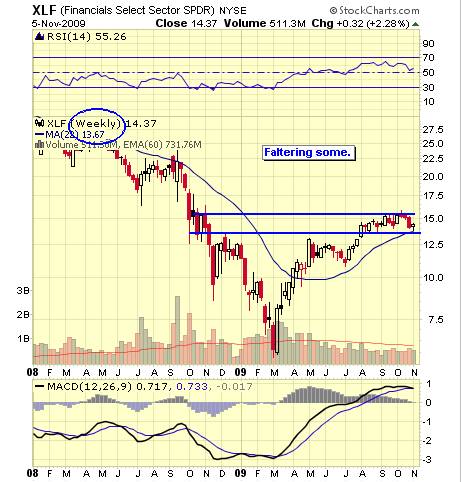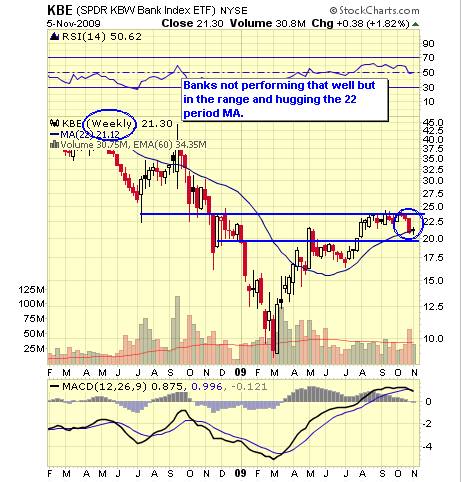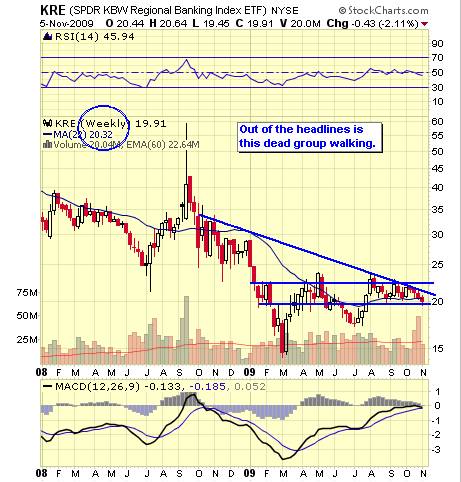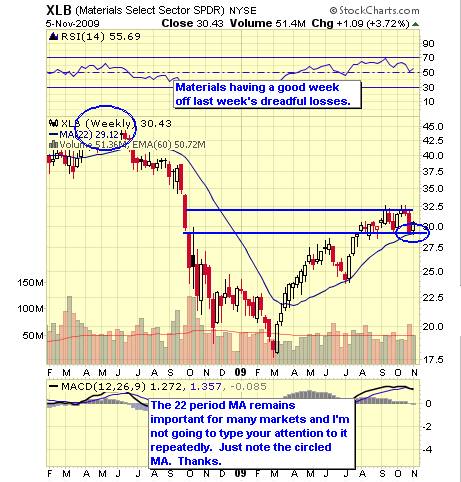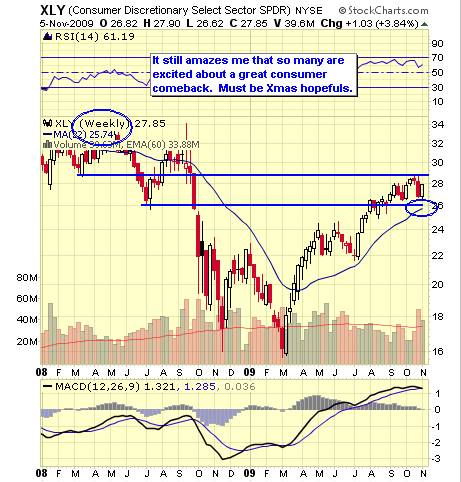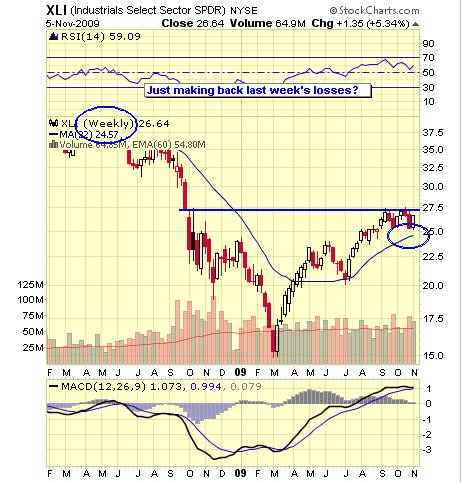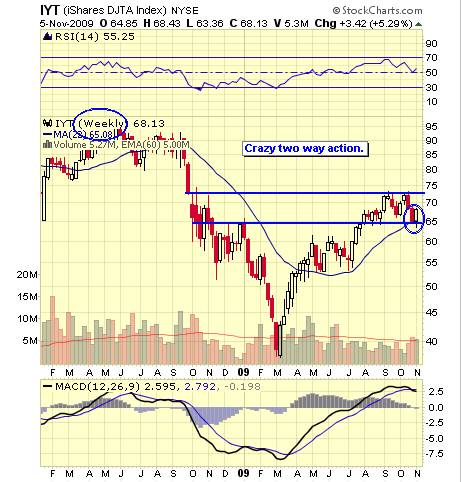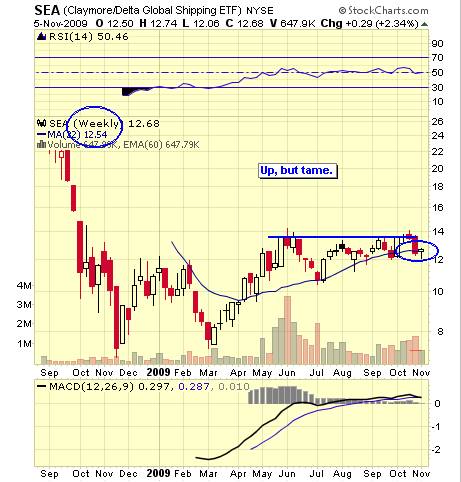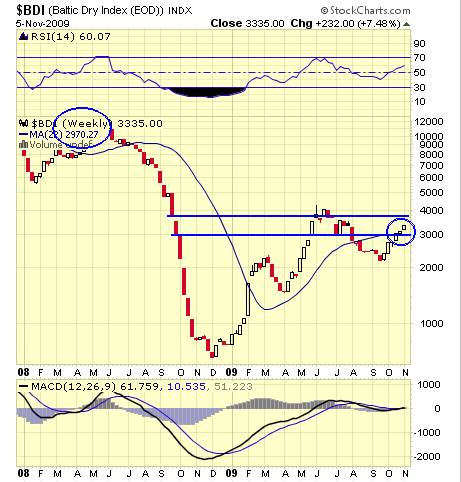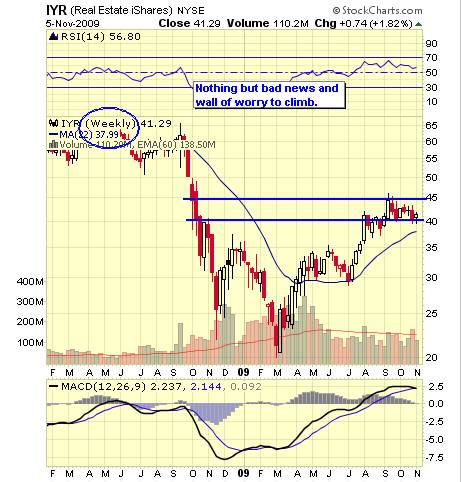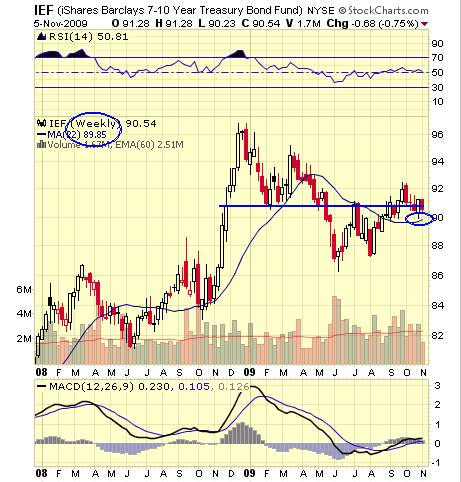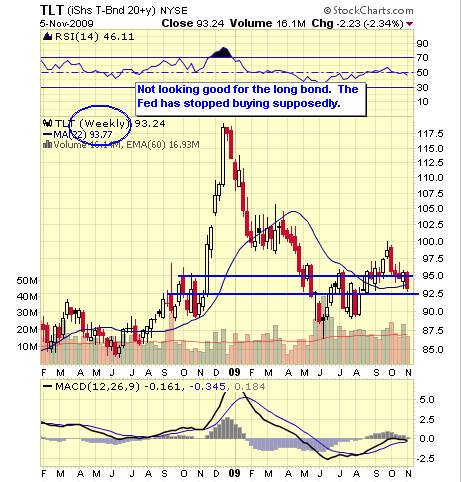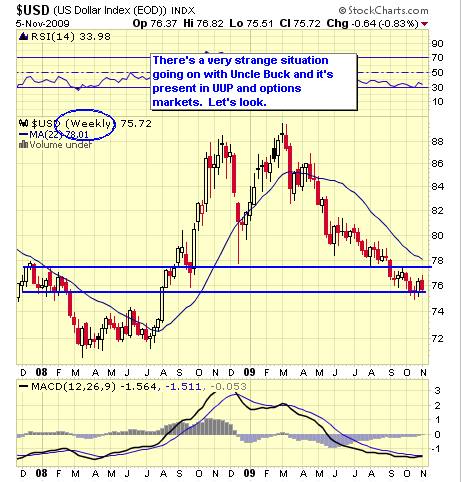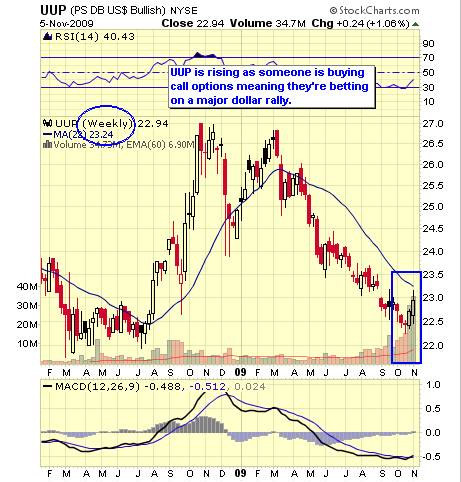 Below is a press release in part from DB Commodity Services regarding a filing to issue more shares in UUP.
"DB COMMODITY SERVICES FILES WITH THE SEC TO REGISTER 100 MILLION ADDITIONAL SHARES OF POWERSHARES DB US DOLLAR INDEX BULLISH FUND

NEW YORK, November 5, 2009 ­ DB Commodity Services LLC today announced it has filed a registration statement with the US Securities and Exchange Commission (SEC) to register 100,000,000 additional shares of PowerShares DB US Dollar Index Bullish Fund (NYSE Arca: UUP) in order to meet investor demand. Creations of new shares in the fund are temporarily suspended pending clearance of the registration statement by the SEC, the Financial Industry Regulatory Authority and the National Futures Association and declaration of the effectiveness of the registration statement.

Additional information is contained in two related 8K filings which are available at: www.sec.gov. DB Commodity Services LLC."
Below is the explanation of this activity courtesy of Scott Larison of Forefront Advisory Services:
"The demand for UUP NOV. 23 calls the past week may be related to a Hedge Fund taking a shot on the Dollar bottoming out. Open interest in these calls has skyrocketed the past week and is registering nearly 300k contracts or nearly $30 million in underlying value. As customers buy these calls, market makers who sell them must buy stock to hedge these call sales. Here is the past 10 day volume of the calls vs puts, and the open interest of the calls and puts. AVGATM VOL = Average at the money implied vol of the front mo options- notice the spike."


Date Calls Puts CallOI PutOI AvgAtmIV Close
10/22 8631 563 274k 36k 13.6% 22.31
10/23 19k 488 280k 37k 11.4% 22.43
10/26 69k 4352 295k 37k 14.1% 22.58
10/27 65k 863 352k 41k 13.2% 22.64
10/28 183k 2879 393k 41k 13.7% 22.73
10/29 28k 3249 552k 43k 12.5% 22.57
10/30 46k 2644 566k 45k 13.3% 22.70
11/2 44k 160 596k 46k 17.4% 22.62
11/3 45k 322 621k 46k 14.0% 22.68
11/4 403k 2822 630k 46k 15.4% 22.51

Should these bets pay-off for the speculator(s) it would be a negative for gold and other commodities as well. But, somebody has wind of something to cause the dollar to rally whether it's from central bank interventions or a policy change or….? Certainly, not all hedge funds are perfectly smart but, as we've seen lately, they're better "informed".