There have been many times in our investing career where we have been wrong due to sticking with a stock too long and not being worried about certain issues that creep up regarding accounting or what appear to be minor legal issues relating to claims and drilling/exploration. Over time we have learned that it is best to simply walk away from that risk and not have to deal with the uncertainty.
However, for those willing to deal with uncertainty great profits can be made and that is most certainly the case with Magnum Hunter Resources now that it is back from the lows caused by its accounting issues that resulted from a disagreement with the previous auditor. We have said it before, but will say it again, we were wrong on the need to stay away. We were correct about the underlying properties and direction of the industry, so at least we did not miss the target by that much. But the moral of the story is that sometimes when you have investing rules developed over years of investing you have to forego making trades to abide by rules that have proven to be effective in risk management and capital preservation. It stinks, but it is necessary to stay true to your rules.
Chart of the Day:
Palladium continues to catch our attention, and with the recent pullback we are watching for a move back down to the $700/ounce level. The bulls and bears are really fighting this one out.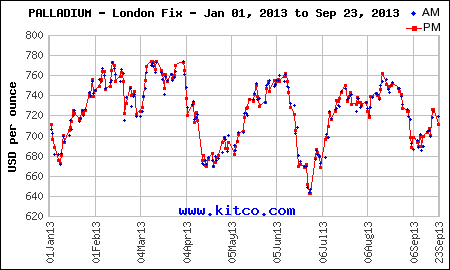 Source: Kitco
Commodity prices this morning are as follows:
Gold: $1339.90/ounce, up by $15.80/ounce
Silver: $21.865/ounce, up by $0.099/ounce
Oil: $103.59/barrel, up by $0.56/barrel
RBOB Gas: $2.7066/gallon, up by $0.0016/gallon
Natural Gas: $3.542/MMbtu, down by $0.025/MMbtu
Copper: $3.3215/pound, up by $0.0145/pound
Platinum: $1419.20/ounce, up by $4.50/ounce
Oil & Natural Gas
We were happy to see that Marathon Petroleum (NYSE:MPC) decided to add $2 billion to its stock buyback program, which was in a press release it issued late yesterday (see here). The $2 billion addition now brings the company's total buyback program to $3.34 billion as there was still $1.34 billion left on the company's prior authorized program. It is cheap to drill for oil these days, but still not cheaper than drilling for it via the exchange floor as Wall Street likes to say, so this is bullish news indeed.
Magnum Hunter Resources (MHR) continues its run higher as the shares rose another $0.41 (7.51%) yesterday to close at $5.87/share. This means that the shares have made a round trip and then some from their lows set due to the auditor issues from a few months back. The company is once again becoming active in the investor conferences and with the buyout rumors floating around the oil patch these days it is always possible that a bigger company begins to sniff around because the properties here are top notch and one could see deals by shale play or a move for the entire company. We think one or two plays is most likely, but would not be surprised if someone came around and decided that they wanted the entire portfolio. We like the smaller players in the industry because of the leverage they offer investors with their huge leaseholds, but we especially like names with good acreage that can produce liquids.
We are getting close to levels where we could see a breakout, which would test the company's two-year highs set back in January of 2012. The momentum here is something to keep an eye on.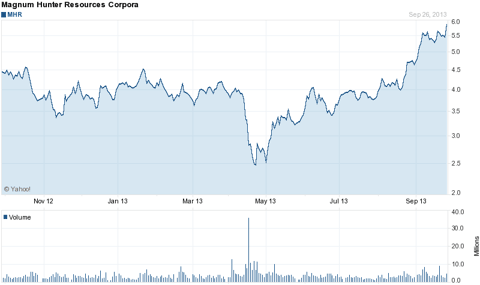 Source: Yahoo Finance
Agriculture
We recently had a question asking us about a way to put together a decently diversified ag portfolio. The question centered around a number of positions that the reader had within a larger portfolio with a couple of pure plays mentioned, such as Potash Corporation of Saskatchewan (NYSE:POT). The second part of the question was that the reader was investing for his kid and wanted maybe one name that would be a good long-term play. Well not knowing the situation and circumstances of the reader, we looked at this as if it was our portfolio and our kid. We would stay away from a pure play such as Potash Corp. and instead focus on a name such as DuPont (DD), which has become more of an agriculture and biotech name over the years as it shuffled its business portfolio to focus more on certain industries. One would still have the risk of being invested in one stock, but DuPont is less of a pure play on one subsector and more of a diversified industrial that does well when farmers in general do well. The company also possesses a kicker due to its current evaluation of its pigments business and how they will break that out. The end result will be freed up capital and higher margins for the company, which should lead to further dividend increases and larger stock buybacks.
Chemicals
It has been a strong move higher this year, but with the recent base building and natural gas prices retreating we could see another rise higher after the company announces earnings and holds its conference call.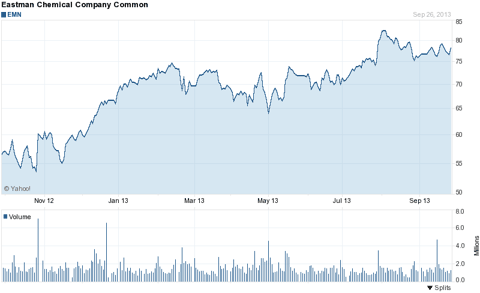 Source: Yahoo Finance
We wanted to once again highlight Eastman Chemical (NYSE:EMN), which continues to move higher as natural gas prices continue to languish. We are often asked how to have a diversified portfolio with hedges that would not offset the diversification. Well Eastman Chemical would be a great way to diversify one's portfolio by adding an industrial name while also hedging a natural gas name one might have in holdings. At current natural gas prices there is a lot of room for them to run higher before they start to affect Eastman, but any rise would light a fire under natural gas names. Likewise, if natural gas prices remain around these levels there are some companies that have low cost production that are making good money and although a move lower would hurt that profitability it would only add to Eastman Chemical's bottom line over time. Ideally one would try to match the betas up, but we view that as a more secondary item to picking great companies, which Eastman Chemical is.
Disclosure: I have no positions in any stocks mentioned, and no plans to initiate any positions within the next 72 hours. I wrote this article myself, and it expresses my own opinions. I am not receiving compensation for it (other than from Seeking Alpha). I have no business relationship with any company whose stock is mentioned in this article.