This article puts forward several opportunities for investment. Among the entire universe of stocks, only these seven firms share several important attributes. These attributes are ...

· Market capitalization of over $10 billion
· Dividend yield of 3% or higher
· Trade on US exchanges
· Standard & Poor's credit rating of A- or higher
· Analysts' consensus is a strong buy
Cap Size
Market capitalization is a measure of the firm's size determined by the number of shares outstanding times the market value of each share. We start with a universe of about 6,500 stocks, and a $10 billion minimum screen gives us about 550 stocks of that size.
Yield
Yield is the dividend paid by the stock in the last 4 quarters, divided by the price of the stock. This has in common with the above measure that it is partially determined by the market, which sets the price at its daily auction. The S&P 500 has a dividend yield of about 2%. These stocks, at 3% or more, would be higher than that average by at least 50%. We have now narrowed our prospects down to about 100 stocks.
Credit Rating
I believe that a high credit rating is a good indicator of the quality of a company. It is first an overall measure of financial strength and integrity. In addition, it tells you that a firm has a sound balance sheet and manages its debt well. In addition, a strong credit rating means a lower cost of borrowed money for the firm.
Analyst Rating
Financial analysts are individuals in the financial industries that spend much of their working time studying companies and industries in order to make analysis and report about them. Those making investment decisions often rely on these reports to make buy, sell or hold decisions involving millions of dollars.
Analysts are methodical and systematic, and provide investing insights to their employers and their employers clients. Many of these individuals have master's degrees in finance, accounting or other business fields, which equip them to do quantitative analysis as well as make qualitative judgments about business environments and plans. Some hold the professional designation of Chartered Financial Analyst, CFA, which assures a high level of knowledge and the acceptance of a professional code of ethics.
Summaries of stock data on Yahoo Finance, FinViz or other sources often post an analysts' consensus number that indicates if a stock is a current good buy or should be sold. This is a range of 1 to 5, with 1 being a strong buy and 5 a sell. We now screen the above 100 stocks to find those upon which a consensus of analysts has given an average rating of Strong Buy, or in the range of 1.0 to 1.5. This leaves a short list of 9 stocks that meet all of our criteria. The next step is to check their credit. At Standard & Poor's, we find that 7 of the 9 pass this final hurdle.
Basic Information
The first chart below lists the 7 stocks that comprise our selection based on the criteria we set when started our search of over 6,500 US traded stocks. These 7 stocks, from 5 different countries, trade as ADRs on the US Stock exchanges. I suggest all 7 are good buys and it is up to the individual investor to determine which of them, if any, suits his or her portfolio. Each stock happens to be from a different sector. There is a wide range of yields, from 3% to over 6%.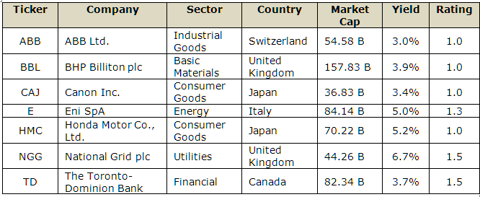 Valuation
I first input these stocks into a F.A.S.T. Graphs Portfolio, and scanned the 15, 7 and 4 year charts. Based on this visual screen, I observed nothing that would lead me to believe any of the chosen stocks were overvalued, and concluded that they all appeared fairly valued or slightly undervalued.
Next, we will look at numbers that can give us another indication of past performance and future valuation. The DCF estimate is mine, using a simple online input screen at Moneychimp's web site. I input the prior twelve months' earnings, the average annual 5 year EPS growth estimate, with "0.0" in the beyond 5 years estimate and a discount rate of 11%. This produces a conservative estimate and that I believe it can be used as a buy price indicator, with a built in safety factor. The stocks, as verified by F.A.S.T Graphs and Morningstar ratings, are fairly valued. The current P/E of the stocks provides another measure of valuation. Indications of undervaluation are shaded in light green.
I give my highest recommendation to the recent series of articles by Chuck Carnevale, the originator of F.A.S.T. Graphs, on valuation. The first article is "How To Calculate The Intrinsic Value Of Your Common Stocks, Part 1."
I also used F.A.S.T. Graphs data to discover the past 7 year Rate of Return. This is approximately the length of a business cycle, and this period takes us from before the global financial crisis and recession through the slow recovery to the present. It is not accurate to assume that a good history assures a good future, but I would much rather see that good history than a bad one.

THE SEVEN PICKS
Listed very roughly in order of slightly better valuation and what I perceive are the better opportunities, all are outstanding companies. I prefer UK and Canadian holdings because they charge no taxes on dividends, or in the case of Canada, no taxes on dividends of IRA held stocks.
TD Bank (NYSE:TD)
Toronto-Dominion Bank and its subsidiaries provide Canadian Personal and Commercial Banking, U.S. Personal and Commercial Banking, Wealth Management, Insurance and Wholesale Banking. This bank rates as one of the most secure in the world. It is the one Canadian bank that has successfully expanded into the US.
TD Bank appears undervalued on the DCF valuation and has a low P/E. It has a profitable history. Toronto Dominion Bank has a credit rating of AA-.
BHP Billiton (NYSE:BBL)
This is the world's largest miner. Its goal is to produce shareholder value by investing in long-term scalable resources, and mine them in a safe and sustainable manner. It is a market leader and its operations include iron ore, energy coal, metallurgical coal, petroleum products, potash, copper and gold.
BBL appears undervalued by its low P/E and Morningstar 4 Star rating. Historically, it has provided a good Rate of Return. It enjoys a credit rating of A.
National Grid (NYSE:NGG)
NGG is an electric utility that owns a large part of the grid in England and manages the transmission and distribution of electricity and gas in Great Britain and the northeastern US. It has typically produced a high yield, currently forecast to be 6.7% for the next year. That alone might be a reason to buy NGG for some.
NGG has performed respectively year-to-date, but like many utilities has not been very profitable. The low P/E indicates fair valuation. National Grid has a credit rating of A-.
ABB, Ltd. (NYSE:ABB)
ABB provides power and automation technologies worldwide. It offers products, systems, solutions and services designed to increase power grid reliability, boost industrial productivity and enhance energy efficiency. It is a conservatively managed company with a long and profitable history. By looking at their financials for the last 10 years, one would have a hard time discerning a global recession. It is a solid company in one of the world's most stable countries, Switzerland.
This is the one stock that was at the high end of fair value range. It has a P/E above the market and above its long-term average. However, it is a top quality company and could make a good long-term investment. Standard & Poor's gives it an A credit rating.
The Honda Motor Company (NYSE:HMC)
HMC is a manufacturer of high quality, mid-priced automobiles and other powered products. It is one route to garner revenue from developing nations, as the company is major marketer throughout emerging Asia. The dividend should remain over 5%. Up 26%, HMC is having a good year.
The stock is fairly priced and I believe Honda will continue to be successful. The company has an A+ credit rating.
Eni SpA (NYSE:E)
Eni is an integrated Italian oil company with three business segments; Exploration and Production (75% of profits), Gas and Power and Refining and Marketing. Its 1-year, 3-year and 10-year total returns, at 8.37%, 7.62% and 8.99% respectively, are much higher than the 7-year return of -0.1 shown in the above table. Eni's political connections give it an edge over other firms in emerging nations, especially those in Africa. Its upstream opportunities are very good and E&P operations exist in 43 countries. On the risk side, the Italian government owns 30% of the firm. In addition, the local market is weak and global oil prices are always important to profitability.
Good earnings provide high dividends, however, slow growth is predicted for the next five years which lowers the valuation. Even so, it offers a 5% dividend and its credit rating is A.
Canon, Inc. (NYSE:CAJ)
Seventy-year old Canon leveraged its leading photographic technology to become a global supplier of cameras, copiers, printers and lithography equipment. Canon has established solid market positions in its core office and consumer segments. However, cell phone technology is proving to be disruptive to the digital compact camera market. The question is whether Canon can continue to expand its copier and printer business enough to overcome the decreasing camera sales.
If so, the company will be very profitable for many years to come. With a good reputation and an AA credit rating, it is likely this company will endure. No doubt the analysts perceived success.
Foreign Tax Considerations
Most countries tax dividends paid to US residents and withhold a portion of the dividend paid. The rate varies by country, and ranges anywhere from 0.0% to 35%. In many cases, a US taxpayer can get credit on US taxes for all or a portion of the deduction. However, this is never true of taxes withheld on dividends paid to IRA and 401k accounts. That money is gone.
Therefore, in an IRA it is best to hold stocks from countries that do not tax dividends, such as the United Kingdom. Canada, due to a reciprocal treaty with the US, does not tax dividends paid to US IRAs and 401k accounts, nor does the US tax dividends paid to certain Canadian retirement accounts. Your broker is the person to contact if there are issues with this. I believe Canada withholds 15% otherwise.
Concerning tax withholding on dividends from other countries, recently it has been 10% for Japan, 15% for Italy and 35% for Switzerland. There are several tables of foreign taxes on the internet; this is one by Standard & Poors, dated in March of 2013. You can also read the actual tax treaties. It is wise to take up any tax concerns with a CPA or tax advisor. The laws are complicated and they are always changing.
Summary
I believe that the seven companies above represent some of the best possible investments on the planet. Do your own due diligence to see if you agree before making purchases. I wish you good fortune from your carefully considered investments.
Disclosure: I am long BBL, NGG. I wrote this article myself, and it expresses my own opinions. I am not receiving compensation for it (other than from Seeking Alpha). I have no business relationship with any company whose stock is mentioned in this article.