Wouldn't you think that an investment policy/program designed to build wealth as quickly and safely as possible might be unlikely to find many attractive ETFs among some 2500 alternative investment candidates?
After all, one prime attraction of ETFs is that their diversity of holdings, even when narrowly focused on one industry or activity, is intended to reduce price volatility and assure only average levels of rewards, but with greater assurance of delivery.
How can a SPDR (NYSEARCA:SPY) or a Diamond (NYSEARCA:DIA) compete with a Facebook (NASDAQ:FB) or a Ctrip.com (NASDAQ:CTRP) or an Altisource Portfolio Systems (NASDAQ:ASPS), whose prices can climb at a 100%+ annual rate for many months at a time? Isn't that the way to build wealth?
Not necessarily. Remember this is a marathon, not a 60-yard dash.
And it can be a steeplechase, not a Kentucky Derby. Lots of obstacles lie in wait.
So let's build a screening process that values reliability and steadiness of purpose into its capital commitment process, along with reality of expectations. One that recognizes the essential value of the investment of time, alongside the capital.
Our strategy is to find investment candidates that have an extensive history of producing a low proportion of losses, of small magnitudes of emotional distress, among an adequate presence of opportunities like that of today, that can realize specific gain targets in periods of time that make the accumulation of such goals sufficient to attain the investment program's purpose on an ongoing basis.
Wow. That's a mouthful, probably requiring re-reading - perhaps more than once.
But, can it be done?
Yes, if we feed the process with knowledgeable forecasts from extensively-qualified, highly-motivated experts conditioned by a sense of self-protection and awareness of the potential profit rewards that are regularly available. And if we score-keep the forecasts with actual results for reliability and consistency.
Then the key to judging the capital reinvestment selection competition is to put all comparisons in terms of likely annual rates of net price change for each candidate, conditioned by the likely interim experiences required. That makes the comparisons independent of all the distracting minutia that is totally absorbed by the criteria that really counts in selecting investments.
We pose this problem daily to over 2500 potential candidates, about 10% of whom are ETFs. They are the most widely held and actively-traded ones, out of the over 1400 me-toos that are being peddled frantically in a desperate effort to recapture the capital being withdrawn from mutual funds.
The selection criteria make it possible to adequately (not perfectly) rank candidates either in the whole population, or in subsets of it. So we have looked today at all the ETFs as one group, including broad market trackers, bond and other income-oriented ETFs, commodity and foreign-exchange proxy ETFs, inverse and leverage-structured ETFs, and plain-vanilla or foreign-domiciled industry ETFs, whether focused on agriculture or biotech developments.
Here is how the best dozen, ranked by our criteria (perhaps not yours) present themselves. A comparison of their averages (blue table rows) to those of the subset's 225 members, and to the whole population of 2529 alternatives for which we have comparable data, is provided.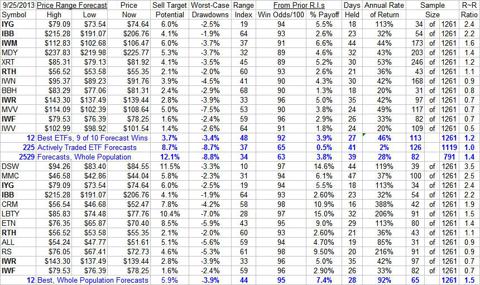 Here is how the market-making [MM] pros see what their big-money fund clients are likely to cause to happen to the prices of these ETF investment candidates, implied by the MMs self-protecting hedging behavior in each name.
The implied forecasts are in the two left-most data columns of the table. Their credibility rests on how well prior forecasts with like balances between upside and downside have performed in actual market prices in the next 3 months after each forecast. The right-hand sample size columns of the table indicate how many market days of the past 5 years 1261 have seen a forecast like today's.
The Sell Target potential is the percent change between each ETF's Price Now (9/25/2013 close) and the top of its current forecast range. To contrast with this promise, the Range Index tells what proportion of the forecast range lies in the opposite direction, the percent of the range below the Price Now.
We apply a standard performance test to each ETF's similar prior forecasts, to see what was the typical worst-case price drawdown below a cost of investment. On the benefits side, each forecast reaching its sell target at end of day is closed out at that point. Failing to do so in 3 months, it is forced into liquidation at that time. The ODDS / 100 column tells what percentage of the experiences ended in gains above cost, and the PAYOFFS column gives their net average gains. The Days Held column records the number of market days positions required to be held on average. Annual rates contemplate the 252-day year of the market, based on daily average net change compounded.
Our rankings in the table are by the far right column of the ratio of the forecast upside price gain percent offered, divided by the absolute value of the average worst emotional drawdown price experiences.
The top-ranked ETFs are the iShares US Financial Services ETF (NYSEARCA:IYG), the iShares Nasdaq Biotechnology Index ETF (NASDAQ:IBB), the iShares Russell 2000 Small-Cap Index ETF (IWM), the SPDR S&P Mid-Cap Trust ETF (NYSEARCA:MDY) and SPDR S&P Retail ETF (NYSEARCA:XRT). These and the others in the top dozen ETFs offer a credible prospect of historically well supported, 9+ out of ten profitable experiences odds for annual rates of return averaging 40% or more. That compares with the rest of the real ETF community stumbling along (as perhaps expected and experienced) at a 2% rate of gains, with only two out of three experiences profitable.
Happily, encounters in the wider world of equity investments provide better returns for larger risks, as reflected in an average annual return from our time-efficient portfolio management discipline, of a 26% annual rate of average net gain, from success odds of 5 out of 8 wins, slightly less than the 2 of 3 from ETFs overall.
But how do the best ETFs compare with the prospects for the similarly-ranked best of the whole population? The bottom half of the table provides a perhaps surprising answer.
At this point in time (when many observers appear to have some more serious than average reservations about near-future equity price prospects), the credible, reliable big-winners among equities at large have a few strong new-commitment competitors.
Because of big rates of gain and large current prospects in the likes of Discount Shoe Warehouse (NYSE:DSW), Salesforce.com (NYSE:CRM), Liberty Global (NASDAQ:LBTYA), and Eaton Corp (NYSE:ETN), the rate of return potentials there are twice those of the top ETFs.
But the top dozen of all equity competitors includes five (5) of the top-ranked ETFs. The ability of well-priced ETFs to compete in internal capital reinvestment selection competitions should be of encouragement to organizations that have decided to manage their own retirement or endowment funds through the use of ETFs. Not to mention those individual investors so similarly inclined.
Additional Disclosure: The author has an investment interest in the website blockdesk.com which, while not yet open to the public, is in conversion from being a delivery medium of information to institutional investors to a new life of providing similar help to do-it-yourself investors. Both brief and extended-time subscriptions for single or multiple issue inquiries should be at quite reasonable and manageable costs for individuals. Announcement of its opening is hoped for in the 4th quarter of this year.
Disclosure: I have no positions in any stocks mentioned, and no plans to initiate any positions within the next 72 hours. I wrote this article myself, and it expresses my own opinions. I am not receiving compensation for it (other than from Seeking Alpha). I have no business relationship with any company whose stock is mentioned in this article.