A simple statement is all it took:
"The Bank of England would consider the case for more quantitative easing should the recovery falter, Mark Carney told the Yorkshire Post.

'But my personal view is, given the recovery has strengthened and broadened, I don't see a case for quantitative easing and I have not supported it.'"
This simple quote in the Yorkshire Post from an interview with Bank of England Governor Mark Carney represents an about face in the market's perception of Carney's intentions. Inexplicably, the market anticipated a dovish Carney as his start date loomed this past summer, despite Carney's record demonstrating a willingness to pick rates off the floor at the Bank of Canada. Next, Carney appended a statement to the July interest rate and asset purchase decision in an attempt to cool the market's enthusiasm for higher rates. The British pound (NYSEARCA:FXB) reacted immediately and fell sharply. That was one of the last great buying moments for the pound, and I gulped hard as I fought the market momentum at that time. Today (September 27th), the pound is finding new life after a post-Fed fade. The GBP/USD currency pair looks headed for an extremely important test with a multi-year downtrend (around 1.63 on GBP/USD).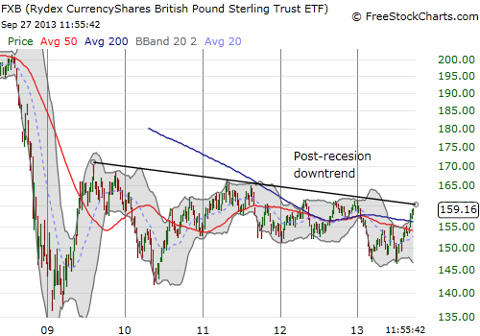 A major breakout may be around the corner for the British pound
This sudden pop is a timely example of the apparent coiling that I noted in "Time To Watch The Forex Action Unfold: React, Not Anticipate." Although I remain bullish on the pound, there was no way I could anticipate the timing of this kind of move. As with many sharp and abrupt moves, GBP/USD faded from the initial burst providing a fresh entry point to ride the new momentum.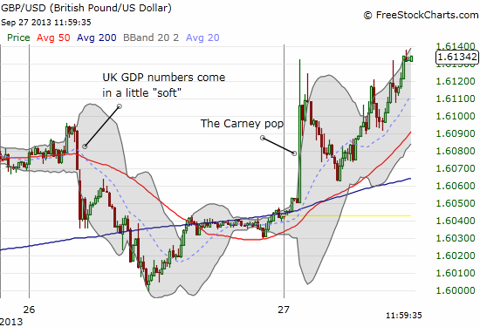 A wild rollercoaster in recent days.
Source for charts: FreeStockCharts.com
I have already closed out my long British pound positions to play the last move except for a short on EUR/GBP. I think the pound has even more potential gains against the euro (NYSEARCA:FXE) which has greatly benefited from its role in bets against the U.S. dollar. A political crisis is looming in Italy, but this does not seem to worry forex traders at the moment. So, Italy is not part of the bearish euro thesis here.
Be careful out there!
Disclosure: I have no positions in any stocks mentioned, and no plans to initiate any positions within the next 72 hours. I wrote this article myself, and it expresses my own opinions. I am not receiving compensation for it (other than from Seeking Alpha). I have no business relationship with any company whose stock is mentioned in this article.
Additional disclosure: In forex, I am short EUR/GBP