At the beginning of this year we wrote about political risk faced by mining companies operating in Argentina. The links to the articles are here and here.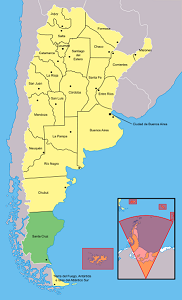 Things have since taken a turn for the worse for mining companies engaged in the province of Santa Cruz, which prompted us to revisit the topic and take stock of mining companies engaged in this particular part of the world.
In June this year the Congress of this Southern Argentinian province passed a law that will require mining companies to pay 1% of their reserves worth annually. The tax is payable by anyone holding a title to a mining concession within the province of Santa Cruz. Exploration companies are exempt from this tax only until the point of filing a feasibility study. Full exemption from this tax is granted for state-owned companies or companies in which the state holds a majority stake.
Beside the fact that there did not seem to be any clarity as to how this tax would be calculated, there are also some material issues that will provide ample reason for mining companies to fight this law in court:
The law seems to be in conflict with tax stability certificates granted in accordance with the Mining Investment Law in Argentina;
The tax is designed as a levy on real estate in order to put it under the provincial jurisdiction, which appears rather far-fetched;
and, the law is implemented retroactively starting in April 2012.
The law is still awaiting enactment by the Executive Branch and is therefore not enforced, yet. Affected mining companies will presumably waste little time and challenge the law as soon as it is put to work.
The following mining companies are active in the province of Santa Cruz:
Beside these mine operators there are also several junior exploration companies active in the province. We would presume that these companies will act carefully with regards to releasing feasibility studies.
We have identified Argentina as a country with high country risk before, and the described developments seem to confirm our assessment. The country is plagued by a deteriorating economy, high inflation and a political system that appears dysfunctional.
The described provincial tax comes on the heel of other measures that can only act as a deterrent to further investments in Argentinian natural resources. Among the most disruptive measures is a law that forbids mining companies to transfer profits from Argentinian mines out of the country.
We continue to advise extra caution when investing in companies exploring or mining Argentinian resources.
Disclosure: I have no positions in any stocks mentioned, and no plans to initiate any positions within the next 72 hours. I wrote this article myself, and it expresses my own opinions. I am not receiving compensation for it (other than from Seeking Alpha). I have no business relationship with any company whose stock is mentioned in this article.