While the U.S. stock market as a whole has been enjoying a decent rally this year, IBM (NYSE:IBM) shares have not been joining the party. In fact they remain one of only two of the 30 Dow stocks in negative territory year to date. While this might be causing angst among a great deal of IBM shareholders, there is one in which it definitely is not. That is Warren Buffett.
He doesn't expect a lot head-nodding in agreement with his statements. Neither do I, as it runs counter to investor psychology, but the logic is sound. Net buyers, which includes both people laying down their own cash for more shares and those more indirectly increasing their ownership through having shares repurchased, benefit more by doing it at lower prices. The cash-cow that is IBM is undertaking an aggressive, smart plan, and the shares are cooperating for the process. It's a rare coupling of events.
As discussed in many Berkshire Hathaway (BRK.A) shareholder letters Buffett has two main hopes for companies he has purchased which are engaged in repurchasing their shares. First, he looks for the company to exhibit the desired increase in earnings per share numbers. Second, he wishes for the stock price to underperform the market. Operational and liquidity needs have to be met of course, and share repurchases are the most beneficial when they take place below a company's intrinsic value.
Buffett lays out the math behind it all with his own example. Assume the $50 billion in buybacks over 5 years stated as a goal by IBM a few years ago takes place. Now compare the end results after the years have been completed under two different average share prices.
| | | | |
| --- | --- | --- | --- |
| Year | 5 Year Average Share Price | Shares Outstanding | % Shares Owned by Berkshire |
| 2011 | | 1.16 B | 5.5% |
| 2015 | $200 | 910 M | 7% |
| 2015 | $300 | 990 M | 6.5% |
He states in one shareholder letter that if IBM earns $20 billion in 2016, his share of those earnings would be a full $100 million more with the $200 average price vs. the $300 one. At some later point his shares could be worth perhaps $1.5 billion more under the $200 scenario he claims.
Unfortunately, as I have written about before, more often than not share repurchases are not undertaken in the style Buffett wishes. Instead they are often done with poor timing or for disingenuous reasons under the guise of explicitly being for shareholder benefit. Unsurprisingly, IBM does not appear to be one of those; not only does Buffett's Berkshire Hathaway have an investment in the company, it is one of his "big 4" investments. The financial and operational management in IBM remain superb.
They are one of the most truly shareholder friendly companies in existence. In addition to the buybacks they are also one of the more transparent companies when it comes to stating their future goals, giving out "road maps" for set dates. In addition to the previously stated $50 billion in share buybacks, they are also striving for as a 2015 goal giving $20 billion in dividends. As the chart shows, they've been increasing on this front pretty aggressively, even giving the very positive sign of doing so during the recession.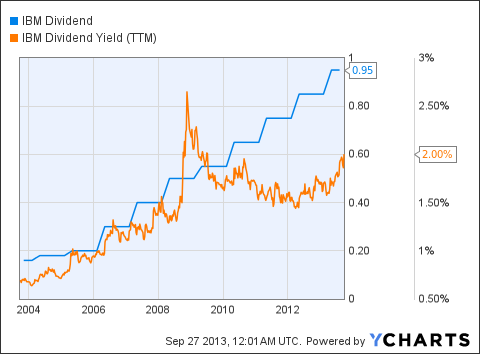 IBM Dividend data by YCharts
The SEC allows companies to sometimes avoid disclosing investments for a time period, and Berkshire received permission for this when they were accumulating their shares of IBM. This is done to prevent the public knowledge of their purchasing driving the stock price higher before they are finished accumulating shares. This is an interesting situation however now that his ownership is well known; the shares have barely budged from his purchase price at current levels. A rare opportunity presents itself for investors because of this.
The price decline is thanks in part due to a 1st quarter miss, which saw revenue drop 5%, and the CFO stating during the conference call that the quarter actually ended weaker than it began. For the first time since 2005 earnings fell below analyst's estimates. The second quarter saw improvements with statements made that they had significant tailwinds behind them, and EPS projections were adjusted upwards. Service backlog growth grew more than it has in near half a decade. The shares didn't go up, but there is good news for any who found themselves in agreement with Buffett's previously mentioned statements; $12 billion in gross share repurchases were stated to have been made in the last 12 months, reducing the share count by 4%.
Disclosure: I am long IBM. I wrote this article myself, and it expresses my own opinions. I am not receiving compensation for it (other than from Seeking Alpha). I have no business relationship with any company whose stock is mentioned in this article.