Crude oil inventory reports came out Wednesday from the Energy Information Administration (EIA). Is the trend towards higher prices supported by the numbers?
Crude oil inventories were down four million barrels but still 7.7% above last year's level. This was a larger drop in inventory than the market was expecting. Imports dropped 764 thousand barrels, 486 thousand barrels below the four-week average. Imports for the week were 1.846 million barrels less than one year ago.
Against the backdrop of falling crude oil inventories, gasoline stocks were down 400 thousand barrels and distillate inventories were down 300 thousand barrels. Gasoline inventories are tracking 6% above one-year ago levels. The 800-pound gorilla (40 million barrels) on the airplane is distillate stocks. At 31% above last year's inventory, it is still a weight on the market, not only for crude oil but also for refiners.
Refinery inputs are 647 thousand barrels below last year's levels, or -4.6% Refinery inputs have been ratcheting down in recent weeks. This can be attributed to changing over to winter fuels and trying to match production with demand.
The numbers tell us that crude imports could grow quickly with any spike in demand. Distillate inventories tell us the economy is not moving goods over the highway (truckers run on diesel), or rail. This conclusion is supported by third quarter results from YRCW, and BNI where freight volume dropped 27%.
It is important to remember that current pricing on crude oil is influenced by world demand, not just U.S. demand. The Asian economies are improving, China's economy expanded by 8.9% in the third quarter.
The chart below shows our inventory levels compared to one year ago, we are entering the top of the range, which is bullish.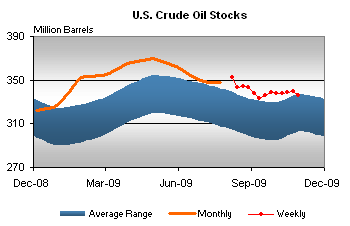 This next chart is the supply of crude oil stated in the days of usage, which is bearish.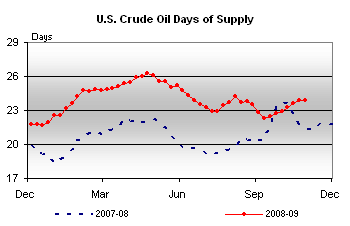 The present inventory levels in the U.S. do not support $80 per barrel oil, but this price is set in an open market. Every day bidders and sellers factor world inventories, economic recovery, currency exchange rates, terrorism and personal biases into their actions.
Crude oil is primarily a transportation fuel. It is not used for electricity generation. Crude oil usage increases to move goods and people as economies recover. Crude oil price is likely to increase in price with the improving world economy, faster than justified by the U.S. economy. We remain mired in a government-prolonged recession.
You can lock in your price of fuel with a strategic investment in U.S. Oil Fund (NYSEARCA:USO), or U.S. Gasoline (NYSEARCA:UGA).
The penalty good men pay for indifference to public affairs is to be ruled by evil men.— Plato
Disclosure: No Positions