To most, Apple (NASDAQ:AAPL) and Samsung (OTC:SSNLF) are the two dominant global players in the smartphone space. More than ever, the spotlight for smartphone growth is on the promising economies of China, the biggest market and India, the fastest growing market. Though both giants are approaching these markets with their own strategies, the emergence of smaller vendors, such as the Chinese company ZTE (OTCPK:ZTCOY), will play a considerable role in how this will all transpire.
Apple-ing surprise for doubters
Apple's performance in China, and to a lesser extent India, is vital in determining the future outlook of the California based company. These emerging markets were influential in the release of Apple's new phones, the 5S and 5C, which specifically aimed towards tapping lower income consumers. Following Apple's announcement of the two new models though, it was believed that the price of the 5C ($550+) was too costly for consumers in emerging markets. Apple CEO Tim Cook responded with, "We're not in the junk business" to defend the higher priced phone that offers greater value. It seems Apple is concentrated on offering a premium product rather than volume to dominate market share.
Evidently, Apple changed market sentiment when the company revealed that it set a new record in iPhone sales, topping 9 million models three days after launch. Initially, this demand shows the devotion Apple fans have for the company product. Can Apple keep this demand going or will the iPhone be a luxury that only the privileged can afford?
"Junk business" driving smartphone growth
In the worldwide smartphone market, vendors shipped 237.9 million units in 2Q 2013, a 52.3% YoY growth and 10% QoQ growth. Lower-priced smartphones continue to flourish as demand has spread from the developed markets to emerging markets. As a result, smartphone average selling prices have declined to $372 so far in 2013, down from $443 in 2011, a 19% decline. With emerging market demand surging, this declining trend is expected to continue with prices sinking as low as $309 by 2017.
Low-cost manufacturers have seen great traction by dedicating product offerings toward emerging markets, where average personal income is far less than that in developed. Not only that, but these vendors have kept prices low while still offering premium devices. Take Samsung for example, a company that has taken advantage of the so called junk business. Samsung's offering ranges from low-end smartphones that can compete in emerging nations like India and China to the premium Galaxy S4 that challenges the iPhone in the high end market. Due to this wide product range, Samsung is the top vendor in the Chinese and Indian market and a runner-up to Apple in the West.
ZTE approach
ZTE, a Chinese smartphone maker, has taken a similar approach to expanding their business as rival Samsung. ZTE finished among the smartphone leaders for the fourth straight quarter thanks to its success in the Asia/Pacific region. According to IDC, ZTE was a top five smartphone vendor for the 2Q 2013 with 10.1 million shipments, giving it a global market share of about 4.2%. The company's goal is to sell 50 million smartphones in 2013, which would further validate its position as a leading global vendor. This is quite impressive for a company that is relatively nonexistent in the West.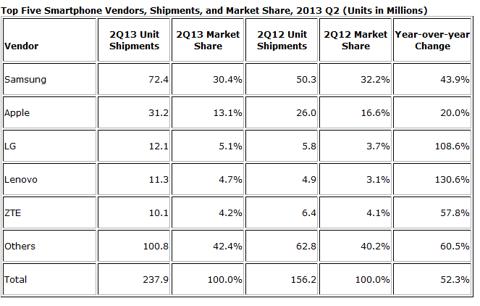 Click to enlargeZTE's largest presence is in its local market, where it holds approximately 8.7% of market share, placing it as a top 5 manufacturer in the world's biggest smartphone market. Aggregately, Chinese smartphone makers take 60% of the local market, each individually surpassing Apple (5%) comfortably.
Similar to Samsung, ZTE offers a wide variety of smartphones that range from entry-level devices to the high-end feature filled Grand S line. This strategy gives ZTE access to consumers of all income levels, making it a smartphone producer that can target every demographic, a crucial feature in emerging market vendors. Low cost devices will continue to dominate the majority of the Chinese market, which plays to ZTE's advantage as it will carry on the company's presence in being a local leader.
Exploit growth of Indian market
India had smartphone shipments of 9.3 million in Q2 2013, growth of 50% QoQ and nearly tripling shipments a year ago, making it the fastest growing market globally. IDC predicts India will replace the US as the second-biggest smartphone market by 2017. Around two thirds of the 9.3 million smartphones shipped were sub-$200 smartphones. With these facts, expansion into the budding Indian market would be most successful if a low cost phone was offered for the masses.
ZTE already has a strong brand recall in the Indian handset market as it has been the original equipment manufacturer for leading telecom operators of the country. ZTE tactics include being able to set an optimistic marketing budget and arranging an economical portfolio of available phones. This will place the company in good position to expand operations into India and achieve goals of selling 1 million smartphones this year while also becoming the third largest player in India by 2016.
Conversely, Apple is pricing itself out of contention to capitalize from the growth of the Indian market. This strategy is shutting the door on at least 67% of Indian consumers, allowing only the wealthy to be potential iPhone users. Sure, this strategy will result in higher margins for Apple, but overall profits with such a strategy are up for debate. Instead, the growing array of sub-$200 smartphones will be satisfied by local and foreign low-cost manufacturers. India could end up being a lost opportunity for Apple.
ZTE US presence
In the US, iPhone isn't considered a luxury product as most consumers can afford to buy it outright or through help of subsidies. This isn't the case in countries like China and India. None the less, due to this difference in income levels, ZTE has not had the same pull in the US as in its local market. American's have a sense of loyalty to their respective smartphones, a tough bond to interrupt especially with devices that do not offer any greater features. As an alternative, ZTE's low-cost strategy focuses on selling cheaper phones to prepaid carriers like Sprint, Virgin, MetroPCS and Cricket. Though the prepaid phone market in the US is an estimated 25% of overall market, ZTE targets a cost-conscious niche of consumers.
Conclusion
Low cost devices, in the sub-$200 level, will continue to dominate the emerging markets, therefore leaving premium brands like Apple to target a niche market. Though this luxury image is what the Cupertino maker is basing its strategy on, the low and/or declining market share, as a result, will not slide with investors and the media. Generally, bigger is not necessarily better. However, in the case of selling smartphones, a mass consumer product, volume matters. The growth of the smartphone in emerging markets may prove to be a numbers game where quantity rules, a notion that will only benefit Apple's rivals.
Disclosure: I have no positions in any stocks mentioned, and no plans to initiate any positions within the next 72 hours. I wrote this article myself, and it expresses my own opinions. I am not receiving compensation for it. I have no business relationship with any company whose stock is mentioned in this article.