On September 10th I reported that Energy Recovery Inc (NASDAQ:ERII) was set up for a short squeeze. The squeeze likely played out last Friday and at the open of trade on Monday (see chart below). Now the stock is back to trading on fundamentals and the fundamentals offer investors a compelling risk/reward scenario. Today I will report on information learned from the company's presentation at the 4th annual Craig-Hallum Alpha Select Conference yesterday. I reiterate a $10 price target on the stock, which will increase to $12.50 should the company announce a major contract in the emerging gas processing market, which I believe likely. That represents a 70%+ upside to yesterday's closing price.
Squeezed But Not Shaken
Last Friday (September 20th), ERII rose over 13% on a big increase in volume. On the following Monday, the stock gave back some of the gains with another large increase in volume at the open. As a result, the large short position (~3 million shares) I reported on earlier has likely been unwound. Volume is back to normalized levels and the stock should again trade on fundamentals.
click to enlarge)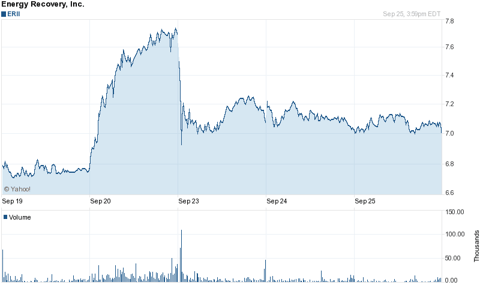 Click to enlarge
And What Are The Fundamentals?
Worldwide demand for fresh water is surging due to a number of factors: pollution, population growth in arid climates, and the impact of global warming - rising sea levels and severe drought. Energy Recovery is the leading provider of isobaric pressure exchangers for sea water reverse osmosis ("SWRO") plants. SWRO desalination plants are the preferred solution for adding new potable water capacity. ERII's patent protected PX line of isobaric pressure exchangers has allowed the company to dominate the desalination market with:
90% market share
60%+ gross margins
And this is a market with an expected 20% compound annual growth rate. The company has announced three huge SWRO contracts in September alone.
click to enlarge)

Click to enlarge
At the company's Craig Hallum Alpha Select presentation yesterday, which you can view here, I learned some additional facts about the PX line of energy recovery devices:
Average selling price ("ASP") is $25,000.
Over 14,000 devices have been sold on all 7 continents and all 7 seas.
Average size is 3 feet long and weighs ~200 pounds.
The company has sold as many as 550 devices for a single plant.
PX device are about 98% efficient in recovery the ~60% of energy otherwise wasted in the desalination pressure exchange process.
Return on investment is ~3 months, devices last 25 years, and require no maintenance.
ERII Is Working To Penetrate The Oil & Gas Market
But ERII is moving beyond being a pure play on the desalination market. The company is investing to transition itself into an industrial company that can add value to any pressurized fluid flow operation. While there are many opportunities open to the company in the fluid flow market, ERII has decided to focus on the gas processing market where it is a new category creator: that of "pressure recovery." The company wants to establish a footprint in the gas processing market and gain the same reputation it has in SWRO: delivering reliable energy recovery solutions that save customers money.
Gas Processing
During the Craig Hallum conference, CEO Tom Rooney described how sour gas is commonly processed. This is shown on the right side of the slide below.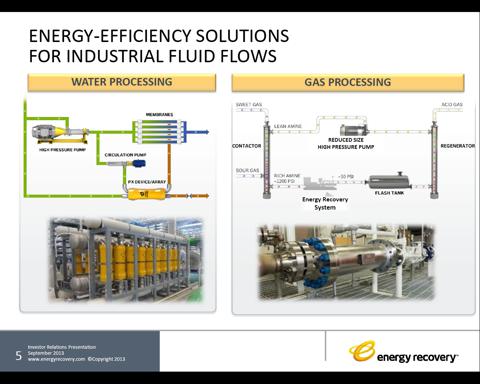 Click to enlarge
Sour gas enters the system where it is combined under pressure with an absorption cleaning fluid (amine) used to produce sweet gas. The pressure/depressurization loop continues all day long. ERRI's energy recovery system saves costs by enabling the use of a reduced sized pressure pump and by lower energy bills. The potential for energy savings can be realized by looking at the pressure differential shown on the across the energy recovery system (1,200 psi versus 50 psi).
ERII has invested $7 million in this market and is currently conducting three ongoing field trials with Saudi Aramco, Sinopec (NYSE:SHI), and an offshoot of Chesapeake Energy (NYSE:CHK). Rooney said of the three trials, one customer bought the energy recovery system, one leased it, and ERII actually gave the third customer a system. During questioning after his presentation, Rooney said the company has $40 million in cash and no debt and if the company needs to give away a system to a huge company like Sinopec or Saudi Aramco in order to gain a foothold in their business, that was an investment he was willing to make.
I also learned of the three field trials, two were retrofits and one is for a new processing plant. I was glad to hear this as I believe the pace of adoption may actually be faster in new plant construction in the US. As for pricing in the gas processing market, Rooney said ASPs can average anywhere from $250,000 to $10 million depending on the size of the project.
Oil & Gas Market Potential
ERII estimates the oil & gas market presents a $1 billion dollar opportunity. There are 1,800 gas processing plants worldwide. The strategy is to provide a drop-in "skid" retrofit solution for these existing plants. The expected payback period is anywhere from 1-3 years depending on the size of the installation. In addition, the growing oil & gas market in the US due to the fracking revolution will require new plants and the company would like its energy recovery systems to be designed in from the start.
Energy Recovery's efforts in this market are led by Ismail Nawaz, its Vice President, Oil & Gas Product Development. Nawaz is a seasoned oil and gas veteran with over 25 years of experience at Schlumberger (NYSE:SLB). Nawaz was hired for his expertise in product development and commercialization and will lead ERI's planned expansion strategy into the oil and gas market.
Summary & Conclusion
The short squeeze on shares of ERII is likely over and the stock is back to trading on fundamentals. In my first article on ERII, I showed how the stock could hit $10/share in 2014 based solely on its patent-protected PX product line of isobaric pressure exchangers serving the fast growing desalination market. In my last article, I covered the potential for ERII in the gas processing market. I liked what I heard from CEO Tom Rooney's presentation yesterday at the Craig Hallum Alpha Select conference. The company has a firm hold on its niche in the fast growing desalination market. This fast growing revenue source, combined with having $40 million in cash and no debt, is allowing the company to invest in the oil & gas market, a market that is an order of magnitude bigger than its desalination opportunity. Also, Rooney reported the company is "cap-ex light" and suggested ERII could handle 400% growth before requiring significant capital expenditures. In my mind, this means gross margins could expand even further. As a result of what I learned from the conference, I am even more confident in the company's prospects than I was before. I reiterate my $10/share target price for 2014 and my SPECULATIVE BUY rating on the stock. In addition, if the company is able to successfully penetrate the gas processing market by announcing a contract as a result of current field trials, I would boost my 2014 target to $12.50 simply based on the size of the market opportunity and the impact it could have on a small company like Energy Recovery, Inc.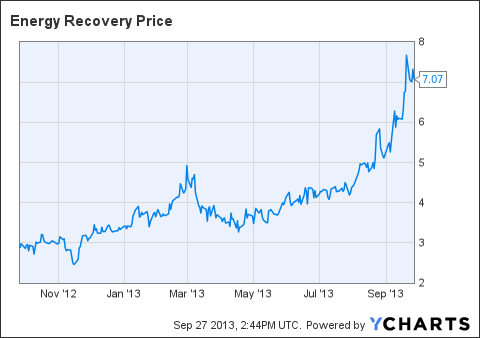 Disclosure: I am long ERII. I wrote this article myself, and it expresses my own opinions. I am not receiving compensation for it (other than from Seeking Alpha). I have no business relationship with any company whose stock is mentioned in this article.
Additional disclosure: I am an engineer, not a CFA. The information and data presented in this article was obtained from company documents and/or sources believed to be reliable, but has not been independently verified. Therefore, the author cannot guarantee its accuracy. Please do your own research and contact a qualified investment advisor. I am not responsible for investment decisions you make. Thanks for reading and good luck!