As more countries adopt the 4G LTE network, the demand for 4G enabled devices increases. This has created new revenue growth opportunities for chipset manufacturers like Broadcom (BRCM). The company was developing its first LTE chips in-house, but it failed to ship a single chip this year. Hence, it is acquiring Japanese semiconductor company, Renesas Electronics, which will give Broadcom access to an already developed LTE chip. This will speed up the process of establishing Broadcom in 4G LTE market. Let's see in detail how this acquisition will contribute to the company's growth prospects in the 4G market.
A quick entry into 4G LTE chipset
On September 4 this year, Broadcom announced a definitive agreement to acquire Long Term Evolution, or LTE, related assets from affiliates of Renesas Electronics Corporation for $164 million. This will mark the entry of Broadcom into LTE system on chip, or SOC, which the company has been trying to develop in house for 4G supportive smartphones. SOC technology refers to packaging of all the necessary electronic circuits and parts for a "system" (such as a cell phone or digital camera) on a single integrated circuit, generally known as a microchip. The company has been lagging far behind its rival Qualcomm (QCOM), which is the market leader in the 4G chip market for smartphones with 86% market share last year. Broadcom will get Renesas's dual core LTE SOC, which is ready for production and is validated by major carriers including AT&T (T) in the U.S., Vodafone (VOD), Orange (ORAN), and EE in the U.K., and NTT DoCoMo (DCM) in Japan. This dual core chip is expected to begin shipments in early 2014, and the company plans to sample a quad core chip in mid 2014.
(We are bullish on Qualcomm, read here)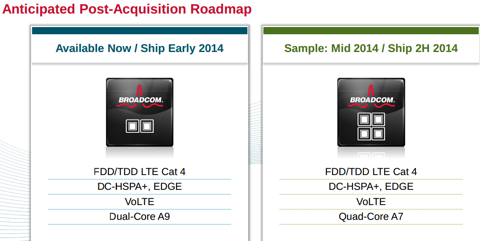 Click to enlarge
Source: Company Website
In addition to the LTE SOC, the company will also receive Renesas' modem Internet Protocol, or IP, which will strengthen its IP portfolio. The company is betting on Renesas' 1500 patents that have a market value of $80 million. Per Scott McGregor, President and CEO of Broadcom, on the event of acquisition:
Today's transaction firmly establishes Broadcom's presence in the rapidly growing LTE market with a production-ready, carrier-validated SOC. Our LTE platform will leverage Broadcom's rich connectivity portfolio and will deliver an optimized feature set for this fast growing market.
This acquisition is an important step toward growing 4G enabled smartphone chips, though it will take time for the company to establish itself in the market as Qualcomm has taken an important lead with its well established LTE products and client base. As per a Global Mobile Supplier Association report, LTE handset unit sales are expected to grow at 44% CAGR from 2013 to 2015, reaching 494 million units in 2015. This growth is expected to come from broader geographic LTE rollouts leading to an increasing number of LTE subscribers. Therefore, looking at the market growth, we are expecting that this acquisition will help Broadcom achieve top line growth from its LTE chip.
Competitor's growth opportunity in China
With the entry in the 4G chipset arena, Broadcom will compete directly with market leader Qualcomm. Since the evolution of 4G, Qualcomm has been expanding its product portfolio to fulfill needs of heterogeneous networks adopted by various countries. This has resulted in Qualcomm dominance in the market. Qualcomm is betting on China's upcoming 4G revolution, which is expected to commence from the upcoming 4G spectrum auction, thus marking the entrance of LTE enabled smartphones. The country will auction its 4G spectrum by the end of this year in a rare Time-Division Long-Term Evolution, or TD LTE, network. This is an exclusive 4G network and is not as popular as LTE FDD. Looking at the potential in the Chinese Market, chipset manufacturers like Qualcomm can expect revenue growth from the launch of TD LTE compatible smartphones. The company has featured its chips in two of four smartphones granted network access by China's Ministry of Industry and Information Technology, or MIIT. This includes the Samsung Note II (GT-N7108D) featuring Qualcomm Snapdragon 600 and the Sony Xperia SP LTE (M35T) featuring a Qualcomm Snapdragon MSM8960T processor. After dominating the LTE market across the globe, it's important for Qualcomm to capitalize on the upcoming growth opportunity from China's 4G market and strengthen its leadership in the region.
All four smartphones approved by MIIT are expected to be compatible with China Mobile (CHL) LTE network bands. As the world's largest mobile company in terms of subscriber base, with 740 million, China Mobile is building its infrastructure for a mega launch of 4G services. The company has already built 20,000 TD-LTE base stations, used in broadcasting 4G signals, in 15 cities for trials of 4G services, and plans to spread its presence to 100 cities by constructing 200,000 more base stations by the end of 2013, which it my push to 2014.
China Mobile has awarded $3.2 billion initial 4G contracts to Chinese and European vendors for supplying base stations. The company has lost subscribers in the 3G arena to its competitors, because of adoption of Time Division Synchronous Code Division Multiple Access, or TD-SCDMA mode, which was incompatible with smartphone manufacturers like Apple (AAPL). China Mobile is launching its 4G services in TD-LTE format, which the recently launched Apple iPhone 5S and 5C support, removing the compatibility issue. With its infrastructure buildup, it is set to dominate the 4G market. As per market research firm IHS iSuppli, China Mobile is expected to have a 52% share of the total 439.9 million 4G users in 2017.
Valuation metric
The LTE chipset arena will prove an important revenue growth catalyst for Broadcom. The company is on the right track to establish itself as a major player in manufacturing LTE chips. LTE SOC shipments are expected to start in 2014, therefore investment in Renesas will reflect in its earnings next year. The company is currently trading at a trailing 12-months Price Earning, or P/E, of 38.30, which is expected to fall to 10.13 in the forward P/E ending December 31, next year. Investors can expect earnings growth from the decline in forward P/E. Its low five-year expected price earning to growth, or PEG, ratio of 0.74 also supports earnings growth. These valuations indicate that the company is undervalued and has an upside potential in the future.
Conclusion
The acquisition of Renesas' LTE assets will build Broadcom's platform for establishing its footprint in 4G LTE chipsets. The company will benefit from Renesas' already developed dual core SOC for LTE handsets. Integration of both companies will result in pooling of their respective expertise to produce products catering to next generation technology. The company has been facing stiff competition from Qualcomm, which dominates 4G LTE chipset manufacturing, but with acquisition of Renesas, Broadcom is now ready to mark its presence in the 4G arena.
Disclosure: I have no positions in any stocks mentioned, and no plans to initiate any positions within the next 72 hours. I wrote this article myself, and it expresses my own opinions. I am not receiving compensation for it (other than from Seeking Alpha). I have no business relationship with any company whose stock is mentioned in this article.
Additional disclosure: Fusion Research is a team of equity analysts. This article was written by Rohit Gupta, one of our research analysts. We did not receive compensation for this article (other than from Seeking Alpha), and we have no business relationship with any company whose stock is mentioned in this article.