We launched a new series of articles last week with the premise of building a dividend portfolio from scratch by leveraging the collective knowledge and opinions of the Seeking Alpha community. In parts 1 and 2, we highlighted the investment plan and strategy for the portfolio and parts 3-11 will highlight each sector in the S&P 500, including high-rated stocks within each sector to consider for the portfolio. Readers can either vote on the stocks we suggested for the portfolio or "write in" their own stocks to vote on. Majority will rule.
Below is a schedule of the entire series. Please make sure to "follow" us so that you will be notified when each new article is published.
Healthcare
The Healthcare sector shares two key attributes with its "defensive" brethren (Consumer Staples and Utilities): low beta and low volatility. Of the nine sectors in the S&P 500, the Healthcare sector has the third lowest average beta (0.68) and the second lowest maximum drawdown over the past 5 years (-39.2%). As a matter of fact, the three "defensive" sectors are the only three sectors with a beta under 1.0.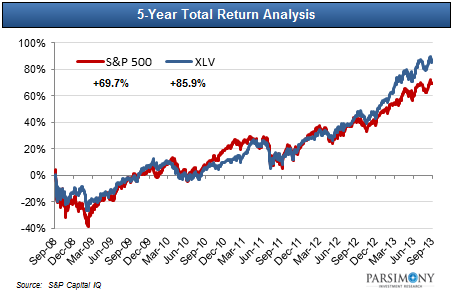 As you can see in the chart above, the Healthcare sector has consistently outperformed the broader market over the past 5 years (albeit by a small margin) and it has done so with lower downside volatility. Higher total return and lower downside volatility is the exact recipe that you should try to cook up in your DIY Dividend Portfolio and adding some high-quality stocks from the Healthcare sector should help you achieve this.
Given the characteristics above (higher relative yield and lower relative beta), the Healthcare sector is another sector that we suggest an "overweight" allocation in (15%-20% of total portfolio).
That said, below are several high-rated Healthcare stocks to consider. Please vote in the comment section below for your 3 or 4 favorites. Feel free to "write-in" your own votes...remember that this is a democracy!
Bristol-Myers Squibb (NYSE:BMY)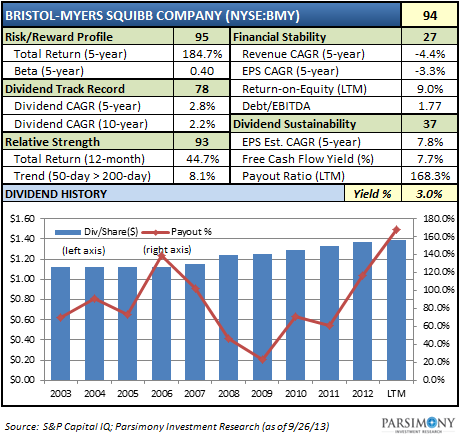 While BMY's dividend growth rate has been relatively modest over the past 5 years (2.8%), the company has delivered shareholders a total return of 185% over that time period. In addition, the stock has a decent dividend yield (3.0%) and we think that it is a great long-term hold for DIY dividend investors.
Owens & Minor (NYSE:OMI)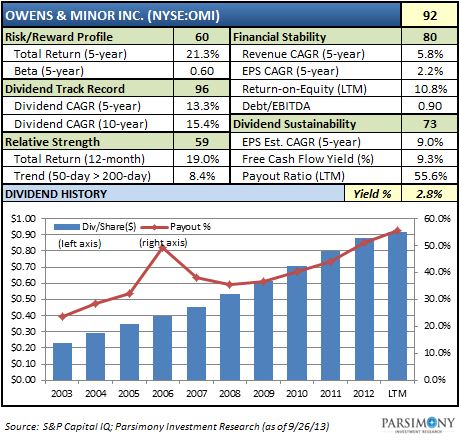 Owens & Minor may not be on your radar, but it should be. As shown in the graph above, the company has consistently increased its dividend at a compound annual rate of 15.4% over the past 10 years. This kind of chart is exactly what you want to see from your dividend stock. In addition, OMI has a strong rating for Financial Stability (80) and we expect this dividend trend to continue.
Johnson & Johnson (NYSE:JNJ)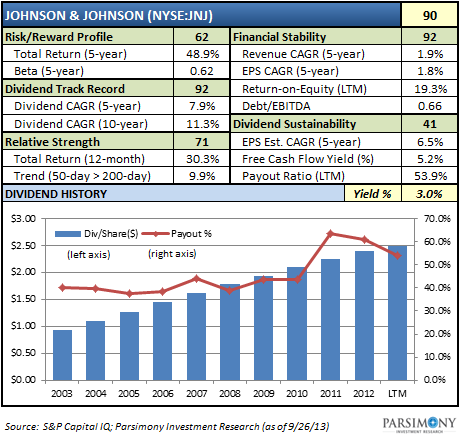 J&J has a solid dividend yield of 3.0% and it has grown its dividend for 50 consecutive years, including a compound annual growth rate of 11.3% over the past 10 years. The company also has a strong balance sheet with very little debt.
Baxter International (NYSE:BAX)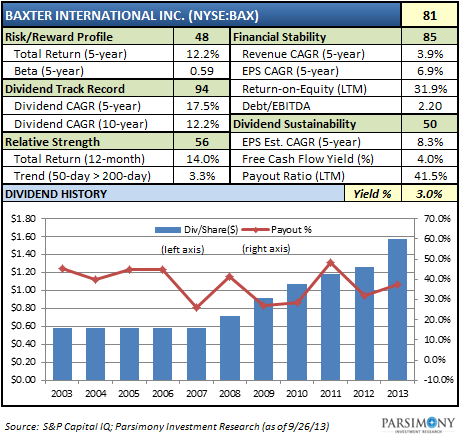 Baxter has a high Financial Stability rating (88) and it has a strong track record of returning significant value to shareholders in the form of dividends and share repurchases. Over the last five years (2007-2012), Baxter has generated an average of $2.7 billion in cash flow annually and has returned approximately $12 billion cumulatively to shareholders through dividends and share repurchases.
Merck (NYSE:MRK)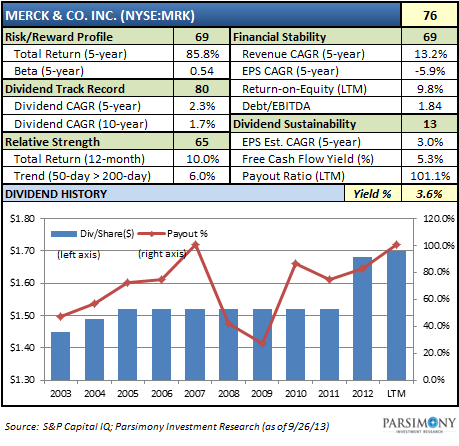 After holding its dividend steady for 6 straight years, Merck finally increased its dividend payment in 2012 (by 10.5%). We don't expect the company to grow its dividend by double digits going forward, but it seems that management has realized the importance of consistent annual dividend increases for shareholders.
Summary
Any DIY Dividend Portfolio should include several stocks from the Healthcare sector. Stocks in this sector tend to be stable dividend payors with low relative betas, which will help dampen overall portfolio volatility.
FEEDBACK REQUEST: Please vote for your favorite Healthcare stocks in the comments section below. If you don't like any of the suggestions above, please feel free to "write-in" a vote of your own. Remember ... majority rules!
In Part 5b of this series, we will highlight our specific "Buy Zones" for each of these stocks which will help us determine whether or not to pull the trigger on any of the stocks that we choose to put on our watch list. Please make sure to "follow" us so that you can participate in the entire process.
Disclosure: I am long BMY, OMI, JNJ. I wrote this article myself, and it expresses my own opinions. I am not receiving compensation for it (other than from Seeking Alpha). I have no business relationship with any company whose stock is mentioned in this article.