Mondelez International (MDLZ) has been in the news over the past few months for two reasons, one being the suggestive merger with PepsiCo's (PEP) snack business. Nelson Peltz, whose Trian Fund management holds a $1.3 billion stake in Mondelez and $1 billion stake in PepsiCo, suggested this move. This move was later turned down because the management of the respective companies didn't find any significant synergies from the merger.
The second reason the company was in the spotlight was due to Warren Buffett's Berkshire Hathaway (NYSE:BRK.A) (NYSE:BRK.B) selling 91.8% of its shares after second quarter results in August this year. Mr. Buffett didn't see enough upside in the company, which reported flat revenue in the second quarter of 2013. In contrast to Mr. Buffett's opinion, the stock has been showing a completely different picture and has provided its shareholders with around 20% returns this year.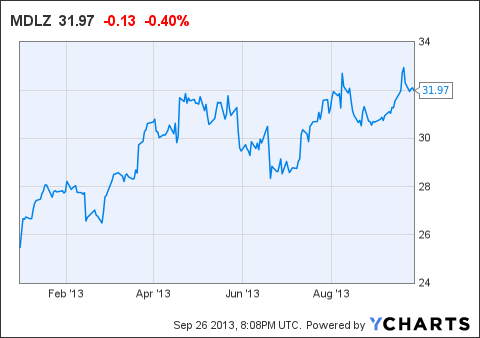 New alliance will strengthen the brand
Mondelez signed a partnership with Twitter to deliver real-time marketing solutions around the world. According to the partnership, Twitter will set up dedicated teams to collaborate with Mondelez in the U.K., U.S., Brazil and India, the company's highest revenue generating markets. We expect this will aid Mondelez to make its huge product portfolio more familiar among consumers and can increase the revenue share contributed by these markets. Additionally, Mondelez will also benefit from Twitter's preferential ad rates and analytics capabilities.
Bonin Bough, Vice President of Global Media and Consumer Engagement at Mondelez International, stated,
"Our recent real-time marketing activities across brands like Oreo, Cadbury Dairy Milk, Wheat Thins and Trident have shown tremendous promise. We truly believe that real-time engagement can drive business growth."
In our view, the company is emphasizing mobile marketing strategies to promote its brand. In May this year, it partnered with Google (GOOG) to develop its mobile search, display and website offering. Mondelez predicts 67% of the world's population will have a mobile phone by 2016 and is looking to grab the biggest piece of the growing mobile marketing pie. Beginning in the third quarter of this year, it plans to invest 10% of its global marketing budget into mobile marketing. This partnership will provide Mondelez with a competitive advantage, particularly in fast growing emerging markets including Brazil and India. We believe these initiatives will guide the company to achieve its goal to become one of the top mobile marketers in the world.
Shifting focus towards emerging markets
Mondelez has been experiencing a strong demand for its products from consumers in emerging markets including China. Its Oreo brand has grown significantly - sales rose 20% year over year to $500 million in fiscal year 2012. It is experiencing increased demand in China, which forced it to expand its biscuit manufacturing plant in China in June this year. Looking at the growth potential in this market, the company announced that it would increase its investments in emerging markets by more than $100 million this year, $200 million in 2014 and up to $300 million in 2015. We believe this the bold move will strengthen its presence in emerging markets like China. Going forward, we expect Mondelez to use these investments to launch more products from its portfolio that will suit the taste of local consumers in China as it did in the past with Oreo Wafer and Oreo Green Tea. It also plans to boost its spending on marketing and expansion of its sales network, which will help it leverage growth opportunities in the Chinese market.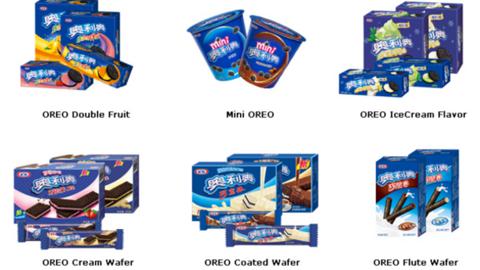 Source: confectionerynews.com
The company plans to fund the investments in China by expanding margins in North America and Europe. Mondelez targets 5% and 2.5% margin improvement in North America and Europe respectively, which it expects to reach in 2016. It plans to accomplish the targets by redesigning its supply chain network and installing new Oreo manufacturing lines that require 30% less capital and reduce operating costs by $10 million per line. We expect the company to close the non-performing manufacturing facilities in Europe. It should also opt for cost cutting initiatives, which would guide the company to reach the target at a much faster pace.
Conclusion
After the stock's considerable performance so far this year, we believe Mondelez has further upside potential based on its partnership with Twitter and Google. Its various initiatives to create a strong presence in China also build our confidence in the stock. Additionally, Mondelez's 24.25 times price to earnings, or P/E, ratio is just below the confectionery industry's P/E of 23.6 times, indicating that the stock is fairly valued. We expect that the factors discussed above will help it secure revenue growth and eventually experience a rise in the stock price, regaining investors' confidence.
Disclosure: I have no positions in any stocks mentioned, and no plans to initiate any positions within the next 72 hours. I wrote this article myself, and it expresses my own opinions. I am not receiving compensation for it (other than from Seeking Alpha). I have no business relationship with any company whose stock is mentioned in this article.
Additional disclosure: Fusion Research is a team of equity analysts. This article was written by Madhu Dube, one of our research analysts. We did not receive compensation for this article (other than from Seeking Alpha), and we have no business relationship with any company whose stock is mentioned in this article.