I know that Chesapeake Energy (NYSE:CHK) is somewhat perceived as a darling in the investor community and I never really understood why. Like many other US-based oil and gas companies of the basic materials sector the five-year performance (post-bubble years) is rather disappointing. Over a variety of sub-sectors commodity-based businesses such as Alcoa (NYSE:AA), Rio Tinto (NYSE:RIO) and Peabody Energy (BTU) have consolidated quite a bit since 2011 when doubts about the robustness of the economic recovery emerged and investors adjusted their earnings outlooks. The oil and gas sector is no different.
The select peer group for purposes of analysis consists of Anadarko Petroleum (NYSE:APC), Devon Energy (NYSE:DVN) and Occidental Petroleum (NYSE:OXY). The average unweighted peer group return is 35.76% and shows how Chesapeake Energy lags peers Anadarko and Occidental. Anadarko clearly is the top performer with a substantial stock return of 128.29% while Devon Energy carries the red light with a five-year negative 27.89%.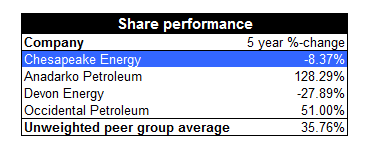 The chart below visualizes the gap between Anadarko and Occidental on one side and Chesapeake and Devon on the other.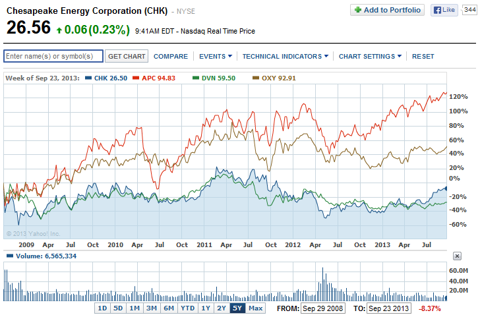 Chesapeake financial performance
On September 18, 2013, Chesapeake offered both a projection and substantiation of its 2013 operational and financial performance. Adjusted net income is forecast to reach $1,080 million in 2013 which represents a 136% increase compared to 2012 net income levels while adjusted EBITDA is projected to rise by 31% y-o-y (all projections 2013E assume NYMEX prices on open contracts of $3.75 to $4.00/mcf and $100.00/bbl). Oil production is expected to leap 25% and total output is forecast to increase 2% y-o-y. The projections are a continuation of Chesapeake's strong Q2 results compared to 2012 (Adj. diluted EPS up to $0.51 versus $0.06 prior year, adjusted EBITDA up 77%, daily oil production up 44% and total daily production up 7%).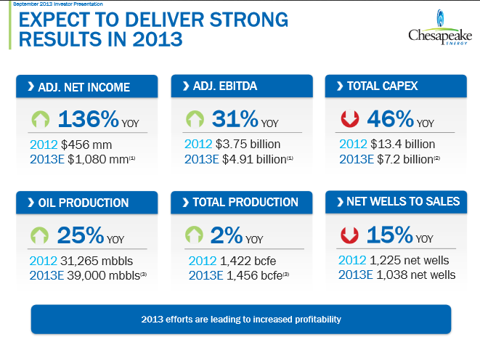 Capex consolidation a continued theme in the materials sector
In my related article about Newmont Mining (NYSE:NEM) I pointed out the importance of realigning operating cash flows with capital expenditures. For many companies in the materials sector large capital outlays for growth investments and lower operating cash flows compressed free cash flows and justified the correction of valuations we have seen across the board. Chesapeake addresses those free cash flow concerns by cutting back on capex and concentrating on core drilling and completion capex which will account for roughly 81% of total investment spending. The chart below illustrates not only the allocation to different capex categories but also indicates the extent to which capital expenditures have outstripped operating cash flows since 2010. A reconciliation to FCFE per share for 2012A is provided further down in the free cash flow valuation section.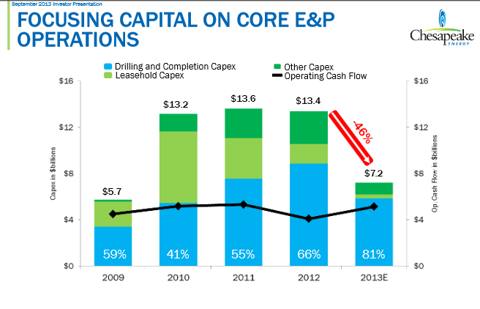 Sensitivity analysis
Best forecast practice requires commodity explorers to supply a sensitivity analysis that quantifies the impact changes in the underlying core commodity price have on a variety of income and cash flow statement items. Even with different gas price scenarios ranging from $3-5/mcf, both adjusted EBITDA and operating cash flow oscillate around a $100 million ($0.15 per share in EBITDA and operating cash flow). The chart below also includes Chesapeake's downside hedge protection for oil and gas prices ($95.64 and $3.70 respectively).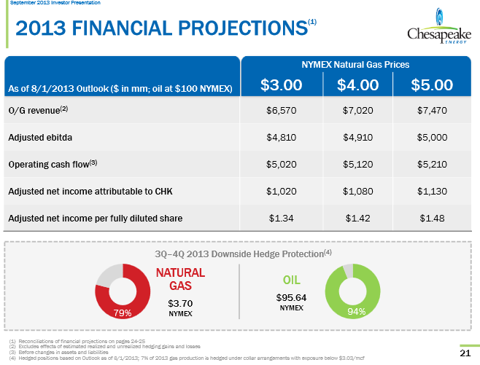 Peer group valuation
Chesapeake Energy has a forward P/E ratio of 12.50 and implies an 8% earnings yield. The P/E ratio reflects a 7% discount to the average sector multiple of 13.41 which also is relatively cheap. In terms of dividend yield, Chesapeake's 1.32% dividend return ranks in the middle of the peer group. From an earnings perspective Chesapeake is neither cheap nor expensive.

Chesapeake is free cash flow negative
Capex adjustments are imperative to get the free cash flow to sustainable levels. It is encouraging that Chesapeake scales back its expenses but still has a long way to go. The 2012 FCFE reconciliation below shows that Chesapeake's capital expenditures were still out of proportion to operating cash flow and free cash flows available to shareholders were negative. 2012 FCF was also impacted by lower net income (about $2.4 billion less than in 2010 and 2011) which is below a normalized level of net income which I estimate to be in the range of $1.7-1.8 billion per year. On a normalized basis (that is, assuming pre-restructuring net income of $1.75 billion) operating cash flow would then stand at $5.2 billion, leading to a still negative $1.2 billion free cash flow before debt changes are considered. The relation of operating cash flows, capex and debt changes remained consistent from 2008-2012.
Capex spending surpassed operating cash flow in 2012 by a massive 124% and caused the FCFE to be in dark-red territory with $2.82 per share.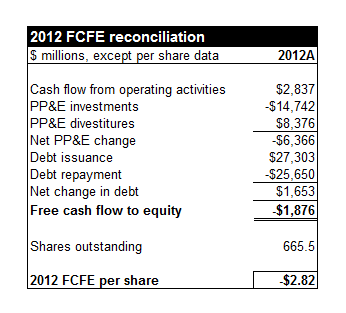 Conclusion
FCF is the fundamental owner metric to determine to what extent management increases shareholder wealth. In the case of Chesapeake Energy FCF was not only negative for the most recent completed financial year 2012, which I have chosen as a proxy, but also for the last five years.
Though I like the oil and gas industry due to its favorable long-term economics (increasing demand, limited supply) I need to at least see some light at the end of the tunnel in terms of free cash flow to be persuaded to invest in Chesapeake. The earnings-based market valuation seems to be quite attractive on first sight, but Chesapeake loses attraction due to its unsustainable free cash flow profitability.
Disclosure: I am long NEM. I wrote this article myself, and it expresses my own opinions. I am not receiving compensation for it (other than from Seeking Alpha). I have no business relationship with any company whose stock is mentioned in this article.