In the belief that in energy all things have a common denominator of cost per million BTUs at the point of usage, the analysis can boil down (pun intended) to the fuel's cost in usable form, plus the cost of its transportation to the usage point. Likewise, the "best" buy in energy investments can and should be reduced (cracked?) to understanding the tradeoffs between expected returns on capital investment, and the risks incurred during that activity.
Given that easily 175 to 200 individual equity investments focused on the energy-providing industry exist, we seek to get some perspective on investor expectations for major sectors within the overall by looking at Exchange Traded Funds focused on specific fuel commodities prices, certain producer groups, intermediate processor groups, and transportation providers.
Our interest is in making money by taking at-risk positions in equity instruments, rather than direct commodity speculations, or in generating verbal or written explorations of future energy production or consumption trends. When it comes to judging equity investment potentials in the current world competitive, technological, and communicative state, reality limits a forecast time horizon to one year or less. Our experience is that forecasts with productive reliability tend to be much shorter, on the order of 3 to 6 months.
We seek realistic price range forecasts from the most knowledgeable players in the investment game, the major "investment banking" organizations whose activities include "making markets" in equities by providing momentary capital liquidity to help big-money fund clients accomplish transactions in the adjustment of their portfolio holdings. To be able to do their jobs, they must hedge the risks that those activities expose their capital to.
What they will pay for that protection, and the way the hedges are structured tell how far, up and down, they think their clients are likely to cause or allow prices to move. By tracking market prices following prior forecasts we know how reliable the market-making [MM] community has been in their insights.
Here is what that analysis reveals on the most-traded energy-oriented ETFs, and a comparison with the larger population from which they are drawn:
Specific price range forecasts are in the first three columns, followed in the next column by the upside price change prospect they imply. From multiple experiences with similar forecasts, the worst-case price drawdowns from the price at time of forecast indicate the potential for emotional stress in pursuing the upside.
Remaining columns detail the history of prior forecasts with upside-to-downside balances like those of the present. The Range Index tells what percent of the forecast range is below the current price, and is used to find similar instances. The ODDS for profit comes from the proportion of such hypothetical positions that would produce gains, either by reaching a range-top sell target, or by getting timed-out by a maximum holding period policy limit.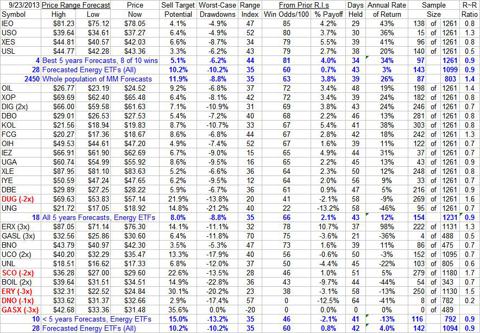 The PAYOFF average from all positions, including losses, is translated into annual rates based on the average number of market days required to achieve the payoffs. A count of the number of positions involved and the time size (in market days) of the sample from which it was drawn concludes the table.
The issue names have been segregated by those with forecasts available daily for 5 years, or those with less. The longer-term histories have been ranked by their winning odds. Those with about 8 wins out of 10 have been highlighted.
Opportunity perspective here is offered by blue highlighted averaging rows of the table, and they contain an important message. The best energy ETFs, at present forecast circumstances, offer 8 out of 10 odds for profitable time-disciplined experiences, with overall net gains of 4%, only modestly better than the average for the whole population of 2,450 stocks and ETFs of +3.8%. Annual rates of gain of +34% are but slightly better than the population's similarly disciplined experiences of +26%.
The whole population on this day has 60 names with annual return rate histories comparable to those of the 4 best energy ETFs, and its top ten offer annual rates of +95% with win odds of better than 9 out of 10. In short, Energy ETFs currently are not competitive in a name-for-name contest in selection of an investment candidate for reinvestment of funds in a portfolio whose principal objective is wealth-building.
But if there is a specific need in a portfolio to replace a now-liquidated energy-oriented ETF, here is the best the market (and its best forecasters) have to offer:
iShares US Oil & Gas Exploration ETF (NYSEARCA:IEO) has 63% of its holdings in ten well-founded E&P companies, has a year-to date return of +19% (an annual rate of about 25%) and a 5-year average annual return of only 2.9%. MM forecasts in the past 5 years at a present Range Index of 47 (mid-range) has selected 138 opportunities to earn at an annual rate of +43%, with 85 of 100 experiences profitable. That time selectivity and subsequent time-management efficiency demonstrates the value of this kind of portfolio discipline. Its current upside of +4.1% is less than its prior max drawdown experiences of almost -5%, making an unfavorable qualitative risk~reward comparison.
United States Oil ETF (NYSEARCA:USO) attempts to track commodity prices of West Texas Intermediate ((NYSE:WTI)) oil and provide a tradable equity vehicle. It holds futures in WTI. The YTD return has been +15.3% and the 5 year average annual rate has been -16.2%. MM selections at the present Range Index of 42 (well above its average during the past 5 years) has had an annual rate of return of +36%, with profitability in 8 out of 10 outings. This ETF is a momentum play, with better results on higher RIs, just the opposite of what is expected in value issues. Like IEO, its upside forecast is limited, but at +6.4% it is slightly better than an average max drawdown 0f -5%, but a 1.3 reward-to-risk ratio is far below the 2.0 we would be comfortable with.
The SPDR Oil & Gas ETF (NYSEARCA:XES) is up 9.4% year-to-date, at a +12.5% annual rate, and has grown by less than 4% a year for a buy-and-hold over the past 5 years. In the same period, 96 MM selections (at a rate of some 19 a year) could earn 5.5% each in less than 8 weeks on average, for an annual rate of +41% on the capital invested. Here the drawdown exposure is significantly larger than we care to entertain for the upside being offered.
United States 12-Month Oil ETF (NYSEARCA:USL) like USO is a futures-based tracker of the commodity price for crude oil, but with a rolling 12-month base to eliminate any seasonal influence and reduce volatility. While that ought to minimize risk, it seems to impinge return by more than it does to reduce investor reactions to information flow, resulting in a ratio of twice as large drawdowns as upside promise. Given the low rate of historical annual returns this is not a recommended buy at this point.
With lower-ranked ETFs even less attractive, wealth-building investors should be looking elsewhere. An examination of the individual E&P stocks may be in order.
Disclaimer: The author has an investment interest in the website blockdesk.com which, while not yet open to the public, is in conversion from being a delivery medium of information to institutional investors to a new life of providing similar help to do-it-yourself investors. Both brief and extended-time subscriptions for single or multiple issue inquiries should be at quite reasonable and manageable costs for individuals. Announcement of its opening is hoped for in the 4th quarter of this year.
Disclosure: I have no positions in any stocks mentioned, and no plans to initiate any positions within the next 72 hours. I wrote this article myself, and it expresses my own opinions. I am not receiving compensation for it (other than from Seeking Alpha). I have no business relationship with any company whose stock is mentioned in this article.