Americans love underdogs and tough-love narratives about people or organizations who manage to hold their ground in difficult times.
Thus, I present the latest example (cue: Rocky music), from Wall Street. In this corner, black and bruised but not yet beaten despite ferocious blows, wheezes the Select Sector SPDR Utilities fund (NYSEARCA:XLU). In the far corner are, unfairly, not one but three opponents, which have gotten a lot of publicity lately:
Mr. Fed, who first said he was going to trim back quantitative easing. Now the "taper" is apparently being tapered, because,
Mr. Economy, not showing strength lately. Most of the weakness is in his bloated middle, the government sector and,
Mr. Assad, whose civil war may yet ignite the Mideast and spook world economies with higher oil prices.
So how did XLU perform over the summer? (The most recent leg of this powerful bull market began on June 24.)
The Utility ETF did very well at the start, but has really shown wobbly legs in recent weeks. Keep in mind that XLU has a beta of .47, so for the shares to keep pace with the broad market, measured by the SPDR S&P500 Trust (NYSEARCA:SPY), as they did in June and July, was remarkable! For more about beta adjusted ETF performance go here.
Over the last two months the story has been not so good. Nonetheless, compared with fixed income alternatives, XLU continues to hold its own. The chart below shows how XLU has done compared with the:
iShares 20+ Year Treasury Bond ETF (NYSEARCA:TLT) and
iShares TIPS Bond ETF, (NYSEARCA:TIP), inflation indexed bonds.
SPY, for reference.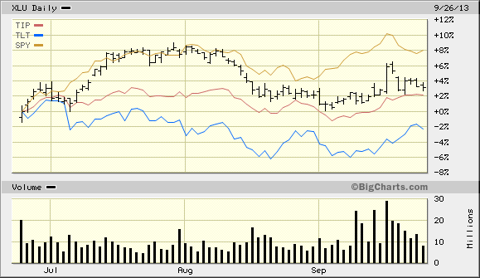 While utilities have railed with the S&P500, keep in mind with a beta of only .47 we would expect the XLU to be up only 3.76% over the summer. So they are not that far behind. Take off two days from last week's post-Fed letdown and they would look even better.
But in any case, the utilities continue to outperform their fixed income cousins, even if, with TIPs, you throw in an inflation hedge.
The charts remain similar even if you use other Utility ETFs such as iShares Global Utilities (NYSEARCA:JXI) or iShares US Utilities (NYSEARCA:IDU).
I urge Seeking Alpha readers to keep an eye on this performance of utilities compared with bonds. Day-to-day results may be volatile. But as long as XLU continues to succeed in a toe-to-toe matchup with bonds, it is telling us economic growth (and the prospect of higher profits/dividend payments) should continue in the near future.
Disclosure: I am long XLU. I wrote this article myself, and it expresses my own opinions. I am not receiving compensation for it (other than from Seeking Alpha). I have no business relationship with any company whose stock is mentioned in this article.
Additional disclosure: Analysts can prove ANYTHING by self selecting a time period. Make sure they justify the time period chosen, as I have.