Excerpts from Refinancing the Buyout Boom: Profiles of Select Leveraged Credits (complimentary download)
In the next five years, an unprecedented amount of leveraged loan and high yield bond debt comes due. Each dollar of the more than $800 billion in debt maturing in this period will need to be addressed on a company-by-company and highly negotiated basis.

Many, if not all, of the companies that issued such debt have seen deteriorating operations while the credit markets remain selective. Furthermore, maturity
concentration ensures that many companies will be vying for lenders' dollars and attention over the next several years. As a result, upcoming maturities will remain the
largest medium-term overhang to those highly leveraged credits that incurred a significant amount of debt (notes and loans) as a result of LBOs in 2005-2007.

Fitch Ratings believes that managing these maturities will be among the primary issues facing these companies over the next several years. Alternatives include: 1) repayment from cash flow (operations or asset sales); 2) refinancing in the bank or bond market; 3) retirement from IPO proceeds; 4) debt exchanges; or 5) bankruptcy court.

Fitch believes the fight for liquidity and solvency will be won or lost based on individual business risk characteristics, prospects for growth, features/restrictions within debt agreements.
In this report, Fitch provides an in-depth analysis of nine 'B' and 'CCC' category companies in Fitch's rated universe that represent over $100 billion in total debt across six sectors, and presents detailed assessments of their capital structures, financial covenant flexibility, and recovery prospects.
The companies profiled are: ARAMARK Corp. (RMK) ; Energy Future Holdings Corp.; First Data Corporation; Freescale Semiconductor, Inc (NYSE:FSL).; HCA Inc (NYSE:HCA); The Nielsen Company B.V.; SunGard Data Systems Inc.; Toys "R" Us, Inc.; and Univision Communications, Inc. (Pending:UVN).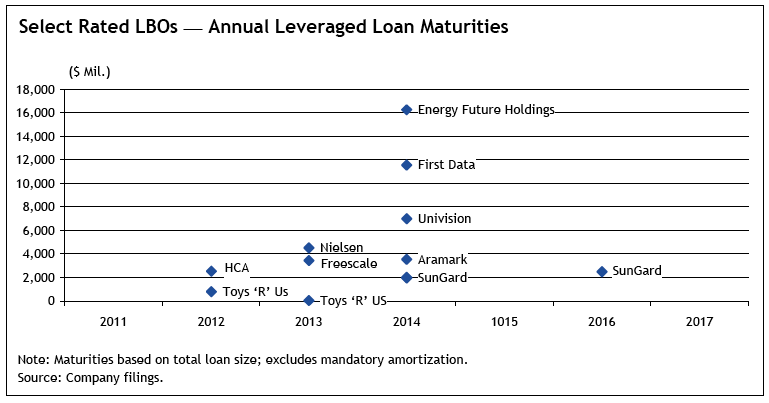 In conducting its analysis, Fitch made the following key observations:
Although most of the companies have generated free cash flow during the downturn and are expected to continue to do so, it will fall far short of the amount necessaryto repay maturing loans, requiring refinancing and/or negotiating with lenders.
Although the companies profiled here do not compete with one another in their core businesses, they will compete for a potentially limited supply of debt capital over the coming years.
Fitch does not expect the institutional loan market to be able to absorb all of the institutional loan debt that comes due during the next five years. The high yield bond market will likely expand to absorb a portion, but its capacity could be stressed by the absolute volume of debt that comes due in this period.