In this report, we are going to begin by focusing on Anthera Pharmaceutical's (NASDAQ:ANTH) Blisibimod's clinical performance with regards to systemic lupus erythematosus (SLE). From there we will examine the potential markets relating to the sicker populations of both SLE and IgA Nephropathy.
Introduction
For people suffering from SLE and IgA Nephropathy, there is an overproduction of B-Cells and Plasma Cells due to elevated levels of BAFF. Blisibimod (B-mod) is a selective peptibody antagonist of the BAFF cytokine. In other words, it binds to BAFF, preventing it from being used in the creation of more cells.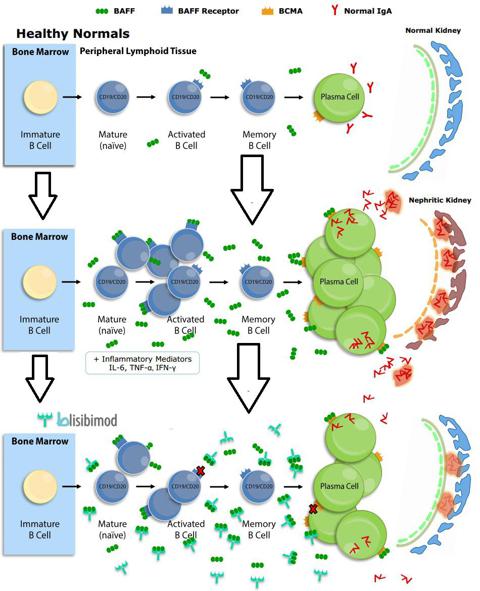 Pearl-SC Phase II trial
After acquiring Blisibimod from Amgen (NASDAQ:AMGN), Anthera initiated a dose-ranging study in 2010, and reported results mid-2012. The trial involved 6 different arms among 3 different mini-trials comparing placebo with Blisibimod at 200mg once every 4 weeks, 200mg once every week, and 100mg once every week. Enrollment required a Selena-Sledai (SS) score of at least 6.
The trial failed the primary endpoint, which was to show statistically significant improvement amongst SRI-5 responders after 24 weeks. An SRI-5 responder is someone who had a reduction to their SS score of 5, no increase larger than 0.3 by the Physician's Global Assessment (PGA), no new or increased doses for steroids or immunosuppressives beyond protocol limits, and no BILAG 1A or 2B organ flares.
However, as noted on the clinicaltrials.gov page, Pearl-SC contained numerous secondary endpoints, which included comparing responders amongst SRI-5, SRI-6, SRI-7, and SRI-8.
From a clinical poster, here were the results for those secondary endpoints.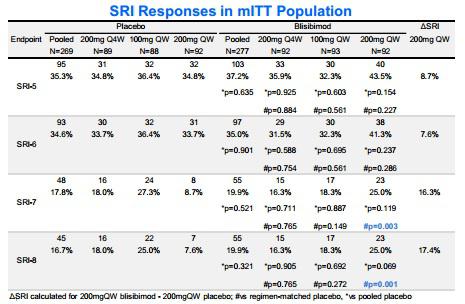 In the 200mg QW arms, we can see that Blisibimod demonstrates highly significant results vs their respective placebo arm in the SRI-7 and SRI-8 categories. However, the unusually poor performance in the placebo arm for SRI-7 and SRI-8 responders doesn't look good for the company. The inconsistency between the different placebo arm performances beyond SRI-6 should be noted, but could be explained by different assessors for each of the 3 trials, poor randomization, or just random chance. As a result, we think it is inappropriate to not use the pooled placebo data when assessing B-mod's 200mg QW arm. This means that there were no statistically significant results in the intent-to-treat population.
The company datamined for a subgroup that produced better results, and decided upon patients with an SS score of at least 10, and were using steroids. However, that subgroup did not produce statistically significant results for SRI-8 responders vs pooled placebo either. In the end, choosing the SRI-8 endpoint for the CHABLIS-SC1 phase 3 trial required patients to have at least an SS of 8, and the company decided on 10.
From another poster, the company revealed more results from their other secondary endpoints in the PEARL-SC trial.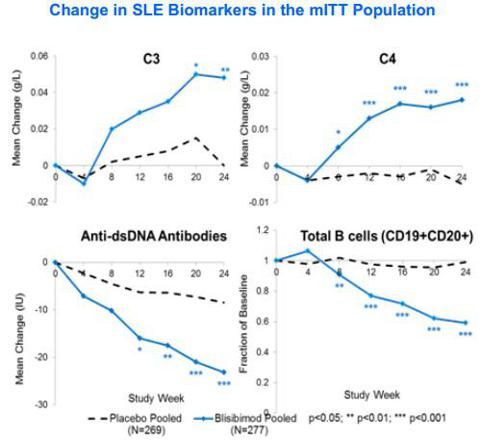 Looking at the totality of the data, it's clear that B-mod is active with respect to treating SLE. However, since the company went right to phase 3 without strong SRI-8 data, we feel that the market is going to maintain a low value for the SLE pipeline until CHABLIS-SC1 results are reported.
Fortunately, the company recorded proteinuria data, which had the following results: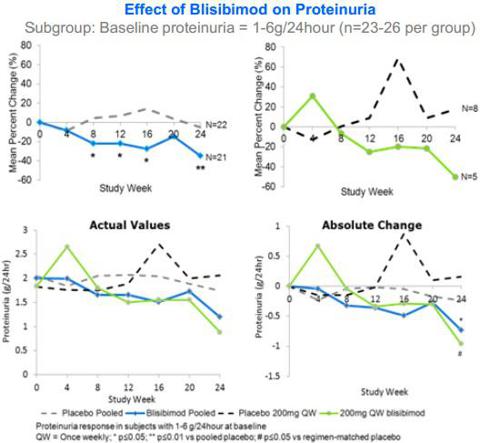 These results suggested that B-mod might be effective at reducing proteinuria. A high proteinuria rate is damaging to the kidneys and leads to renal failure. People familiar with Keryx (NASDAQ:KERX) or Rockwell Medical (NASDAQ:RMTI) will understand the importance of preventing ESRD.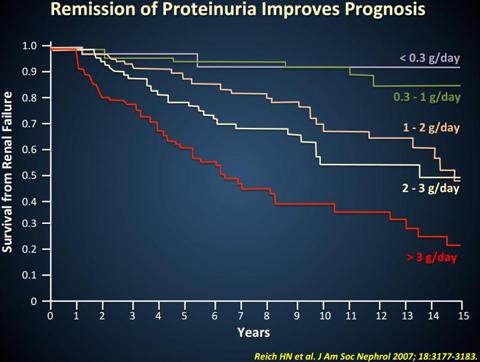 A reduction in the proteinuria of 1g/24h leads to a substantial increase in survival from renal failure. More importantly, the company has suggested that proteinuria may be an acceptable endpoint for an NDA for IgA Nephropathy.
Future Catalysts
Company initiated enrollment in their CHABLIS-SC1 trial back in March 2013 for the SLE indication, and we suspect it will be mid-2015 before we have final results. The trial design is shown below.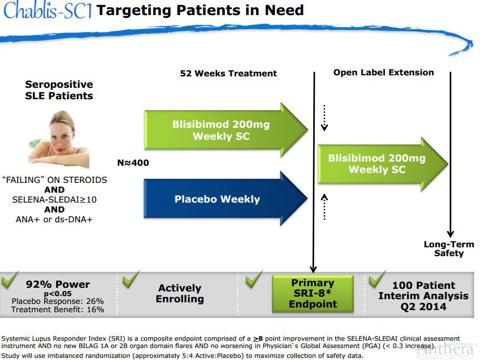 Later on in June 2013, the BRIGHT-SC phase 2 trial was initiated, enrolling IgA Nephropathy patients. Enrollment should be winding up within a month, meaning we will get the 8 week interim results after the following 2 months. A final readout will come mid-2014 after the 24 week period is completed.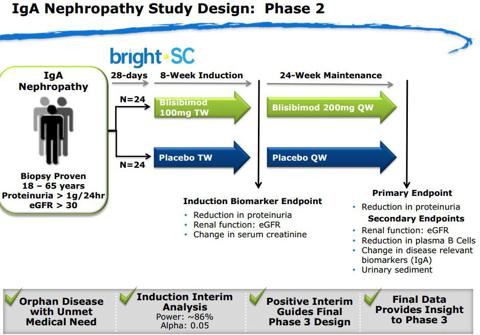 Another potential catalyst in the near future could be an update from the FDA and Japan about whether or not they'll accept proteinuria reduction as a primary endpoint for a regulatory application. Our guess is that the agencies may want to first see how proteinuria reduction correlated with improvements in the other endpoints in the BRIGHT-SC trial.
If the FDA accepts proteinuria as an endpoint, it could allow Anthera to expand the BRIGHT-SC trial into a phase 3 trial if interim results look promising. Under this scenario, the IgA Nephropathy pipeline will move ahead of the SLE pipeline on the regulatory schedule.
Overview:
Within ~1 month: BRIGHT-SC enrollment completes
October 28th: Update on PEARL-SC results relating to 52 week data. There is a potential for statistically significant results in SRI-8 responders vs pooled placebo in both the mITT and severe SLE subgroup. If the mITT comparison is p < 0.05, and/or the severe SLE subgroup is p < 0.01, then there could be a market reaction. Do not expect to see such results by extrapolating the 24-week data, there could be a diminishing return.
4Q13-1Q14: B-mod's IgA Nephropathy ODD announcement, BRIGHT-SC 8-week interim results, and potential update on proteinuria's viability as a primary endpoint for phase 3 in IgA Nephropathy
Mid-2014: BRIGHT-SC final results, and CHABLIS-SC1 enrollment completes
Market Potential
SLE indication
Using GlaxoSmithKline's (NYSE:GSK) Benlysta peak sales estimates of $1-1.7B, we estimate peak sales for B-mod to be $220M since Anthera is only targeting ~1/3 Benlysta's market and both will be in competition.
IgA Nephropathy
Company estimates market potential to be around $500-750M, while our estimate for peak sales for B-mod is closer to $750M.
We came close to the $750M figure by estimating a market capture of 30% of about 60% (proteinuria is >1g/24hr) of 140k patients (40k US, 80k EU, and 20k JPN). We did not factor in the other far larger Asian markets due to the significant hurdles Anthera faces with regards to getting a decent pricing. Those poorer markets will most likely stick to steroids.
Ultimately, we decided to stick with $500M peak sales until more clarity is reached with regards to pricing.
Company Valuation
Assumptions
SLE: 30% global royalties
IgA Nephropathy: 30% royalties from EU revenue, and 20% from JPN revenue
20% annual discount from peak sales year during 2022, and 80% gross profit margins
Future dilution of up to 10M additional shares. ~4M new shares within 4 months, probably after 8-week interim results from BRIGHT-SC
Price Targets
4Q13: $6, before BRIGHT-SC1 8 week interim results
1Q14: $9, if BRIGHT-SC1 8 week interim results are statistically significant
3Q14: $7, before final BRIGHT-SC results if BRIGHT-SC1 interim results were not statistically significant
3Q14: $14, after positive BRIGHT-SC final results
Disclosure: I have no positions in any stocks mentioned, but may initiate a long position in ANTH over the next 72 hours. I wrote this article myself, and it expresses my own opinions. I am not receiving compensation for it. I have no business relationship with any company whose stock is mentioned in this article.