Shareholder value is at its core driven by cash flow. I look at free cash flow which substantiates what shareholders can expect in terms of dividends and share buybacks. Dominant market positions and pricing power often translate into significant free cash flow that can be passed on to shareholders. One such company is Schlumberger (NYSE:SLB), the world's largest oilfield services company with operations in 85 countries. Schlumberger pays a regular quarterly dividend that has consistently increased over the years.
Market position and financial performance
Schlumberger prides itself on being the largest oilfield service company with a capitalization that exceeds the market caps of its four largest competitors combined. Reaching a certain scale clearly helps in outperforming peers in terms of generating operating income and, more importantly, margins. Schlumberger's margin record illustrates a superior cost structure: Operating margins are the highest with a margin lead of 8% compared to the peer average. Margins also remained stable while peer margins contracted across the board.
(Source: SLB Barclays presentation)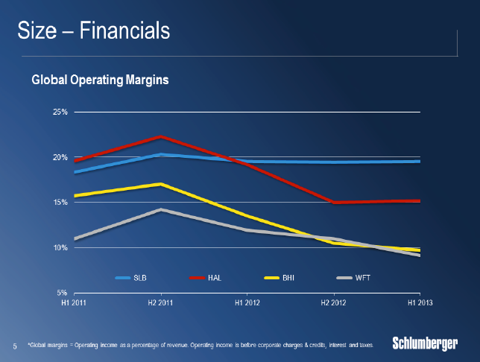 Massive cash flow at the right price?
Double-digit EPS growth is certainly attractive, but cash flow related measures are better. Schlumberger generates large amounts of free cash flow as a result of its size and scaling advantages over its competitors. Consequently, Schlumberger's 2012 and 2013 free cash flows (as defined by the company as EBITDA -capex -change in working capital) were double that of its peer group.
(Source: SLB Barclays presentation)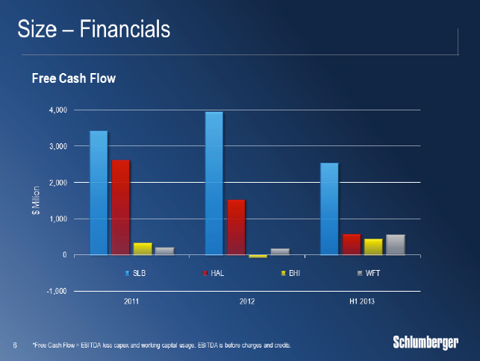 Absolute valuation
On a FCFE basis, the valuation looks different. I calculate the 2012 normalized FCFE per share at $3.17 (including net acquisition expenses and a normalized level of incremental debt). Assuming FCFE can grow 5% each year until 2014 with lower growth rates afterwards and settling at 3% the valuation model reveals an intrinsic value per share of $51.56, marking about 42% downside from current share levels. This valuation outcome is not necessarily surprising considering that Schlumberger trades at a 219% premium to book value. The announced share buyback of $10 billion is therefore not a bargain for investors.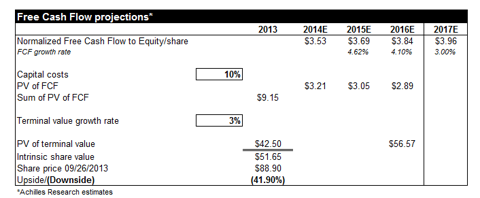 Market valuation
Schlumberger trades at a premium to peer group averages P/E and P/B despite offering only a mediocre dividend yield of 1.41%. SLB commands a premium of 22% to the peer group average P/E and a 53% premium to the average P/B in the sector. Money is being made when you buy, not when you sell: Investors need to consider the low initial yield when buying Schlumberger and one can understand the low yield as a premium to access SLB's dividend stream.

Morningstar offers a few other market and historical metrics: Schlumberger trades below its historical 5-year average P/E, P/B, P/S and P/CF ratio. It fetches premiums, however, compared to the S&P 500 and the industry average (with the exception of the P/E ratio which is a trailing ratio in this case and less meaningful).

Bottom line
Schlumberger trades at 15.5 times forward earnings (a 6.5% earnings yield) and at a markup to peer averages. Investors pay a premium in form of a low initial yield to access the distribution stream.
Schlumberger share performance vs. peers
In terms of share performance, Schlumberger was outperformed by Halliburton (NYSE:HAL) and National Oilwell Varco (NYSE:NOV). On the other hand, it beats Weatherford International (NYSE:WFT) and Baker Hughes (NYSE:BHI) handsomely. I have compiled a performance summary for the 1-, 2-, and 5-year stock returns below.

Bottom line
On a FCFE basis the company is way too expensive and investors pay a hefty premium on an earnings basis and a massive premium on a free cash flow basis. The 2012 FCFE per share stands at $3.17. If Schlumberger can grow FCFE by 5% in 2013 the trailing P/FCFE ratio stands at 26.70 and the leading P/FCFE ratio at 25. Put differently: The initial free cash flow yield stands at around 4%. Too little to compensate for substantial business risk in a cyclical industry. A 219% premium on book value also does not sound like a bargain. Investors looking for high dividend stocks with decent free cash flow profitability won't find Schlumberger in bargain territory.
Disclosure: I have no positions in any stocks mentioned, and no plans to initiate any positions within the next 72 hours. I wrote this article myself, and it expresses my own opinions. I am not receiving compensation for it (other than from Seeking Alpha). I have no business relationship with any company whose stock is mentioned in this article.