In the search for yield, one must consider the mortgage real estate investment trusts (mREITs). They are kings among men when it comes to dividends. However, many investors as of late have lost serious capital in many of these stocks. Many of my prior analyses have indicated that the long-term investor who has been in for a while is likely still well ahead on their investment. Those that have gotten in more recently would have needed to execute successful trading around the core position to likely still be above water on their investments. One piece of good news has been the Federal Reserve's "no taper" announcement, which has led to a drop in the ten year treasury and has begun to give new life to these stocks once again. A negative catalyst that has kept the lid on many of these stocks has been recent dividend cuts. Honestly, there have been some huge cuts, and the yields are suffering in nearly all of my mREIT holdings. In this article, I will discuss my holdings, the cuts to the dividends, and share with you the holding that may represent the best income source going forward in the mREIT section of my portfolio.
My Top mREIT Holdings; Dividend Cuts All Around
For those of who you don't generally follow my work, the mREIT sector comprises approximately 11% of my portfolio. It's a real fountain of income, although the pain of share price declines have been somewhat offset by my purchasing strategy. I began averaging down into the sector once again in May 2013 after selling approximately 75% of my positions in the names January-February 2013 to lock in solid gains. I was pleased with the decision to start buying again, as I thought the sharp rise in interest rates would have presented a good opportunity to build positions as these companies readjusted their portfolios to acclimate to the new environment. In full disclosure, my five largest holdings, in order from largest to smallest are Annaly Capital (NYSE:NLY), American Capital (NASDAQ:AGNC), Western Asset Mortgage (NYSE:WMC), Javelin Mortgage (NYSE:JMI) and American Capital Mortgage (NASDAQ:MTGE). Let's address the cuts to the dividends.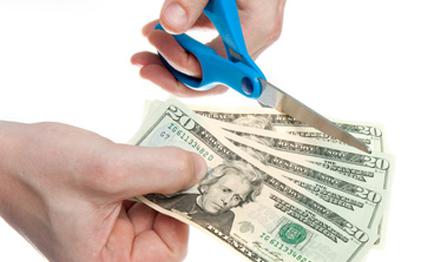 Cuts, Cuts And More Cuts.
The largest cut was in my Javelin Mortgage Investment (JMI) holding, which led the pack with a huge 35% cut to its monthly dividend. The company now yields 15.2%, down from over 20%. The cut brings the yield in line with where it was generally in its short history. The earnings and yield of JMI are still phenomenal, and overall I would suggest you do not panic as the company needs additional cash flow as it continues to adjust to the changing interest rate environment and business climate.
The Kings Were Dethroned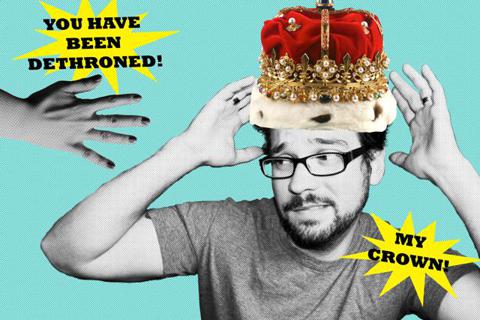 Click to enlarge
Then we learned that both my two largest holdings in the space, Annaly Capital Management (NLY) and American Capital (AGNC) again cut their dividends by 12.5% and 24.0%, respectively, and now yield about 11% and 14%, respectively. When I recently opined on these two cuts, I had thought small cuts were possible and that most of the pain was over. I think we have seen the last of the cuts, provided the interest rates don't suddenly spike once more. What about MTGE? I like this hybrid mREIT a lot, and am considering buying more. I would need the price to drop drastically though as my last purchase was at $17.00 in early July. That was a bargain. However, MTGE could not escape the wave of dividend cuts either, as it cut its dividend to $0.70 from $0.80 for a 12.5% trim. Still, it offers a bountiful 14% yield. However with such cuts to the yield, especially AGNC's, it is fair to say that AGNC is no longer the dividend king of my mREIT holdings. Still its not time to panic. With the companies still adjusting to the changes we need to trust in the management. That said, I have not discussed WMC here yet. I'm really becoming fond of their team.

WMC Management Team And Approach
WMC is externally managed by Western Asset Management Company, a global leader in diversified fixed-income management since 1971. WMC is led currently by the brilliant Gavin James, President and CEO. He is supported by Travis Carr, COO, Steven Sherwyn the CFO and treasurer and finally by the Chief investment officer, Stephen Fulton. These managers have a unique investment philosophy, which developed from a singular focus in fixed-income asset management over a variety of credit cycles and conditions and that is to provide clients with diversified, tightly controlled, long-term value-oriented portfolios. Through rigorous analysis of all sectors of the fixed-income market, WMC management works to identify assets with the greatest risk-adjusted total value potential. Management has a core investment strategy focused on Agency mortgage backed securities but selectively invests in non-Agency residential mortgage backed securities, commercial mortgage backed securities and other asset backed securities. This allows WMC to harness the market's environment in the company's favor. And it is paying off.
Unlike Many of Its Peers, WMC Maintains The Dividend, Becoming A New King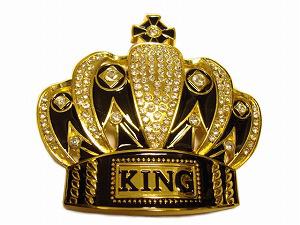 All hail the King! Yes, at least in my holdings, WMC is now my dividend king. While my other holdings are all busy slashing dividends, WMC has maintained its dividend at $0.90. Based on the current price of the stock of $ 16.34 there is a huge draw to WMC in that it currently offers an incredible 22.03% dividend yield. What's somewhat interesting is that WMC seems to be taking the place of my AGNC holding historically, when it comes to the yield. Why? Because this dividend king now yields what AGNC historically paid me. The only downside to this announcement was that book value had fallen about 7% to $16.37 as of 8/31/13. Into September rates have declined a bit. Take a look at figure 1 showing the decline in rates in the ten year US Treasury. As the ten year rate rose sharply in late spring and summer, mREITs were decimated. For the short-run, it could help Q3 and Q4. Thus, book value may have improved.
Figure 1. Interest Rate on The US Ten Year Treasury, September 2013.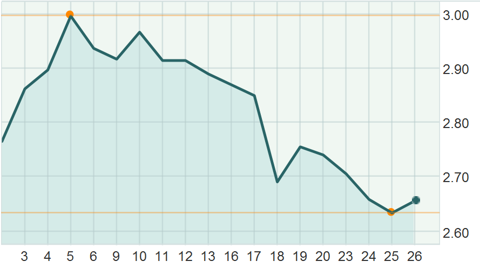 Click to enlarge
Dividend Safe?
I think the dividend is safe so long as management's transitional plans are executed. This is because the company has a diverse asset mix consisting of residential mortgage backed securities, asset backed securities and commercial mortgage backed securities. Additionally, since the company is moving in the direction of being a hybrid mortgage REIT, it also invests in non-agency residential mortgage backed securities, as well as cherry picks at commercial mortgage securities. It think it is likely WMC will be moving into the commercial mortgage business more and more, a trend which many of the residential REITs have been following. NLY is a good example. MTGE, which has a lot of commercial exposure has done quite well. Therefore, with these moves, WMC may begin to offer potentially complete diversification within the mREIT sector. Now obviously if the company keeps losing money (see quarterly report analysis below), there will be dividend cuts. We could see a share offer to raise cash, something AGNC and NLY have done numerous times as has JMI. There is a slight change it could see a further cut to as low as $0.75 in the future if rates stay volatile. The great thing about this dividend king is that I think that WMC is positioning to take advantage of a higher rate environment.
Higher Interest Rates? No Problem…Probably
In late spring I laid out a case that WMC might be able raise its dividend in coming quarters. Now, with hindsight being 20-20, we now see that this call was plain wrong, as interest rates rose too sharply for WMC's holdings to bear and there wasn't enough time to rebalance the portfolio. But, my case was somewhat accurate in that it barely cut its dividend in Q2; by 5% from $0.95 to $0.90. This was pretty impressive given what AGNC and NLY were doing, cutting their dividends by over 20%. Here in Q3, it is being maintained at $0.90. I was surprised, but WMC had finances to cover the dividend. I thought they might cut it in order to reposition some of the portfolio and to prepare for a few more turbulent months. In Q1 WMC generated over $52 million in cash from its operations while it paid $27 million in dividends. This left cash flow available to invest in the recent sale in mortgage securities, which I think WMC may be taking advantage of by levering up.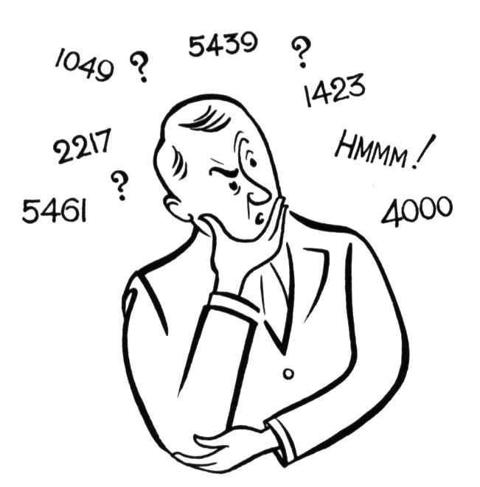 Click to enlarge
So can WMC handle higher interest rates? Yes and no. WMC is required to pay 90% of REIT taxable income but this does not necessarily have to be the case quarter to quarter. It has flexibility, provided it meets the 90% threshold annually. What we need to be concerned with is that WMC's taxable income is tied to the change in interest rates. Sharply rising rates aren't good for any of these companies and WMC is no exception. However, WMC can really harness the power of gradual rising rates. A recent sensitivity analysis showed that if rates go up 50 basis points in a quarter, WMC would expect to report a 13.9% increase in the coming quarter's net interest income. If rates go up 100 basis points, then WMC estimates an increase in net interest income of 19.0%. Rates are already on the rise and this rise is expected to continue. The only concern would be if short-term interest rates rise too sharply, which WMC notes could reduce income. An instantaneous rise (as in overnight) 50 basis points, WMC would expect to report a 7.5% decline in the coming quarter's net interest income. If rates go up 100 basis points, then WMC estimates a decline in net interest income of 16.0%. All things considered, WMC has designed its investment strategy to take advantage of a rising interest rate environment, but like all other companies, a sharp rise in interest rates is dangerous. With what is happening currently with interest rates, I think Q3 could go either way. They rose sharply in Q2 and into the first half of Q3, but have since pulled back. The following is what I will be looking for,
What I Need To See In The Q3 Report
Throughout the article I have touched on things WMC did in the last quarter. To sum it up, the most recent WMC earnings report followed the trend for second quarter results in the mREIT space as a whole. Essentially, it reflected that the company was improving from Q1 and that it was still adapting well to the rise in interest rates. From what I took away from the Q2, the current dividend being maintained and the interest rates having come down a bit/stabilized in September, I think Q3 will be interesting, but favorably so. With its skilled management and ability to really direct investments that the market deems favorable, I like it. Its more diversified than AGNC or NLY. Thus, with their structure in place, I need to see execution from this dividend king.
I will be looking for performance in the following Q2 metrics during the Q3 report. Most importantly, WMC reported a Q2 net loss of $27.7 million, or $1.14 per share. Clearly, WMC cannot afford to report many more consecutive losing quarters or that dividend is going south. The king will be quickly dethroned. But I think Q3 may be a turnaround, at least from the Q1 and Q2 turmoil. In WMC's Q2 loss was $156.3 million of net unrealized loss on residential mortgage backed securities and other securities, $9.6 million of net realized loss on residential mortgage backed securities and other securities (including other loss on residential mortgage backed securities of $2.3 million), and $113.4 million of net gain on derivative instruments and linked transactions. These unrealized losses were high, similar to competitors' reports. In Q2 WMC generated core earnings of $22.8 million, or $0.94 per basic and diluted share. Net interest income for the period was $28.2 million. WMC's weighted average yield on its portfolio was 3.14%, and improvement of 10 basis points over Q1, bucking the trend for most mREITs that were stagnant or saw losses in their yields. I will be looking at the performance of each of these metrics for Q3. Thus far in Q3, things have settled down in terms of interest rate volatility. The key going forward is how will the company reposition itself during this turbulent time and can management turn a profit for the company? This remains to be seen.
Conclusion
There is a lot to like about WMC. Of my top five mREIT holdings, AGNC, JMI, MTGE, NLY and WMC, WMC is the new dividend king. It offers a 22% yield, a yield only AGNC once provided. Management is solid, its seems strategy is effective so long as interest rates stop moving wildly (I encourage you to visit their website to view their presentations), and they were the only of my top holdings to maintain their dividend after a measly 5% cut in Q2. I think mREIT investors should strongly consider giving WMC a place in your income portfolio. Once can consider 'allegiance to the crown' by picking up some WMC. All hail the new dividend king!
Disclosure: I am long AGNC, JMI, MTGE, NLY, WMC. I wrote this article myself, and it expresses my own opinions. I am not receiving compensation for it (other than from Seeking Alpha). I have no business relationship with any company whose stock is mentioned in this article.