It's easy to think about South Korea. Warren Buffett essentially called Korea's POSCO the best steelmaker in the world. What's more, South Koreans have turned a corner on everything from electronics (Samsung) to phones (LG Group) to automobiles (Hyundai).
Few investors have failed to express interest in the "China miracle." Not only is its economy growing at a torrid 9%, but the China 25 Fund's (NYSEARCA:FXI) 155% 5-year total return is nearly unmatched by any diversifed equity investment.
Even Asian peers like Taiwan (NYSEARCA:EWT) and Hong Kong (NYSEARCA:EWH) seem to capture a fair amount of the public's imagination. Taiwan is a reasonably strong proxy for technology demand, while Hong Kong is often touted as a way to invest in China's success with a bit less risk.
Yet what if I were to tell you that an emerging market is showing significantly stronger gains that the S&P 500, but with less volatility (i.e. risk)? In all likelihood, then, we'd be talking about the iShares MSCI Malaysia Fund (NYSEARCA:EWM).
RiskGrades.com currently assigns a standardized risk measure of 90 to EWM, while assigning a risk rating of 93 to the S&P 500 SPDR Trust (NYSEARCA:SPY). Similarly, WSJ.com pegs the beta for iShares MSCI Malaysia Fund (EWM) at 0.82 whereas the S&P 500's beta is 1.0.
One of the unique features of EWM over competing emerging market ETFs is its diversification. Brazil (NYSEARCA:EWZ) tends to move in lock-step with Global Materials (NYSEARCA:MXI), while Russia (NYSEARCA:RSX) depends 50% on oil/gas and energy company performance. On the flip side, EWM depends more on cyclical economic trends through consumer discretionary spending, industrials, consumer staples and financials.
In other words, it may just be a reasonable way to diversify your emerging market holdings that are heavy into natural resources. Of course, the superior 2-year "bear-to-cyclical-bull" results give still another favorable perspective for EWM: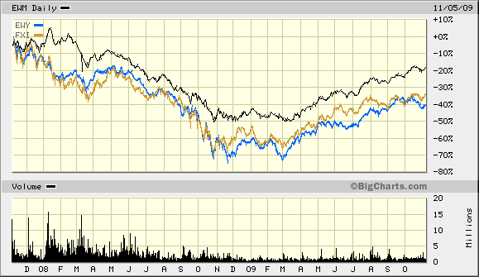 Need a bit more background on Malaysia? Review my early August feature, "Malaysia ETF Offers A Different Slice of the Emerging Market Pie."