Avis Budget Group (CAR), Zacks Rank No. 5 (Strong Sell), is a provider of vehicle rental services through its Avis and Budget brands. Although the stock had performed strongly into early June, it has been under pressure recently because of reduced confidence in its earnings outlook.
Earnings Estimates Slipped
In the wake of its earnings report on Aug. 6, the Zacks Consensus Earnings per Share Estimates for Avis Budget have declined $0.16 to $2.20 and $0.21 to $2.73 for 2013 and 2014, respectively. Earnings have been pressured due to weakness in Europe and Australia and rising fleet costs in North America. The chart below displays the trend in earnings estimate revisions. The trend has turned flat to lower in recent months and caused the share price to stall out.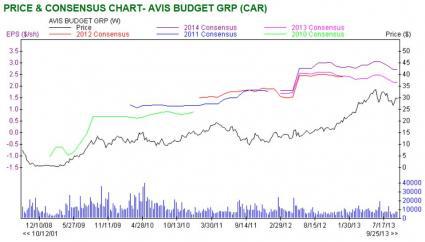 Hertz Is No Help
The outlook for North America may be deteriorating further as Hertz (HTZ) guided its 2013 EPS outlook lower Thursday to a range of $1.68 to $1.87 compared to the Zacks Earnings per Share Consensus of $1.88. Hertz noted weaker-than-expected airport volumes. Hertz was a Zacks Rank No. 3 (Hold) prior to its earnings guidance and is in jeopardy of seeing its Zacks Rank slip. The announcement from Hertz affected Avis, which also saw its share price weaken, suggesting industry-wide profit pressures.
Technical Levels Will Test the Bid
Technically, Avis Budget was able to hold the $27.00 area in June and August. A breach of this area could cast a dark cloud over the chart.
Valuation Is Just OK
Avis Budget is trading with a forward 12-month P/E ratio of 11.6. This is not large, but above the five-year median value of 9.4. Likewise, the price-to-sales ratio is 0.4 and appears low at face value, but is slightly ahead of the five-year median of 0.3. Lastly, the company is priced at 1.7 times free cash flow, which is rich compared to the five-year median of 1.0.
Alternatives
Those looking for exposure in the transportation rental space may want to explore Amerco (NASDAQ:UHAL), a Zacks Rank No. 1 (Strong Buy). Amerco has strong upward momentum to earnings estimate revisions and is reasonably valued. Amerco is the holding company for U-Haul, which rents trailers and trucks while also providing self-storage operations. Over the last 30 days, its FY 2014 and FY 2015 Zacks Consensus Earnings per Share Estimates have risen $0.71 to $16.98 and $1.31 to $19.44, respectively. It is priced at 10.2 times forward 12-month earnings per share, which is slightly below the five-year median of 11.0.
Conclusion
The rental car market looks cool in terms of the trend in earnings expectations to the detriment of Avis, but investors have an alternative in trailer and truck rentals in Amerco.
Avis: Free Stock Analysis Report (email registration required)
Hertz: Free Stock Analysis Report (email registration required)