Business overview:
Premier (NASDAQ:PINC) is a member-owned national healthcare alliance, owned by 181 U.S. hospitals, health systems and other healthcare organizations. The alliance consists of approximately 2900 U.S. hospitals, 100000 alternate sites and 400000 physicians, this includes both owner and non-owner members. The company serves its members by providing two types of services:
Supply chain services.
Performance services.
Supply chain services: The company earns most of its revenue from these services (about 75%), which primarily includes: one of the largest healthcare GPOs in the United States, a specialty pharmacy and its direct sourcing activities. Under these services, the company facilitates its members to buy a wide range of products and services, including pharmaceuticals, healthcare-related equipments, information technology, food and nutritional products, etc from about 1100 suppliers. Its large member base allows it to negotiate better prices for its members. The company generates revenue through fees received from suppliers (1% to 3% of the purchase price) as well as through product sales.
Performance services: Under these services, the company provides information-related and advisory services to its members, which helps its clients in cost management, quality and safety, and population health management. The company generates revenue through subscription fees (billed on a monthly basis) and professional fees.
Industry: (Healthcare industry)
Healthcare is a huge, established and growing industry, which contributes significantly to the gross domestic product, or GDP. According to CMS data healthcare was a $2.7 trillion (18% of GDP) industry in 2011, and is expected to reach 4.8 trillion (20% of GDP) in 2021, representing a CAGR of 5.9%.
Healthcare Supply Chain Services Industry:
"According to CMS data, total spending on hospital services in the United States was approximately $851 billion in 2011, or approximately 31% of total healthcare expenditures in 2011." (Source: IPO prospectus)
Healthcare Performance Services Industry:
The healthcare is a very competitive industry and the companies that operate in this industry, constantly look forward to improve their operational as well as supply-chain efficiency, to further improve their competitiveness. Information technology as well as analysis of industry's past operational data can provide insight about the industry-wide cost structure and actionable intelligence, which allow its users to identify the areas where the improvements can be made.
"According to Frost and Sullivan, 50% of hospitals in the United States are expected to adopt data analytics capabilities by 2016, up from 10% in 2011." (Source: IPO prospectus)
Key Points:
Key positives:
1. Constant growth in revenues:
The company had shown a constant growth in revenues, from about $680 million in FY 2011 to about $869 million in FY 2013 (CAGR of about 13%); Product segment shows the maximum growth, from about $64 million in FY 2011 to about $144 million in FY 2013 (CAGR of about 50%). (see the chart below)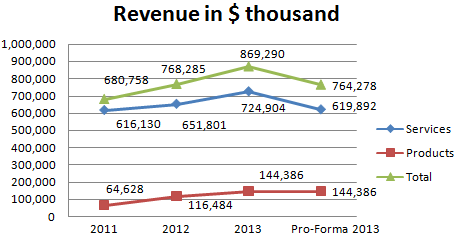 2. Data assets:
The company's performance services are based on the industry data that it holds. The success of these services depends on the quality of its data asset, which according to the company are one of the largest data assets, in the healthcare sector and includes:
"a comprehensive repository of clinical, financial and operational data which encompasses one in four U.S. hospital discharges, 29% of U.S. hospital annual supplies expense, approximately $30 billion of U.S. annual direct labor expense, approximately 2.5 million real-time clinical transactions daily and approximately $40 billion in U.S. annual purchasing data, in each case for the calendar year ended December 31, 2012."(Source: IPO prospectus)
3. Growing member base:
The company has shown a constant growth in its member base. (see the table below)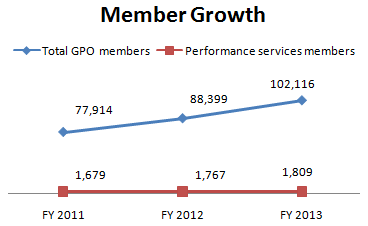 4. Industry-leading position:
The company is one of the largest national GPOs in the industry; the thing that further enhances its bargain capability is its collaboration with several regional GPOs.
5. Member based alliance:
Member based ownership structure makes sure that its members stick with it for their procurement needs as well as for the information/data-related requirements. Approximately, 72% of its member owners have been part of its alliance for more than 10 years.
6. Technological advancements:
The company uses advance technology to deliver its services to its members, it uses cloud based SaaS platform, most advanced and preferred platform, to deliver its performance-related services. This shows that the company is well aware of new technological developments that can help the industry, by improving the cost-efficiency, and by reducing complexity.
Key negatives:
1. Rising share of product related revenues:
As discussed above, the share of product revenue is growing, at a much faster rate, than the service revenues. This shall lead the company towards lower gross margins, as product revenues usually generate lower margins. (see the chart below)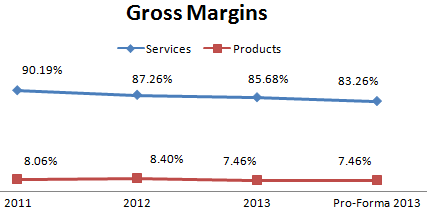 2. Complex corporate structure:
The corporate structure of the company is very complex as mentioned in the IPO prospectus:
"Premier, Inc. is a holding company and its sole asset immediately following this offering will be all of the outstanding interests in Premier Services, LLC. Premier Services, LLC will act as the general partner of, and own approximately 20% of the common units (or approximately 22% if the underwriters exercise their overallotment option in full) in, Premier Healthcare Alliance, L.P. Premier, Inc.'s only business will be to act indirectly as the general partner of Premier Healthcare Alliance, L.P., and, as such, it will operate and control all of the business and affairs of Premier Healthcare Alliance, L.P. and its subsidiaries immediately following this offering, subject to certain limited partner approval rights described herein." (Source: IPO prospectus)
3. Competition:
The company operates in a completive industry some of its prominent competitors are CVS Caremark (NYSE:CVS), Aetna (NYSE:AET), Oracle Corporation (NYSE:ORCL), etc.
Conclusion:
The company holds a leading position in the healthcare industry as one of the largest national GPOs and also holds a huge and unmatched healthcare related database. Revenue growth is good so is the expected growth rate of the industry, so the future looks good, but the competition is on rise and effect of the rising competition reflects in the declining gross margins, particularly of service segment.
Moreover, the healthcare industry is currently going through uncertain period due to introduction of Affordable Care Act, which is a "sweeping measure designed to expand access to affordable health insurance, control healthcare spending, and improve healthcare quality. The law includes provisions to tie Medicare provider reimbursement to healthcare quality and incentives, mandatory compliance programs, enhanced transparency disclosure requirements, increased funding and initiatives to address fraud and abuse, and incentives to state Medicaid programs to promote community-based care as an alternative to institutional long-term care services." (Source: IPO prospectus)
For the company, the short-term outcome of this act is not certain, as the act is just in its initial stage of implementation, and many provisions under the act are being released on an ongoing basis. In the long-term, the effect of the act is expected to be neutral.
Data source: IPO prospectus.
Disclaimer: Investments in stock markets carry significant risk, stock prices can rise or fall without any understandable or fundamental reasons. Enter only if one has the appetite to take risk and heart to withstand the volatile nature of the stock markets.
This article reflects the personal views of the author about the company and one must read offer prospectus and consult its financial adviser before making any decision.
Disclosure: I have no positions in any stocks mentioned, and no plans to initiate any positions within the next 72 hours. I wrote this article myself, and it expresses my own opinions. I am not receiving compensation for it (other than from Seeking Alpha). I have no business relationship with any company whose stock is mentioned in this article.